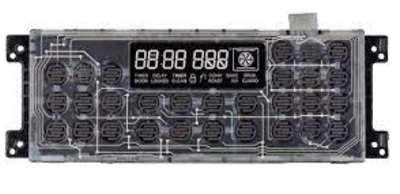 Don't miss out on the ultimate offer for the Frigidaire Electrolux Clock Timer Control Board (316418701)! Upgrade your appliance today and ensure precise timing for your kitchen tasks. Grab the best deal now and enhance your cooking experience.
316418701 Frigidaire Electrolux Range Clock Timer Control Board
Descriptions:
Part Number: 316418701
Replacement Parts: 316418701R
Part Types: Electrolux Frigidaire Range Digital Timer Control Board, Clock Timer Electronic Control for Frigidaire Electrolux Range, Frigidaire Electrolux Oven Clock Timer Control Panel, Electrolux Frigidaire Stove Clock Timer Circuit Board, Range Clock Timer Electronic Control for Electrolux Frigidaire
Compatible Brands: Frigidaire, Electrolux
---
Fits Appliance Models:
This part fits the following range models: CPLGF390DCD, PLGF390DCF, CGLGF388DSG, GLGF388DQC, PLGFZ390ECF, GLGF388DBC, GLGF388DBB, GLGF389GSA, CGLGF388DQE, CPLGF390DCE, GLGF388DSB, GLGF388DQE, CGLGF388DSC, GLGF388DBA, GLGF388DQA, CGLGF388DBG, CPLGF390DCF, CGLGF388DSF, GLGF389GBA, CPLGF390DCG, CGLGF388DBF, CPLGF390DCH, GLGF388DBF, GLGF388DSA, CGLGF388DBC, GLGF388DQG, GLGF388DSE, PLGF390DCB, GLGF388DSC, GLGF388DBG, GLGF388DQB, GLGF388DSG, PLGF390DCD, GLGF389GSB, PLGFZ390ECA, CPLGF390DCC, PLGF390DCC, PLGFZ390ECD, CPLGFZ90ECA, PLGF390DCE, PLGF390DCG, GLGF389GBB, PLGF390DCA, GLGF388DQF, CPLGF390DCB, CGLGF388DBE, GLGF388DBE, CGLGF388DQC, GLGF388DSF, PLGFZ390ECE, CGLGF388DQF, CGLGF388DQG, and more.
---
Functions of 316418701 Frigidaire Electrolux Clock Timer Control Board
The Frigidaire Electrolux Clock Timer Control Board (316418701) serves several essential functions:
Time and Clock Display: The control board accurately displays the time, allowing you to keep track of cooking durations and schedule your kitchen activities effectively.
Timer Control: Set and manage cooking or baking timers to ensure your dishes are prepared perfectly without overcooking or undercooking.
Oven Temperature Regulation: The control board helps regulate the oven's temperature, ensuring consistent and precise heat levels for optimal cooking results.
Cooking Mode Selection: It enables you to select different cooking modes such as bake, broil, or convection, adapting to various recipes and culinary techniques.
Delay Start and Delay Stop: With delay start and stop functions, you can plan meals in advance by programming the oven to begin or end cooking at a specific time.
Alarm and Alerts: The control board generates audible alerts or notifications to signal the end of a timer, preheating completion, or any issues that may arise during cooking.
Control Lock: Prevent unintended use or changes to settings by activating the control lock feature, ensuring a safe and hassle-free kitchen environment.
Clock Synchronization: Maintain accurate timekeeping by synchronizing the clock with your preferred time source.
Diagnostic Capabilities: Some models of control boards may offer diagnostic features, helping technicians identify and troubleshoot potential issues with the oven's functionality.
User Interface: The control board provides a user-friendly interface with buttons or a digital display, allowing you to easily interact with and customize oven settings.
Memory Retention: In case of power outages or interruptions, the control board may have memory retention capabilities, preserving your settings and programmed timers.
Compatibility: The control board is specifically designed for Frigidaire and Electrolux ovens, ensuring seamless integration and optimal performance.
Please note that the functions listed above are based on general knowledge of oven control boards and may vary depending on the specific model and features of the Frigidaire Electrolux Clock Timer Control Board (316418701). Always refer to the product documentation or manufacturer's information for precise details about its functionalities.
---
Common Problems
Here are common problems associated with the 316418701 Frigidaire Electrolux range oven Clock Timer Control Board:
Clock display not working
Inaccurate timekeeping
Oven not heating
Timer not functioning
Buttons or touchpad unresponsive
Display flickering or flashing
Error codes appearing
Alarm not sounding
Clock losing power intermittently
Overheating or burnt components
---
Compare Prices on eBay
Explore and compare prices for the 316418701 Frigidaire Electrolux Range Clock Timer Control Board on eBay now, and secure the best deal for your appliance upgrade. Don't miss out on the chance to find the perfect fit for your budget while enhancing your kitchen's functionality.
---
Other Appliance Parts: