Get Cheap Price GENUINE WPW10428901 Whirlpool Refrigerator Main Control Board assembly part. Replaces PS11754650 AP6021329 EAP11754650 2210300 W10428901 appliance parts and others. Order Here.
Genuine WPW10428901 Whirlpool Refrigerator Control Board
Part No: WPW10428901
Replaces Part Number: AP6021329 EAP11754650 2210300 W10428901 PS11754650
Fits Brands: KitchenAid, Maytag, Dacor, Jenn-Air, Kenmore, Whirlpool
Product Type: Fridge Control Board Assembly Parts
Price: Read more product descriptions and Check Price Below.
==> Click Here to Compare the Latest Prices! <==
Fits Fridge Models:
Find the correct replace product. This WPW10428901 Whirlpool Refrigerator Parts Electronic Circuit Control Board suits for the following models. Press Ctrl-F to find your appliance model listed as follows.
59679532016 KBFS25EWBL9 59679323016 59672013017 59679533017 KBFS25ECBL00 KBFS20EVBL6 10672009015 KBFS25EWWH9 59672009013 MFD2562VEM9 KBFS20EVMS13 KBFS25EWMS6 JFC2089WEP7 59679539018 KBFS22EWMS9 10672002015 KBFS20EVWH8 59672013013 MFD2562VEW8 JFC2089WEP11 KBFS25ECMS00 MFC2061KES14 KBFS22EWBL7 JFC2089WTB7 MFD2562VEM11 10672009013 MFD2562VEW6 KBFS20EVWH10 KBFS22ECBL00 KBFS22EWMS7 59672012016 JFC2089WEM11 10672003016 59672013014 KBFS20EVBL10 10672013017 59672019016 59672003017 KBRS20EVBL4 KBFS22ECMS00 JFC2089WEM7 MFC2061KES10 59672002013 KBFS25ECWH00 KBFS22EWBL5
KBFS25EWWH7 59679322015 KBFS22ECWH00 KBFS22EWWH3 59672019012 10672003017 KBFS25EWBL7 10672003018 JFC2089WTB9 EF36BNNFSS11 59672019014 KBFS22EWWH5 KBFS25EWMS10 59672003014 59679539016 59672002015 KBFS22EWBL3 MFD2562VEB9 59679329013 59679329015 10672002013 KBFS20EVMS11 59672003016 59672013015 59672012012 KBFS20EVWH6 59679532018 KBRS20EVMS6 KBFS22EWWH3 JFC2089WEP9 59679323014 59672003018 KBFS20EVBL8 JFC2089WEM9 59672009015 KBFS22EWWH7 59679533019 59672013012 59679322013 59672012014 10672003014
Compare Best Deals
Read more product details, customer reviews, terms and conditions (new, pre-owned, or refurbished), shipping options, exchange, return and refund policy, and other information. Many sellers offer this new or used part on the market. Please see the prices below.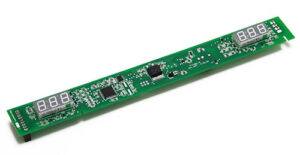 ==> Click Here to Compare the Lowest Prices TODAY! <==
More Information
Further the Whirlpool WPW10428901 Refrigerator Circuit Board , there are more appliance replacement parts offered on the market, e.g. Electrolux Washing Machine Motor Control Board, Dacor Double Oven Control Panel, Whirlpool Duet Washer Drive Motor Replacement, and KitchenAid Refrigerator Control Panel. For more top home appliance brands, for example, Maytag, you are able to find its products, accessories, and services on its website.
Popular Whirlpool Refrigerator Replacement Parts:
In addition to the Whirlpool Refrigerator Circuit Board part. Please feel free to contact us if you have any problems with finding the compatible part for your model. We will check the part and give some advice to you very soon. Thank you so much.