Shop Best Price Whirlpool WP8572976 Washing Machine Timer. Suits for EAP988634 1180777 8572976 PS988634 AP3855066 appliance parts and others. 100% Satisfaction Guarantee!
Whirlpool WP8572976 Washing Machine Timer
Part Number: Whirlpool WP8572976
Replaces Parts: 8572976 1180777 EAP988634 PS988634 AP3855066
Fits Brands: Roper Estate Amana Admiral Whirlpool Kenmore Magic-Chef
Type: Washing Machine Replacement Parts, Washer Timer Replacement Parts
Item Price: View more part information and Get the Best Price Below.
==> Click Here to Compare the Latest Prices on eBay Today! <==
Fits Washer Models:
Find the correct appliance replacement part. The Whirlpool WP8572976 Washing Machine Timer suits the following Estate Kenmore Roper Amana Magic-Chef Whirlpool Admiral models. Hit Ctrl-F to find your specific model following.
11026432501 ITW4300TQ0 11026442502 RTW4200SQ0 11026422502 WTW5590SQ0 11026422503 11028422700 HTW4300TQ0 RTW4300TQ0 RTW4340SQ0 RTW4305VQ0 ATW4300TQ0 11026442501 RTW4305SQ0 1CWTW5590VQ0 NTW4500VQ0 WTW5590VQ0 WTW5590ST0 ATW4475TQ0 WTW5100VQ2 NTW5400TQ2 1CWTW5100VQ0 11026422500
WTW5100VQ0 11026422501 IS42000 1CWTW5590SQ0 IT42000 ITW4300SQ0 ETW4300SQ1 IT41000 ETW4400VQ1 WTW5590ST2 11028432700 1CWTW5590ST0 ETW4400VQ2 ETW4400VQ0 RTW4300SQ0 ITW4300SQ2 RTW4440VQ0 ETW4300SQ0 NTW5400TQ0 WTW5590SQ2 ETW4300TQ0 11026432502 NTW5400TQ1 WTW5520SQ0 11026442503 11026432500 11026432503
Functions:
The Washer Timer 8572976 and 8572976A are essential components of a washing machine that control and regulate the various cycles and operations of the appliance, including wash time, rinse, spin, and more.
Common Symptoms:
Timer not advancing or getting stuck at a specific point in the cycle.
Inability to start or stop the washing machine.
Irregular or inconsistent cycle durations.
How to Replace:
Ensure the washer is unplugged and access the timer assembly, usually located on the control panel or behind it.
Take note or photograph the existing wire connections to ensure proper reinstallation.
Disconnect the wires from the old timer using pliers or a screwdriver, depending on the connector type.
Remove any mounting screws securing the timer to the control panel or housing.
Carefully pull out the old timer from its position.
Insert the new Washer Timer 8572976 or 8572976A into place, aligning it correctly.
Secure the timer with the mounting screws.
Reconnect the wires to the corresponding terminals, following the notes or photographs taken earlier.
Plug in the washer and test the timer's functionality by running a cycle.
Note: It is advisable to consult the appliance manual or seek professional assistance for specific instructions based on your particular washer model.
Compare Best Deals – WP8572976
See deals with more product descriptions, customer reviews, terms and conditions, shipping options, parts warranty, and other useful details. Many sellers offer this new part on the market. You can compare the prices below.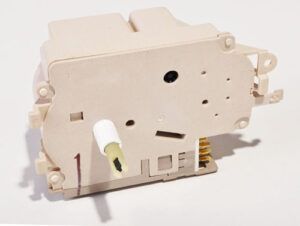 ==> Click Here to Check Best Prices Today! <==
More Information
On the Internet, there are many sellers selling a variety of appliance parts, like the Dacor Range Control Panel, Whirlpool Range Control Panel, Kitchenaid Double Oven Control Board, and Oven Stove Control Board, also covering the Whirlpool WP8572976 Washing Machine Timer.
For other top home appliance brands, for instance, Jenn-Air, you can view its products, parts, accessories, and services on its website.
More Appliance Parts:
Contact Us! If you can not find the correct part for your appliance model, please notify us by leaving your note in the comment section down below. We will search for the part and get back to you soon. Fix it and save your money today!