This is a GENUINE washing machine replacement part, W11106747 Whirlpool Washer Door Boot Seal. It fits Whirlpool Residential Washer, Automatic Washer, and Duet Steam Front Load Washers. Some of models are WFW72HEDW0, WFW75HEFW0, WFW8640BW0, WFW88HEAC0, WFW88HEAW0, WFW88HEAW2, WFW92HEFC0, WFW94HEAWO, WFW94HEXW2, WFW95HEDWO, and WFW96HEAC0. This part also fits other brands, including Amana, Crosley, and Maytag.
Whirlpool Washer Door Boot Seal W11106747
Product: Washer Door Boot Seal Rubber Gasket Bellow
Appliance Part: Washing Machine Replacement Parts
Part Number: W11106747
Compatible Brands: Amana, Crosley, Maytag, Whirlpool
Compatible Part Numbers: 4534601 AP6238143 PS12074757 EAP12074757 W10340443 W10474367 W10900506 WPW10340443 WPW10474367
Fits Whirlpool Models:
This part fits the following Whirlpool Residential Washer, Automatic Washer, and Duet Steam Front Load Washers. Use Ctrl+F to find your specific model.
7MWFW90HEFC1, 7MWFW90HEFW1, WFW61HEBW1, WFW8740DC1, WFW87HEDC1, WFW7590FW0, 7MWFW72HEDW0, 7MWFW75HEFW0, 7MWFW75HEFW1, 7MWFW80HEBW0, 7MWFW81HEDW0, 7MWFW86HEBC0, 7MWFW87HEDC0, 7MWFW90HEFC0, 7MWFW90HEFW0, 7MWFW95HEDU0, BNQ11C6ANA0, BNQ11CVANA0
WFW61HEBW0, WFW70HEBW0, WFW70HEBW1, WFW70HEBW2, WFW72HEDW0, WFW7540FW0, WFW80HEBC0, WFW80HEBC1, WFW80HEBC2, WFW80HEBW0, WFW80HEBW1, WFW80HEBW2, WFW81HEDW0, WFW8540FW0, WFW8540FW1, WFW85HEFC0, WFW85HEFC1, WFW85HEFW0, WFW85HEFW1
WFW8640BC0, WFW8640BC1, WFW8640BC2, WFW8640BW0, WFW8640BW1, WFW8640BW2, WFW86HEBC0, WFW86HEBC1, WFW86HEBC2, WFW86HEBW0, WFW86HEBW1, WFW86HEBW2, WFW8740DC0, WFW8740DW0, WFW8740DW1, WFW87HEDC0, WFW87HEDW0, WFW87HEDW1
WFW88HEAC0, WFW88HEAC1, WFW88HEAC2, WFW88HEAW0, WFW88HEAW1, WFW88HEAW2, WFW90HEFC0, WFW90HEFC1, WFW90HEFW0, WFW90HEFW1, WFW94HEXL1, WFW94HEXL2, WFW94HEXR1, WFW94HEXR2, WFW94HEXW1, WFW94HEXW2, WFW95HEDC0, WFW95HEDU0, WFW95HEDW0
How to Replace Washer Door Boot Seal
Watch this video, created by AppliancePartsPros, showing simple and easy step-by-step instructions on how to replace the washing machine door gasket bellow.
Tools Required: 1/4″ nut driver, flathead screwdriver, Torx-20 screwdriver, Phillips screwdriver, and locking pliers.
Compare Lowest Prices
Read more product details of Whirlpool Washer Door Boot Seal W11106747, view shipping information, return and warranty policy, and compare lowest price on eBay HERE!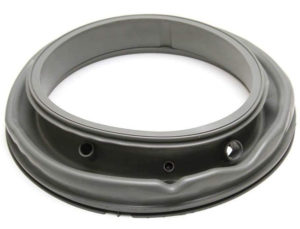 More Information
In addition to the Whirlpool Washer Door Boot Seal W11106747, you can find more related information, such as washing machine door boot seal for Amana, Maytag, Whirlpool, Crosley, and LG. You can also find other Maytag parts here.
If you can not find a correct part for your appliance, please do not hesitate to contact us at any time.