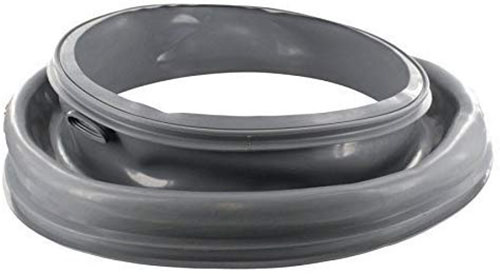 This is a GENUINE washing machine replacement part, WP8182119 Whirlpool Washer Door Boot Seal.  It fits Whirlpool Residential Washers, Duet HT Washer, Duet Steam Washer, Automatic Washer selected models. Some models are WFW9200SQ00 WFW9640XW00 WFW9200SQ00 GHW9150PW2 GHW9150PW0 GHW9150PW3 GHW9300PW WFW9640XW00 and WFW9451XW00.
The item also fits other washer brands including Amana, KitchenAid, Kennore, and Maytagh.
Whirlpool Washer Door Boot Seal WP8182119
Product: Door Boot Seal Rubber Gasket Bellow
Appliance Part: Washing Machine Washer Replacement Parts
Part Number: WP8182119
Compatible Brands: Amana, Kenmore, KitchenAid, Maytag, Whirlpool
Compatible Part Numbers: 1027300, AP6011758, PS11744957, EAP11744957, 8182119, W10003800, WP8182119VP
Fits Whirlpool Washer Models:
This part fits the following Whirlpool Residential Washers, Duet HT Washer, Duet Steam Washer, Automatic Washers.
7MGHW9150PW0, 7MGHW9150PW1, 7MGHW9150PW2, 7MGHW9400PW0, 7MGHW9400PW1, 7MGHW9400PW2
MWFW9200SQ00, WFW9200SQ00, WFW9200SQ01, WFW9200SQ02, WFW9200SQ03, WFW9200SQ04, WFW9200SQ10, WFW9200SQA10, WFW9200SQA11, WFW9200SQA12, WFW9300VU02, WFW9300VU03, WFW9300VU04, WFW9400SB00, WFW9400SB01, WFW9400SB02, WFW9400SBA10, WFW9400ST00, WFW9400ST01, WFW9400ST02, WFW9400STA10, WFW9400SU00, WFW9400SU01, WFW9400SU02, WFW9400SW00, WFW9400SW01, WFW9400SW02, WFW9400SW03, WFW9400SW04, WFW9400SWA10, WFW9400SZ00, WFW9400SZ01, WFW9400SZ02, WFW9400SZ03, WFW9400SZ04, WFW9400SZA10, WFW9400VE01, WFW9400VE02, WFW9400VE03, WFW9450WL00, WFW9450WR00, WFW9450WW00, WFW9451XW00, WFW9470WL00, WFW9470WL01, WFW9470WR00, WFW9470WR01, WFW9470WW00, WFW9470WW01, WFW9500TC00, WFW9500TC01, WFW9500TW02
GHW9250ML2, GHW9250MQ1, GHW9250MQ2, GHW9250MT1, GHW9250MT2, GHW9250MW1, GHW9250MW2, GHW9400SU0, GHW9460PL0, GHW9460PL1, GHW9460PL2, GHW9460PL3, GHW9460PL4, GHW9460PW0, GHW9460PW1, GHW9460PW2, GHW9460PW3, GHW9460PW4, GHW9100LQ1, GHW9100LQ2, GHW9100LW1, GHW9100LW2, GHW9150PW0, GHW9400PL4, GHW9150PW1, GHW9150PW2, GHW9150PW3, GHW9150PW4, GHW9160PW0, GHW9160PW1, GHW9160PW2, GHW9160PW3, GHW9160PW4, GHW9250ML1, GHW9300PW0, GHW9300PW1, GHW9300PW2, GHW9300PW3, GHW9300PW4, GHW9400PL0, GHW9400PL1, GHW9400PL2, GHW9400PL3, GHW9400PT0, GHW9400PT1, GHW9400PT2, GHW9400PT3, GHW9400PT4, GHW9400PW0, GHW9400PW1, GHW9400PW2, GHW9400PW3, GHW9400PW4
WFW9500TC02, WFW9500TW00, WFW9500TW01, WFW9550WL00, WFW9550WL01, WFW9550WL10, WFW9550WR00, WFW9550WR01, WFW9550WW01, WFW9600TA00, WFW9600TA02, WFW9600TB00, WFW9600TC00, WFW9600TU00, WFW9600TW00, WFW9600TW01, WFW9600TW02, WFW9600TZ00, WFW9630YL00, WFW9630YW00, WFW9640XW00, WFW9700VA00, WFW9700VA01, WFW9700VW00, WFW9700VW01, WFW9750WL00, WFW9750WL01, WFW9750WR00, WFW9750WR01, WFW9750WR02, WFW9750WW00, WFW9750WW01, WFW9750WW02, WFW9410XW00, WFW9500TC03, WFW9500TW03, WFW9550WW00, WFW9550WW10, WFW9600TA01
How To Replace Washing Machine Door Boot Seal
Watch this video, created by AppliancePartsPros, showing you easy step-by-step on how to replace the rubber gasket bellow door boot seal on a washing machine.
Tools required: Torx 20 screwdriver, putty knife, flathead screwdriver, Phillips screwdriver, locking pliers.
Compare Lowest Prices
Read more Whirlpool Washer Door Boot Seal WP8182119 product details, shipping information, return and warranty policy, and compare lowest price on eBay here.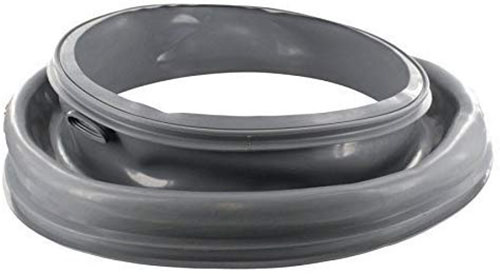 More Information
In addition to the Whirlpool Washer Door Boot Seal WP8182119 washing machine replacement part, search more Whirlpool replacement parts, Whirlpool parts diagram, Whirlpool OEM part, Maytag Bellow, Samsung washer door boot seal, Maytag washer door boot seal, Maytag washer gasket, LG washer door boot seal, Amana door boot seal, and GE washer door boot seal.
Please do not hesitate to contact us if you can not find a correct part for your appliance or need any assistance.