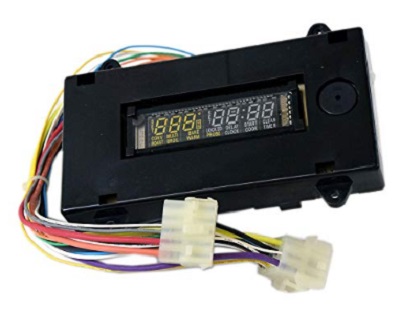 Upgrade your cooking experience with the best price on the WB18T10303 GE Kenmore Range Oven Control Board. Don't miss out on this limited-time offer to enhance your kitchen's performance and precision.
WB18T10303 GE Kenmore Range Oven Control Board
Descriptions:
Part Number: WB18T10303
Replacement Parts: PS953069, EAP953069, WB27T10497, 1085782, AP3792535
Part Types: Electric Range/Oven Electronic Main Control Board
Compatible Brands: GE, General Electric, Kenmore
Fits Appliance Models
This part fits the following GE and Kenmore Range/Oven models: JTP86SH5SS, JTP86SH1SS, JTP86SH2SS, JTP86WF6WW, JTP86BF4BB, JTP86WF4WW, JTP86WF3WW, JTP86SH3SS, 91147814201, 91147812202, JTP86WF7WW, 91147819202, JTP86SF2SS, JTP86CF2CC, 91147813201, JTP86WF5WW, JTP86CF7CC, 91147812201, 91147814202, JTP86WF2WW, JTP86SH6SS, JTP86BF2BB, JTP86CF5CC, JTP86SH4SS, 91147813202, JTP86CF4CC, JTP86BF7BB, 91147819201, JTP86BF5BB, JTP86CF3CC, JTP86CF6CC, JTP86BF3BB, JTP86BF6BB, JTP86SF3SS, and more.
Functions of WB18T10303 GE Kenmore Range Oven Control Board
The WB18T10303 GE Kenmore Range Oven Control Board offers a range of key functions to enhance your cooking experience:
Temperature Regulation: Accurately control and maintain the oven's temperature for consistent and even cooking results.
Cooking Modes: Access various cooking modes such as bake, broil, and convection, allowing you to prepare a wide range of dishes.
Timer and Delay Start: Set timers and schedule delayed starts to have your meals ready exactly when you want them.
Clock Display: Keep track of time while cooking, ensuring precision in your meal preparation.
Temperature Display: Monitor the current temperature of the oven to ensure your dishes are cooked to perfection.
Digital Controls: User-friendly digital interface for easy and intuitive operation.
Diagnostic Features: Built-in diagnostics help identify and troubleshoot issues with your oven's functionality.
Safety Features: Incorporates safety measures such as automatic shut-off to prevent overheating or other potential hazards.
Compatibility: Designed to work seamlessly with GE and Kenmore ranges, ensuring a perfect fit and performance.
Enhanced Cooking Performance: Enjoy improved cooking accuracy, efficiency, and convenience with this essential control board component.
Common Problems
Here are some common problems associated with the WB18T10303 GE Kenmore Range Oven Control Board:
Display not working or showing erratic characters.
Oven not reaching or maintaining the set temperature.
Buttons or touchpad not responding properly.
Error codes or fault messages displaying on the control panel.
Clock or timer functions not functioning correctly.
Oven self-cleaning cycle issues.
Inconsistent heating or cooking results.
Unresponsive or delayed commands from the control panel.
Flickering or dimming of the display.
Spontaneous resetting of the control settings.
Communication problems between the control board and other components.
Issues with preheating or delays in starting the oven.
Please note that troubleshooting and diagnosing these problems may require professional expertise, and some issues may necessitate replacing the control board.
Find the best deals and compare prices on eBay for the WB18T10303 GE Kenmore Range Oven Control Board. Upgrade your oven's performance today and make sure you're getting the most value for your money.
Other Appliance Parts: