Are you in need of a replacement silverware basket for your KitchenAid dishwasher? Look no further than the W10473836 model, designed to provide a convenient and organized space to hold and separate your silverware and utensils during the dishwasher's cleaning cycle.
W10473836 KitchenAid Dishwasher Silverware Basket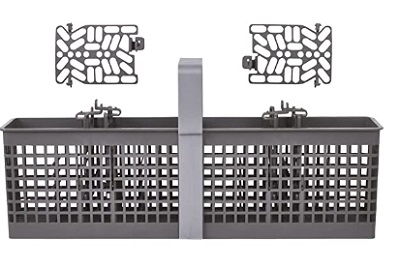 The W10473836 KitchenAid Dishwasher Silverware Basket is a genuine replacement part designed for KitchenAid dishwashers.
This silverware basket provides a convenient and organized space to hold and separate silverware, utensils, and small items during the dishwasher's cleaning cycle.
Descriptions:
Part Number: W10473836
Replacement Parts: PS11755312, W10473836, AP6021983, W10195723, W10195722, EAP11755312, 3020617
Part Types: Undercounter Dishwasher Silverware Basket
Compatible Brands: KitchenAid
Fits Appliance Models: Please see the list below.
Price: Check price on eBay.
Fits Appliance Models
This part fits the following Kitchen-Aid dishwasher models:
KDTE334GBS0, KUDS30SXWH3, KDTM404ESS1, KUDE20IXBL1, KDTM384EBS2, KUDE60FXBL3, KDFE304DWH1, KUDS30IXBT1, KUDE48FXSP6, KUDS30IXSS0, KUDS30FBWH1, KUDS30IXWH7, KUDE40FXBT4, KDTM704EBS2, KDFE454CSS3, KUDE48FXSS0, KDTE234GBS0, KUDS30FXSSA, KUDS30FXSS8, KDTM804EBS2, KUDS30CXSS6, KDFE304DBL0, KUDS30IXSS4, KUDS35FXBL9, KUDE20IXSS9, KDTE254ESS0, KUDE50CXSS9, KUDE60FXWH1, KUDE48FXBL0, KUDS30FXWH3, KDTE304GPS0, KDTE204ESS2, KDTM704EBS3, KUDE40FXSP5, KUDE20FXWH1, KUDE70FXWH5, KUDS30SXBL8, KUDS30CXWH6, KUDS30HXSS0, KDTE304DPA2, KDPE234GBS0, KUDS30FXPA2, KDFE104DSS0, KUDS30IXSS6, KDTE704DPA0, KUDS30FXBL4, KUDS30SXSS8, KUDE60FXSS4, KUDE20FXBL2, KUDE20IXBL9, KDTE204DSS0, KDFE104DSS1, KDTM704EBS0, KDTE104EBS1, KDFE204ESS1, KUDS30FXBLA, KUDE20FXSS0, KUDS30IXBL7, KUDS30SXWH2, KUDE60FXBL1, KUDS30SXWH8, KDFE204EWH0, KUDE20FBSS0, KUDE70FXSS6, KUDE20IXBL4, KDTE704DWH0, KDTE104EBS3, KUDS30IXBL6, KDTE204DBL1, KUDE60FXBL4, KUDE70FXBL5, KDTE104ESS2, KUDL15FXWH0, KDTE404DSS1, KUDS30IXBT2, KDTE104EBL1, KDTM404EWH3, KDTE204EWH0, KUDS35FXBL8, KUDE48FXSP5, KDFE204EWH1, KUDS30FXPA3, KDTE334GPS0, KUDS30IXBT4, KUDS35FXWH3, KUDS30IXBL9, KUDS30IXSS3, KDTE104ESS1, KDFE304DSS0, KUDL15FXSS7, KUDE40FXWH4, KDTE204EBL4, KUDS30FXWH2, KUDS35FXBL5, KUDS30CXBL0, KDTE404DSS0, KUDE60HXSS6, KUDS35FXSS9, KUDE60HXSS3, KDFE104DBL0, KUDE20FBBL1, KUDE48FXPA6, KUDE20FBSS1, KDFE454CSS5, JDB9000CWP3, KUDS30CXSS1, KDTM404EBS3, KUDS30FXBL9, KUDS30IXBL8, KUDS30FBBL0, KUDE40FXBT2, KDHE404DSS0, KUDE20FXSS1, KDTE304DWH0, KUDS30FXBL3, KDTM404EBS2, KUDS35FXBL3, KUDL15FXBL5, KUDE60HXSS1, KUDE48FXSS1, KUDS30CXSS4, JDB9800CWP3, KDFE104HPS0, KUDE60SXSS2, JDB9200CWY1, KUDE20IXBL3, KDTE304DSS1, KUDE60FXSS5, JDB9200CWS1, KUDE48FXBL4, KUDS30SXSS1, JDTSS246GM0, JDB9200CWX2, KDFE104DSS2, KDFE204EWH3, KDTE254EBL0, JDTSS247HS0, KUDE40FXWH5, KDFE454CSS0, KDTM404EBL2, KUDE60SXSS1, KDTE254EBL2, KDTE104DBL0, KUDE70FXSS2, KUDE50CXSS2, KDFE104DSS4, KDTE704DSS0, KDTM384ESS0, KUDS30IXWH2, KUDL15FXSS2, KUDE60FXWH4, KUDE60FXPA2, KUDE60FXWH3, KDFE304DWH0, JDB9200CWX3, KDTE104EWH2, KDTE104DWH0, KDPM354GBS0, KUDS35FXBLA, KDTM404ESS0, KDTM704ESS2, KUDE60FXPA1, KUDE20IXWH1, KDFE304DSS1, KDTE254ESS1, KUDS30CXBL6, KUDS30IXSS2, KDTE204ESS4, KDTE234GPS0, KUDS35FXSS4, KUDS30CXBL4, KUDS35FXBL4, KUDE20IXSS0, KUDS30CXSS5, KUDE40FXWH2, KUDE20FXBL1, KUDE20FXBL4, KUDS30CXSS3, KUDE60FXSS0, KUDE40FXSS1, KUDS30IBSS0, KDTE234GWH1, KUDS35FXWH9, KUDS30FBSS1, KUDE60FXWH0, KUDE70FXPA3, KUDE50CXSS1, KDTM404EWH1, KUDE60FXBL2, JDTSS244GM0, KDFE204ESS3, KUDS30FXBL8, KDTM354EBS3, KUDE60HXSS4, KUDE20FXWH3, JDB9000CWS2, KUDL15FXBL3, KUDS30SXBL1, KUDS30FXBL0, KUDS30FXSS9, KUDE48FXBL5, JDTSS245GX0, KUDE20IXWH6, KDTE104EWH0, KUDS35FXWHA, KUDS30IBBT0, KUDS30IXSS9, KDTE304GPS1, KUDS35FXSSA, KDTE104ESS4, KUDL15FXSS5, KUDS30FXPAA, KUDS35FXSS8, KUDE40FXSS6, KUDS30IXBLA, KUDE70FXPA0, KDPE234GPS0, KUDS30SXBL0, KDTE254EWH3, KUDS30IBBL0, KUDS30IXSSA, KUDE20IXBL8, KDTE554CSS3, JDB9000CWB3, KUDE40FXSS5, KUDL15FXBL0, KUDE40FXWH6, KDTE704DBL0, KUDL15FXWH1, JDB9200CWY2, JDB9200CWS3, KUDS30SXBL3, KUDS35FXWH2, KDFE204ESS0, KUDS30SXSS9, KUDS30CXBL5, KUDS30FXBL5, KUDE40FXBL2, KDTE334DWH0, KUDS30IXBL1, KUDL15FXSS3, KUDE48FXWH2, KUDL15FXWH5, KUDE60FXPA0, KUDE20IXBL6, KDTE254ESS3, KUDS35FXSS1, KUDE20FXWH4, KUDE40FXSS3, KDTE104EWH1, KUDE48FXWH4, KDTM804EBS0, JDB9800CWS2, KDTM354ESS3, KDTE404DBL0, KUDE70FXBL6, KUDL15FXSS6, KUDS30FBSS0, KDTE254EBL3, KDTM804ESS0, KUDE40FXBL5, KDTE234GBL0, KDFE204EBL2, KDTE104ESS3, KDTE254EWH1, KDTE104ESS0, KDTM404EWH2, KUDS30CXSS0, KDPE204GBS0, KDTM404ESS3, KDFE104DBL2, KUDE20IXSSA, KDTE204ESS0, JDB9200CWP1, KUDS35FXBL0, KUDS30FBBL1, KUDE60FXSS1, KUDE20IXWH9, KDTM404EBS0, KDTE204EPA3, KUDS35FBWH1, KUDS30FXPA1, KDTE204EPA0, KDFE454CSS1, KUDE70FXSS4, KDTE204EPA4, JDTSS243GX0, KDTE204EBL1, KUDE70FXSS1, KUDE40FXPA0, KDTE254EBL1, KUDE70FXPA2, KUDE40FXWH1, KUDE40FXSP2, KUDS30IXWH6, KUDE40FXPA1, KUDE40FXBL3, KUDE50FBSS0, KUDS30IXSS7, KUDS30IXBT7, KDTM504EPA1, KDTE234GBL1, KDTE204EWH3, KUDE20IXWH8, KUDS30IBBL1, KUDL15FXWH7, JDTSS246GL0, KDFE204ESS4, KDTM354ESS0, KUDS30CXWH5, JDB9000CWP2, KDTE404DWH0, KUDS30FXPA4, KUDE70FXWH6, KDTE554CSS1, KUDE20FBBL0, KUDS30FXPA8, KUDE40FXSP1, KDTM404EBL0, KDFE104DWH1, KDFE204EBL3, KUDE48FXSS6, KDFE104HWH0, KDTE504DSS0, JDTSS244GS0, KDFE454CSS2, JDB9800CWS1, KUDS30IBWH0, KDTE204ESS1, KUDE60FXPA3, KDFE454CSS4, KDTE304DPA0, KUDE60SXSS3, JDB9000CWP1, KDTM404EBS1, KUDE20IXBL0, KUDS35FXWH0, KUDS30FXBL1, KDTE254EWH0, KDTE104EBL3, KUDS30CXBL7, KDTM704ESS1, KDTM504EPA2, KDTE304DSS0, KUDS35FXBL2, JDTSS246GS0, KUDS30SXWH0, KUDE20IXSS8, KUDE70FXPA1, KUDS30IXSS8, KUDS30IXBT3, KUDE40FXSS2, KDFE104DWH4, KDFE104DWH0, KUDE20FXWH2, KUDS30CXWH2, KDTM404EWH0, KDTM804ESS2, KDFE104DBL3, KUDE48FXSS5, KUDE20FXSS3, JDB9000CWS3, KUDS30IXSS1, KUDS30FXPA9, KUDE48FXPA5, KUDS30FXSS0, KUDE20FBWH0, KUDE40FXBT3, KUDS30FXSS2, KUDL15FXSS1, KUDS35FBBL1, KUDE50CXSS4, KDTE204EPA2, KUDS30SXSS4, KDTE104EBS4, KUDE60FXSS2, KUDS30FBWH0, KUDE20IXSS6, KUDS30CXWH4, KUDE48FXSS4, KUDS30FXWH9, KUDE20IXWH0, KDTE234GPS1, KDFE104HBS0, KUDS30IBBT1, KUDL15FXBL2, KUDS30CXSS2, KUDE48FXWH1, KDFE204EBL1, KDTM384ESS2, KUDS30SXBL2, KUDE50CXSS8, KUDE60FXWH2, KUDS35FXSS2, KUDE60SXSS0, JDB9800CWX2, KUDE40FXPA4, KUDE20FXSS2, KUDE48FXBL2, KUDE40FXBT5, KUDL15FXBL4, KUDE40FXSP0, KUDE40FXWH0, KUDE40FXPA2, KDTE204EBL3, KUDS30FXPA0, KDTE204EWH2, JDB9800CWP1, KUDS35FXWH5, KDTM704ESS0, KDTE104EWH3, KUDS30IXWH0, KUDS30IXWH4, KUDE40FXBL0, KUDE70FXPA6, KUDS30FXWH1, KUDS30IXBL4, KDTE104EWH4, JDB9000CWB2, KDTM704ESS3, KUDS30IXBT8, JDTSS244GP0, KUDE20IXSS2, KUDS30IXWHA, KUDS35FBBL0, KDFE104DSS5, KDPE334GBS0, KUDE20IXSS1, KUDS30IXBT0, KUDS30IXBT9, KUDS30FXSS5, KUDE20IXWH4, KUDS30SXWH1, KDTM354ESS1, KUDL15FXWH2, KUDS30SXWH4, KDFE104HBS1, KUDS30IXWH1, KDTE104DSS0, KUDL15FXWH6, KUDS30SXSS3, KUDE20FXBL3, KDTE204DSS0, KDTM384EBS3, KUDE60FXSS3, KDTM384ESS3, KUDS30FXWH5, KUDL15FXSS4, KUDS30FXWH0, JDB9200CWS2, KUDS30CXWH1, KUDE20FXWH0, KUDS35FXSS3, KUDS35FBWH0, KUDE70FXPA5, JDTSS246GP0, KDFE104DWH3, KDFE304DBL2, KDTE334DSS1, KUDE40FXBL4, KUDS30IXBT6, KUDE60FXBL0, KUDS30IXBL0, JDB9000CWS1, KUDE20IXWH2, KDTE704DSS1, KUDS30IBWH1, KUDE40FXBL1, KUDS30CXWH0, KDFE204ESS2, KUDE60FXBL5, KUDS30SXSS2, KUDE60HXSS5, KUDS35FXWH4, KUDL15FXWH3, KDTE234GWH0, KDTM354EBS2, KDTE204DBL0, KDHE704DSS0, KUDE48FXSS2, KUDE20IXWH3, KDTE204EWH1, KUDE40FXSP4, KDTE204ESS3, KUDE20FXBL0, KDFE204EBL4, KUDS30CXWH7, KUDE70FXSS5, KUDE40FXPA3, JDTSS244GL0, KDTM404EBL1, KUDL15FXBL6, KDFE104DBL4, KUDE40FXPA6, KUDE20FXSS4, JDB9800CWP2, KDTM354EBS1, KDTE554CSS0, KDTE204EBL0, KUDL15FXSS0, KUDS30FXWHA, KUDS30FXWH8, KUDE48FXBL6, KUDE48FXWH0, KUDS30IBSS1, KDTE254EWH2, KDTE204DWH1, KUDS30SXSS0, KDTM404ESS2, KDTE204DSS1, KUDS30CXBL3, KDTM504EPA0, KDTE204EBL2, KUDE40FXSP3, KDTE104EBL2, KDTE104EBS2, KUDS30CXBL2, KUDL15FXWH4, JDB9200CWP2, KDTE104DBL1, KDTM384EBS0, KDPE334GPS0, KDFE104DBL5, KUDE40FXBT0, KUDE48FXBL1, KUDE48FXWH5, KDTE104EBL4, KDFE204EWH2, KDTE334DBL0, KDPM354GPS0, KUDS35FXBL1, KUDE50CXSS6, JDB9200CWX4, KDTM384ESS1, KUDS35FBSS0, KUDE40FXSS0, KDTE104DSS1, KUDS30IXWH8, KDFE204EBL0, KDFE204EWH4, JDB9800CWS3, KUDE40FXWH3, KUDE60HXSS0, KUDE60FXWH5, KDTM804ESS1, KUDS30FXBL2, KUDE40FXBT1, KDTE104EBL0, KDFE104DWH5, KUDS30FXWH4, KDTM704EBS1, KUDS30FXSS4, KDTM804EBS1, KDTE204EWH4, KDFE104HBL0, KUDE60HXSS2, KDTM404EBL3, KUDE20FBWH1, KUDE70FXSS3, KUDE40FXSS4, KUDS35FXWH1, KUDL15FXBL1, KUDS35FBSS1, KUDE70FXSS0, KUDE20IXSS3, KUDS30CXSS7, KDTM354ESS2, KDTE204GPS0, KUDS35FXSS5, KUDS30IXWH3, KUDE20IXBL2, KDTE104DWH1, KUDS30CXWH3, KDTE304DBL0, KUDS30FXSS1, KDTE404DSP0, KDTM384EBS1, KDPE204GPS0, KDTE334DSS0, KDTE234GBS1, KUDS30CXBL1, KUDS30SXBL4, KUDS30IXBL3, KUDS30IXBL2, KUDS30IXBTA, KDFE104DWH2, KDTE254ESS2, JDB9000CWB1, KUDS30FXSS3, KDFE104DSS3, KUDS30IXWH9, KDFE104DBL1, KUDS35FXWH8, KDFE304DBL1, KDTE554CSS4, KDTE204DWH0, KUDS35FXSS0, KUDE48FXWH6, KUDE20IXSS4, and more.
Functions:
The KitchenAid Dishwasher Silverware Basket serves the following functions:
Silverware organization: It offers compartments and slots to keep silverware and utensils securely in place during the dishwasher's operation.
Effective cleaning: The basket's design allows water and detergent to reach all items inside, ensuring thorough cleaning of the silverware and utensils.
Common Symptoms of a Faulty Silverware Basket:
Damaged or broken: Cracks, broken dividers, or missing parts can hinder the basket's ability to hold silverware properly.
Poor cleaning results: If silverware or utensils are not positioned correctly within the basket, it can lead to inadequate cleaning results.
Difficult loading or unloading: A damaged basket may make it challenging to load or unload silverware smoothly.
Compare Prices on eBay
Please note that prices on eBay can vary, and availability might change over time. It's always a good idea to compare prices from different sellers and consider their ratings and reviews before making a purchase.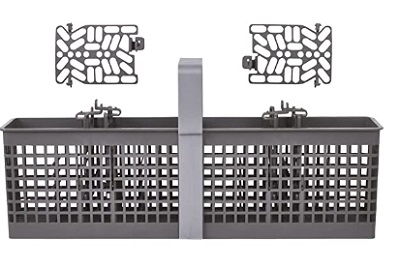 Other Home Appliance Parts and Repairs:
More Information
If you have any problems or cannot find the right part for your appliance, please leave a message below. We will check and get back to you quickly. Thank you.