Genuine W10119142 KitchenAid Oven Relay Control Board Replacement Parts. For 9760211 WPW10119142 KEBS278SWH00 KEBS207SBL02 KEBS207SSS00 KEBS207SBL04 KEBK276SSS02 KEBS207SBL00 KEBS278SWH04 KEBS208SSS03 KEBK206SSS04 KEBS208SBT00 appliance parts and more. 100% Customer Satisfaction Guarantee!
W10119142 KitchenAid Oven Relay Control Board
Part No: W10119142
Replacement Part Number: PS11748562 9760211 WPW10119142 4440605 EAP11748562 AP6015287
Fits Brands: Whirlpool, KitchenAid
Item Type: Range/Oven Electronic Control Board Replacement Parts
Fits Types: 30″ Electric Built-In Double Oven, 27″ Electric Built-In Double Oven
Product Price: Read more item details and Check the Latest Price Below.
Fits Range/Oven Models:
Check the right appliance replacement part. The W10119142 KitchenAid Oven Relay Control Board suits the following models. Use Ctrl-F to find your appliance model shown below.
KEBS208SSS00 KEBS207SSS02 KEBS207SWH00 KEBS277SSS03 KEBS208SBL00 KEBS207SSS03 KEBK206SSS02 KEBS278SSS03 KEBK206SSS03 KEBS278SWH00 KEBS208SWH04 KEBS208SSS04 KEBK206SSS00 KEBS208SWH02 KEBS207SBL04 KEBS277SBL04 KEBK276SSS04 KEBS277SWH02 KEBS207SSS00 KEBS278SWH04 KEBS208SWH00 KEBK206SWH02 KEBS208SBL04 KEBS207SWH04 KEBS278SBL04 KEBK206SSS04 KEBS278SSS02 KEBS277SBL02 KEBK276SSS02 KEBK206SWH04
KEBK276SWH02 KEBS207SSS04 KEBS208SBL02 KEBS278SBL02 KEBS277SBL00 KEBS208SSS02 KEBS277SSS00 KEBS207SWH02 KEBS207SBL02 KEBS277SWH04 KEBK206SBL00 KEBS277SSS02 KEBS278SWH02 KEBK276SSS00 KEBK206SWH00 KEBK276SBL04 KEBS278SSS04 KEBK276SBL02 KEBS278SSS00 KEBK206SBL04 KEBS277SWH00 KEBS278SBL00 KEBK276SWH04 KEBS208SSS03 KEBK276SBL00 KEBK206SBL02 KEBS277SSS04 KEBS208SBT00 KEBS207SBL00 KEBK276SSS03 KEBK276SWH00 and more.
Compare Lowest Prices – W10119142 KitchenAid Oven Relay Control Board
Get the Best Deals! See deals more product descriptions, terms and conditions (new, used, or refurbished), shipping & handling options, exchange, returns & customer satisfaction policy, and payment methods. There are a number of sellers promoting this new part on the market. Please compare the lowest prices below.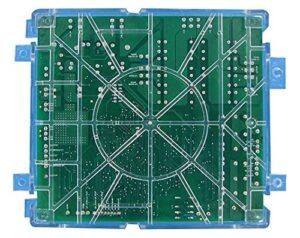 ==> Click Here to Compare Best Prices Today! <==
Other Information
In the market online, many sellers sell a number of appliance parts, including GE Range Control Board, Bosch Dishwasher Control Board Replacement Cost, Washer Control Panel, and Circuit Board for Samsung Refrigerator, also covering the W10119142 KitchenAid Oven Relay Control Board replacement parts. For other main home appliance brands, for instance, LG, you are able to see its products, parts, and services on the Internet.
More Replacement Parts:
Don't wait! In addition to the W10119142 KitchenAid Oven Relay Control Board home appliance replacement parts, if you can not find the right part for your specific new or pre-owned appliance model, please write your note in the comment box down below. We will search for the part and respond to you ASAP. Thank you very much.