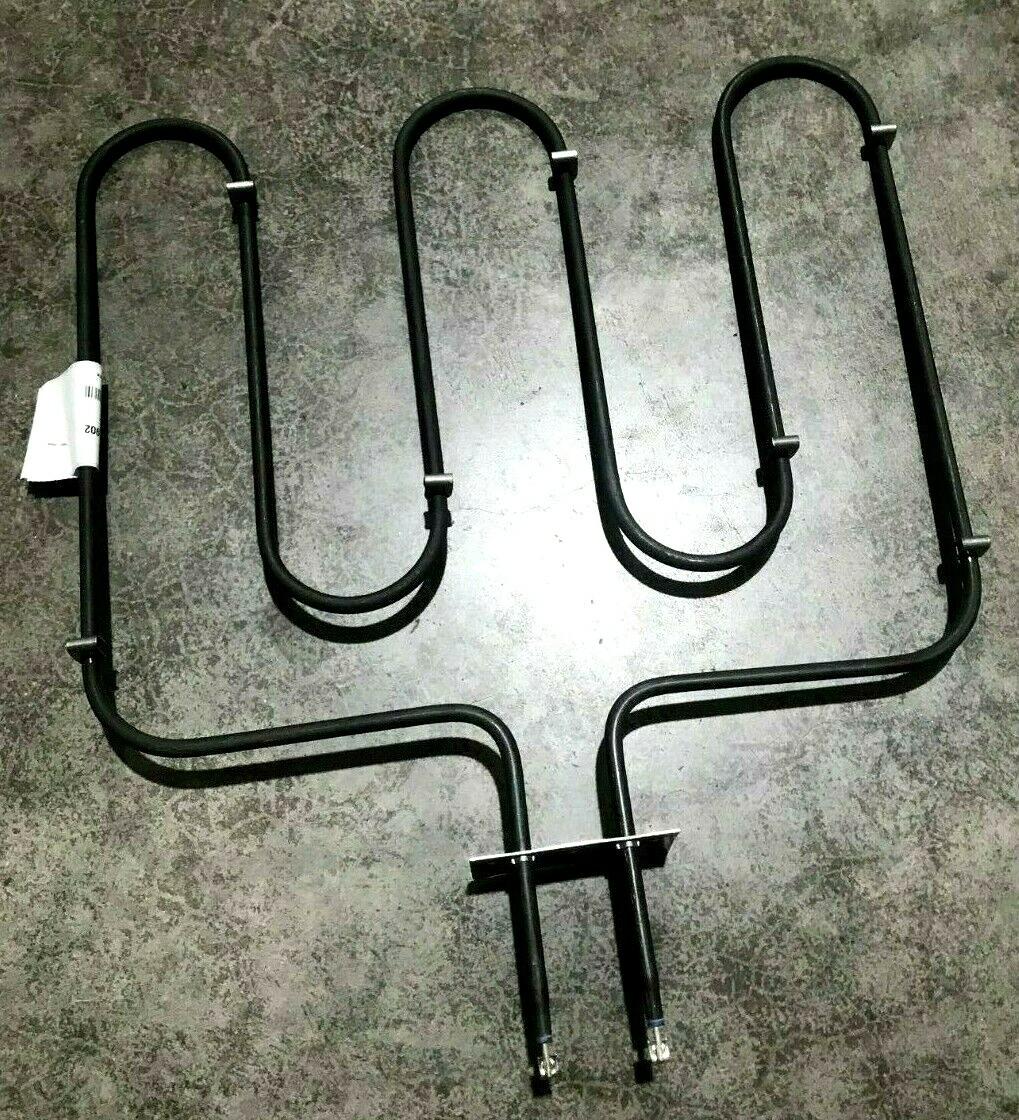 Frigidaire Stove Range Heating Element Assembly 318254902
Product: 318254902 OEM FRIGIDAIRE BAKE ELEMENT- NEW USA MADE
Type: Range Burner Element
Item Location: Crown Point, Indiana, United States
Return Policy: 30 day returns. Buyer pays for return shipping
Condition: New
Price: US $122.00
Fits Frigidaire Stove Models:
This Range Burner Element Assembly 318254902 product fits the following Frigidaire models. Use Ctrl+F to find your particular model below.
CPEB27S9DC2 CPEB27S9FC1 CPEB27S9FC3 CPEB27S9FC4 CPEB27S9FC5 FGET2745KBA FGET2745KBB FGET2745KFA FGET2745KFB FGET2745KWA FGET2745KWB FGEW2745KBA FGEW2745KBB FGEW2745KFA FGEW2745KFB FGEW2745KWA FGEW2745KWB GLEB27M9EBA
GLEB27M9EBB GLEB27M9EQA GLEB27M9EQB GLEB27M9ESA GLEB27M9ESB GLEB27M9FBA GLEB27M9FBB GLEB27M9FBC GLEB27M9FBD GLEB27M9FQA GLEB27M9FQB GLEB27M9FSA GLEB27M9FSB GLEB27M9FSC GLEB27M9FSD GLEB27S9DBB GLEB27S9DQB GLEB27S9DSB GLEB27S9FBA GLEB27S9FBB GLEB27S9FBC GLEB27S9FBD GLEB27S9FBE GLEB27S9FQA GLEB27S9FQB GLEB27S9FSA GLEB27S9FSB GLEB27S9FSC GLEB27S9FSD
GLEB27T9DBA GLEB27T9DBB GLEB27T9DBC GLEB27T9DQA GLEB27T9DQB GLEB27T9DQC GLEB27T9DSA GLEB27T9DSB GLEB27T9DSC GLEB27T9FBA GLEB27T9FBB GLEB27T9FBC GLEB27T9FQA GLEB27T9FQB GLEB27T9FSA GLEB27T9FSB GLEB27T9FSC PLEB27M9ECA PLEB27M9ECB PLEB27M9ECC
PLEB27M9ECD PLEB27M9ECE PLEB27S9DCA PLEB27S9DCB PLEB27S9FCA PLEB27S9FCB PLEB27S9FCC PLEB27S9FCD PLEB27S9FCE PLEB27S9FCF PLEB27T9DCA PLEB27T9DCB PLEB27T9DCC PLEB27T9FCA PLEB27T9FCB PLEB27T9FCC PLEB27T9FCD
Compare Lowest Price
Read more Oven Surface Element product description, shipping & payment options, and Compare Updated Price on eBay HERE!