Check Price Oven Stove Circuit Board for Crosley Frigidaire Kenmore Tappan CRG3150LWA CRG3150PWB FFGF3017LWA FGF337AUJ 79071524401 Buy Online Here!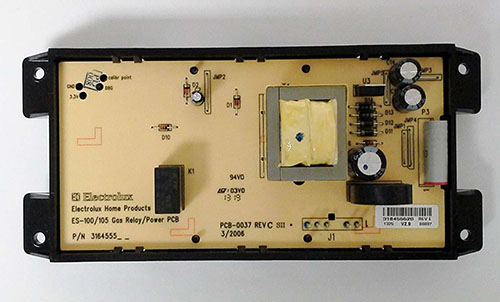 Oven Range Electronic Control Board
Product: Oven Range Stove Circuit Control Board
Part Number: 316455410
Replace Parts: 316222800 316222802 316222802R 316455410 5304427745
Fits Brands: Crosley Frigidaire Kenmore Tappan White-Westinghouse
Fits Oven Models:
This Electronic Main Control Board 316455410 fits the following Crosley Frigidaire Kenmore Tappan oven models. Use Ctrl+F to find your appliance model below.
CRG3140GWBC CRG3140GWBE CRG3150LBB CRG3150LSB CRG3150PSC CRG3160GBBD CRG3160GWWC CRG3180PBA CRP3160GBBC FFLF3052USB CFGF337ESD FFGF3011LBB FFGF3011LBG FFGF3011LWJ FFGF3013LWD FFGF3015LBB FFGF3015LMF FFGF3015LWD FFGF3017LBD FFGF3017LSG FFGF3017LWF FFGF3019LWD FFGF3047LSG FFGF3049LSJ FFGF3052TWC FFLF3047LSE FFLF3052USA FGF326ASF FGF326AUF FGF326AWE FGF328FSB FGF328GBG FGF328GMF FGF337ASC FGF337ASD FGF337AUE FGF337BCG FGF337ECA FGF337EUD FGF337GCF FGF337GSA FGF337GWC FGF348KCA FGF348KCF FGF348KSC FGF348KSK FGFB337GCF FLF337AUB FLF337AUD FLF337ECH FLF337ECP FLF337EWD LFGF3014LBC 79070419502 79071411400 79071414401 79071422401 79071452600 79071512403 79071514401 79071520401 79071522400 79071529404 79071549600 79071553600 TGF336ASA TGF336ASH TGF336AWE TGF336FSA TGFS26CBC and more.
Compare Lowest Price
Please Check! The right part number is 316455410. Read more Range Oven 33003028 PCB Control Board product details, shipping & payment methods, and Compare Prices on eBay HERE!