Best Price Genuine Samsung Fridge Replacement Parts DA41-00413G Circuit Board. Fits PS4139768 AP4341225 2002624 EAP4139768 RF266ABPN/XAA RF266ABRSXAA RF266ABBP/XAA-00 RF266ABWP/XAA RF266ABBP/XAA bottom-mount refrigerator models and more. Buy Now!
Genuine Samsung Fridge Control Board DA41-00413G
Item: Samsung DA41-00413G Refrigerator Electronic Control Board Genuine OEM part
Part No: DA41-00413G
Replaces Part No: 2002624 EAP4139768 AP4341225 PS4139768
Fits Brands: Samsung
Item Type: Fridge Main Control Board Parts, Refrigerator main control board
Item Location: United States, United States
Ship To: United States
Return Policy: Free 30 day returns
Item Condition: New
Product Price: US $186.94
Read more item descriptions and Compare the Lowest Prices Below.
==> Click Here to Compare the Lowest Prices on eBay! <==
Fits Refrigerator Models:
This Samsung Refrigerator Replacement Parts DA41-00413G Power Control Board fits the following models. Use Ctrl-F to search your appliance model shown below.
RF266ABRS/XAA-00 RF266ABBP/XAA-00 RF266ABRSXAA RF266ABWPXAA RF266ABWP/XAA RF266ABRS/XAA RF266ABBP/XAA RF266ABPN/XAA
Compare Best Deals
Check the Best Price! Learn more DA41-00413G product description, terms and conditions (new, pre-owned, or refurbished), shipping & handling options, exchange, returns & money-back policy, and other important information. There are a number of sellers selling this new or used part online. You are able to see the best prices below.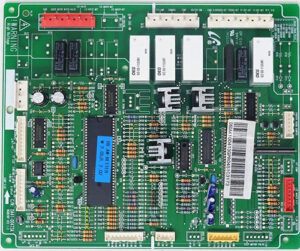 ==> Click Here to Compare Best Prices TODAY! <==
More Home Appliance Information
Further the Samsung DA41-00413G Refrigerator Circuit Board, there are other appliance parts promoted on the market, including LG Refrigerator Control Panel Display, Fridge Control Board Replacement, Whirlpool Duet Dryer Control Board Troubleshooting, and LG Refrigerator Control Panel Cover Replacement. For more big home appliance brands, e.g. LG, you can see its products, parts, and services on the Internet.
Other Samsung Fridge Circuit Board Replacement Parts:
Don't give up! If you need any help with finding the correct part for your appliance model, please feel free to contact us at any time. We will find the part and give some advice to you soon. Thank you.