Best Deals Oven Stove Control Board Repair for Crosley Frigidaire Kenmore Tappan CRG3150LSA FFGF3011RSA FFGF3019LWC FGF337GCE 79071514401 Free Shipping!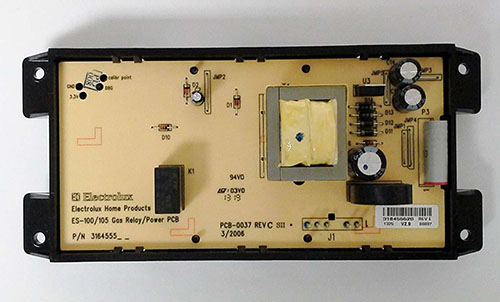 Oven Control Board Replacement
Product: Oven Range Stove Circuit Main Control Board PCB Assembly
Part Number: 316455410
Replace Parts: 316222800 316222802 316222802R 316455410 5304427745
Fits Brands: Crosley Frigidaire Kenmore Tappan White-Westinghouse
Fits Oven Models:
The item 316455410 fits the following Crosley Frigidaire Kenmore Tappan White-Westinghouse oven models. Use Ctrl+F to find your appliance model listed below.
CRG3140GWBA CRG3140GWBG CRG3150LBD CRG3150LWB CRG3150PBB CRG3150PWC CRG3160GWWB CRGE3455TSA CRP3160GWWA FFGF3052TWD CFGF337ESD CFGF337GSE FFGF3011LBH FFGF3011LWJ FFGF3013LBD FFGF3015LBD FFGF3015LME FFGF3016TMA FFGF3016TWB FFGF3017LSB FFGF3019LBA FFGF3019LWF FFGF3047LSH FFGF3052TBA FFGF3052TSC FFLF3047LSC FGF318GCA FGF326ASD FGF326AUE FGF326FSA FGF326KSC FGF328GBD FGF328GSD FGF337ASB FGF337ASD FGF337AWE FGF337BCD FGF337ESC FGF337EWD FGF337GCA FGF337GSD FGF337GWD FGF345GSD FGF348KCH FGF348KMB FGF348KSH FGFS36FUA FGFS36FWF FLF337AUH FLF337ECF FLF337EUE FLF337EUJ LFGF3014LBA 79071410400 79071411403 79071420402 79071421400 79071510400 79071511401 79071513405 79071519400 79071522401 79071524401 79071549600 79071553600 TGF328GSB TGF336ASG TGF336AWC TGF336AWG TGF336FWF and more.
Compare Lowest Price
Please Check! Your correct part number is 316455410. See more Stove Oven 33003028 Electronic Control Board item description, and Compare Best Prices on eBay HERE!