Shop for Oven Range Control Board Repair for Crosley Frigidaire Kenmore Tappan CRG3140GWWA CRG3160GBBF FFGF3019LWH FGF337GBB 79071422403 Buy Now!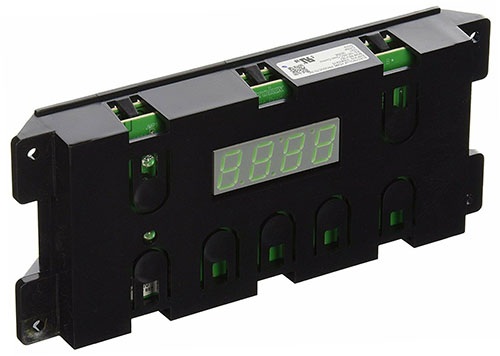 Oven Range Control Board
Product: Oven Range Stove Circuit Main Control Board
Part Number: 316455410
Replace Parts: 316222800 316222802 316222802R 316455410 5304427745
Fits Brands: Crosley Frigidaire Kenmore Tappan White-Westinghouse
Fits Oven Models:
The product 316455410 fits the following Crosley Frigidaire Kenmore Tappan White-Westinghouse oven models. Use Ctrl+F to find your particular model listed below.
CRG3140GQQD CRG3140GWBD CRG3150LBC CRG3150LSA CRG3150PWA CRG3150PWC CRG3160GBBE CRG3160GWWD CRP3160GWWA FFGF3016TWC CFGF3017LWC CFGF337GSF FFGF3011LWG FFGF3012TBA FFGF3013LWA FFGF3015LBB FFGF3015LMG FFGF3015LWD FFGF3017LBB FFGF3017LBH FFGF3017LWD FFGF3019LWC FFGF3047LSF FFGF3049LSC FFGF3052TSA FFLF3047LSF FGF318GCC FGF326ASH FGF326AUD FGF326KBB FGF326KSB FGF328GBH FGF328GSD FGF328GSY FGF337ASC FGF337ASL FGF337AWE FGF337AWH FGF337ECD FGF337EWD FGF337GCD FGF337GCK FGF337GWD FGF345GSD FGF348KCJ FGF348KSB FGF348KSG FGFS36FUD FLF337AUA FLF337AWB FLF337ECG FLF337EUE FLF337EUJ FLF345HSA LFGF3052TFA 79071411400 79071412404 79071422400 79071424401 79071511401 79071513402 79071519403 79071523402 79071529404 79071551600 TGF320DWA TGF328GSE TGF336ASG TGF336AWD TGF336AWJ TGF336FWF TGFS26CSA and more.
Compare Lowest Price
SHOP NOW! Your correct part number is 316455410. See more Stove Oven 33003028 PCB Control Board part details, item condition, shipping & payment options, and Compare Best Prices on eBay HERE!