Check Price Oven Range Control Board for Crosley Frigidaire Kenmore Tappan CRG3140GBBC CRP3160GQQC FFGF3015LBD FGF348KMB 79071524401 Fast Shipping!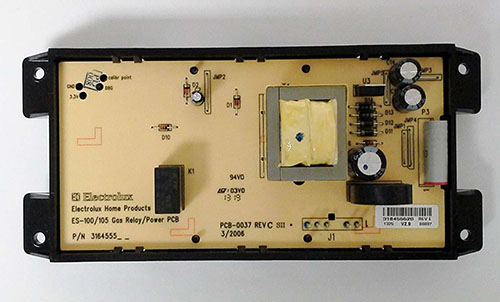 Oven Stove Control Board Replacement
Product: Oven Range Stove Circuit Main Control Board
Part Number: 316455410
Replace Parts: 316222800 316222802 316222802R 316455410 5304427745
Fits Brands: Crosley Frigidaire Kenmore Tappan White-Westinghouse
Fits Oven Models:
The part 316455410 fits the following Crosley Frigidaire Kenmore Tappan White-Westinghouse oven range models. Use Ctrl+F to find your specific model below.
CRG3140GWBC CRG3140GWWB CRG3140GWWG CRG3150LQC CRG3150PSC CRG3150SSA CRG3160GQQC CRGE3455TWA CRP3160GQQA FFGF3052TSD CFGF3017LWD FFGF3011LBA FFGF3011LWB FFGF3012TWA FFGF3013LBB FFGF3015LBD FFGF3015LWA FFGF3015LWG FFGF3017LBD FFGF3017LSC FFGF3017LWF FFGF3019LBE FFGF3047LSF FFGF3049LSC FFLF3017LWA FFLF3047LSB FGF319KBA FGF326ASB FGF326AUJ FGF326AWF FGF328FSA FGF328GBX FGF328GSE FGF337ABA FGF337ABJ FGF337AUA FGF337AUF FGF337AWH FGF337ECC FGF337EWC FGF337GCE FGF337GCK FGF337GWD FGF348KCB FGF348KCM FGF348KCN FGFB337GCC FGFS36FWD FLF337AUA FLF337AUH FLF337ECE FLF337ECM FLF337EWD FLF337EWM NGSG3PMASA 79071411404 79071419401 79071422403 79071452600 79071511400 79071513400 79071519404 79071523401 79071529403 79071541600 79071559600 TGF328GSD TGF336ASE TGF336AUF TGF336AWG TGFS26CBC TGFS26CQA and more.
Compare Lowest Price
BEST DEALS! Your part number is 316455410. See more Oven 33003028 PCB Control Board product description, return & warranty services, and Compare Prices on eBay HERE!