Buy Oven Control Board Repair for Crosley Frigidaire Kenmore Tappan CRG3140GQQB FFGF3012TBD FGF328FSA FGFS36FWD 79071420403 and more.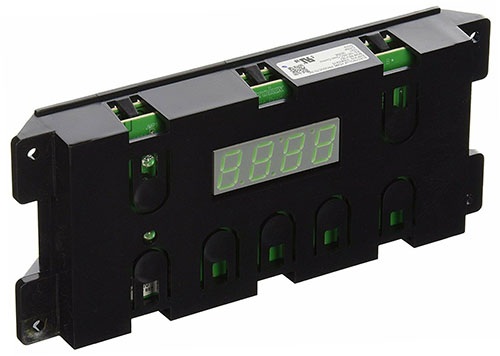 Oven Stove Electronic Control Board
Product: Oven Range Stove Circuit Control Board PCB Assembly
Part Number: 316455410
Replace Parts: 316222800 316222802 316222802R 316455410 5304427745
Fits Brands: Crosley Frigidaire Kenmore Tappan White-Westinghouse
Fits Oven Models:
This Main Control Board 316455410 fits the following Crosley Frigidaire Kenmore Tappan White-Westinghouse oven models. Use Ctrl+F to find your specific model below.
CRG3140GQQE CRG3140GWBE CRG3150LQB CRG3150LSA CRG3150PBC CRG3150SSA CRG3160GBBF CRG3160GWWE CRP3160GBBA FFGF3012TBD CFGF337ESD FFGF3011LBF FFGF3011LWA FFGF3012TWA FFGF3013LWA FFGF3015LBC FFGF3015LMC FFGF3015LWC FFGF3016TWB FFGF3017LSG FFGF3017LWE FFGF3019LBE FFGF3047LSG FFGF3052TBA FFGF3052TSB FFLF3047LSF FGF319KSB FGF326ASB FGF326AUB FGF326KBC FGF328FMA FGF328GBX FGF328GSF FGF328GSK FGF337ASC FGF337ASH FGF337AWD FGF337AWH FGF337ECA FGF337GBA FGF337GCB FGF337GCK FGF337GWC FGF348KBB FGF348KCC FGF348KSA FGF348KSJ FGFS36FUC FLF326ASA FLF337AWA FLF337ECC FLF337EUE FLF337EWE LFGF3014LWC 79071410400 79071412403 79071420402 79071422401 79071424400 79071512404 79071514400 79071520400 79071522404 79071524404 79071551600 79075193301 TGF328GSH TGF336ASF TGF336AWA TGF336AWJ TGF336FWF and more.
Compare Lowest Price
SHOP NOW! Your correct part number is 316455410. View more Stove Oven 33003028 PCB Control Board part details, return & refund policy, and Compare Lowest Prices on eBay HERE!