Best Deals Oven Circuit Board for Crosley Frigidaire Kenmore Tappan CRG3150LQB CRG3150SSB FGF328GMD FGF337ASH 79071522404 Buy Online Here!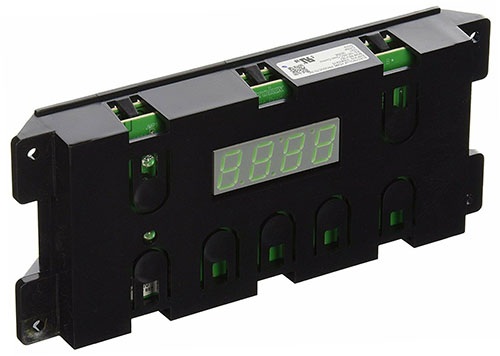 Oven Range Electronic Circuit Board
Product: Oven Range Stove Circuit Main Control Board PCB Assembly
Part Number: 316455410
Replace Parts: 316222800 316222802 316222802R 316455410 5304427745
Fits Brands: Crosley Frigidaire Kenmore Tappan White-Westinghouse
Fits Oven Models:
This product 316455410 fits the following Crosley Frigidaire Kenmore Tappan oven stove models. Use Ctrl+F to find your specific model below.
CRG3140GBBG CRG3140GQQD CRG3140GWBE CRG3150LBC CRG3150LSB CRG3150PBB CRG3160GBBA CRG3160GWWA CRG3160GWWD CRP3160GWWB FFGF3016TWC CFGF3017LWB FFGF3011LBE FFGF3011LWD FFGF3012TBB FFGF3013LBC FFGF3015LBE FFGF3015LMC FFGF3016TMA FFGF3017LBC FFGF3017LSB FFGF3017LWF FFGF3019LWC FFGF3047LSG FFGF3051TWA FFGF3052TWA FFLF3047LSA FGF319KBA FGF326ASJ FGF326AUJ FGF326AWF FGF328GBA FGF328GMB FGF328GSA FGF337ABF FGF337ASL FGF337AWF FGF337AWH FGF337ECD FGF337GBB FGF337GCE FGF337GUA FGF337GWC FGF345GSA FGF348KCH FGF348KCN FGF348KSG FGFB337GCF FGFS36FWE FLF337AWC FLF337ECE FLF337ECR FLF337EUJ FLF337EWM NGSG3PMASA 79071412400 79071419401 79071422404 79071451600 79071510401 79071513400 79071520400 79071523402 79071524404 79071551600 79071554600 TGF328GSA TGF336ASJ TGF336AUE TGF336FWB TGF351RBC and more.
Compare Lowest Price
Please Check! Your correct part number is 316455410. View more Stove Oven 33003028 Main Control Board item description, shipping & payment methods, return & warranty policy, and Compare Prices on eBay HERE!