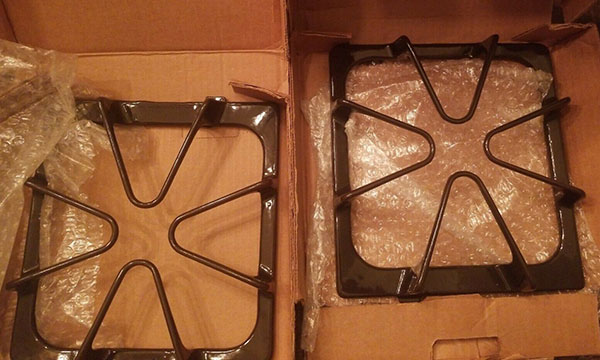 Whirlpool Stove Rangetop Burner Grate 8522850
Product: Whirlpool Kenmore Oven Gas Range Cooktop Burner Grates Lot of 2 Part PS393750
Part Number: 8522850
Replaces Parts: 2312055 3195900 3196189 8053455 8053895 8053904 8522850 8522851 8522858 AP6021539 EAP11754863 PS11754863 W10165803 W10166295 W10447925 WP8053455 WP8522851 WP8522858 WPW10165803 WPW10166295
Fits Brands: Whirlpool Amana Kenmore Maytag
Item Location: Niagara Falls, New York, United States
Return Policy: Seller does not accept returns
Condition: New
Price: US $62.99 Check Latest Price on eBay
Fits Stove Models:
This oven surface burner grate 8522850 part fits the following Whirlpool, Amana, Kenmore, and Maytag cooktop gas range models. Use Ctrl+F to find your particular model listed below.
AGR6011VDB0 AGR6011VDB1 AGR6011VDB2 AGR6011VDB3 AGR6011VDS0 AGR6011VDS1 AGR6011VDS2 AGR6011VDS3 AGR6011VDW0 AGR6011VDW1 AGR6011VDW2 AGR6011VDW3
66572012100 66572012101 66572014100 66572014101 66572022100 66572023100 66572024100 66572029100 66575012100 66575012101 66575014100 66575014101 66575022100 66575023100 66575024100 66575029100 66575812000 66575812001 66575812002 66575814000 66575814001 66575814002 66575822000 66575822001 66575822002 66575824000 66575824001 66575824002 66575829000 66575829001 66575829002 66575832000 66575832001 66575832002 66575832003 66575834000 66575834001 66575834002 66575834003 66575839000 66575839001 66575839002 66575839003 66575842000 66575842003 66575843003 66575844000 66575844001 66575844002 66575844003 66575849000 66575849001 66575849002 66575849003
MGR7661WB0 MGR7661WB1 MGR7661WB2 MGR7661WB3 MGR7661WB4 MGR7661WS0 MGR7661WS1 MGR7661WS2 MGR7661WS3 MGR7661WS4 MGR7661WW0 MGR7661WW1 MGR7661WW2 MGR7661WW3 MGR7661WW4 MGR7662WB1 MGR7662WB2 MGR7662WB3 MGR7662WB4 MGR7662WQ1 MGR7662WQ2 MGR7662WQ3 MGR7662WQ4 MGR7662WS1 MGR7662WS2 MGR7662WS3 MGR7662WS4 MGR7662WW1 MGR7662WW2 MGR7662WW3 MGR7662WW4
GLT3014GB0 GLT3014GB1 GLT3014GB2 GLT3014GB3 GLT3014GQ0 GLT3014GQ1 GLT3014GQ2 GLT3014GQ3 GLT3014GT0 GLT3014GT1 GLT3014GT2 GLT3014GT3 GLT3014GZ0 GLT3014GZ1 GLT3034LB0 GLT3034LB01 GLT3034LB02 GLT3034LB2 GLT3034LQ0 GLT3034LQ01 GLT3034LQ02 GLT3034LQ2 GLT3034LT0 GLT3034LT01 GLT3034LT02 GLT3034LT2 GLT3614GB0 GLT3614GB1 GLT3614GB2 GLT3614GB3 GLT3614GQ0 GLT3614GQ1 GLT3614GQ2 GLT3614GQ3 GLT3614GT0 GLT3614GT1 GLT3614GT2 GLT3614GT3 GLT3614GZ0 GLT3614GZ1 GLT3634LB0 GLT3634LQ0 GLT3634LT0 GR475LEKS0
GS395LEGB0 GS395LEGB1 GS395LEGB3 GS395LEGB5 GS395LEGB6 GS395LEGB7 GS395LEGQ0 GS395LEGQ1 GS395LEGQ3 GS395LEGQ5 GS395LEGQ6 GS395LEGQ7 GS395LEGT3 GS395LEGT5 GS395LEGT6 GS395LEGT7 GS395LEGZ0 GS395LEGZ1 GS395LEGZ3 GS440LELB0 GS440LELQ0 GS440LELT0 GS440LEMB0 GS440LEMB1 GS440LEMB2 GS440LEMB3 GS440LEMB4 GS440LEMB5 GS440LEMQ0 GS440LEMQ1 GS440LEMQ2 GS440LEMQ3 GS440LEMQ4 GS440LEMQ5 GS440LEMT0 GS440LEMT1 GS440LEMT2 GS440LEMT3 GS440LEMT4 GS440LEMT5 GS445LELS0 GS445LEMS0 GS445LEMS1 GS445LEMS2 GS445LEMS3 GS445LEMS4 GS445LEMS5 GS458LELB0 GS458LELQ0 GS458LELT0 GS458LEMQ0 GS458LEMT0 GS460LEKB0 GS460LEKB1 GS460LEKQ0 GS460LEKQ1 GS460LEKT0 GS460LEKT1 GS460LELB0 GS460LELB1 GS460LELQ0 GS460LELQ1 GS460LELT0 GS460LELT1 GS465LEKS0 GS465LEKS1 GS465LELS0 GS465LELS1 GS470LEKB0 GS470LEKQ0 GS470LEKT0 GS470LEMB0 GS470LEMB1 GS470LEMB2 GS470LEMB3 GS470LEMB4 GS470LEMQ0 GS470LEMQ1 GS470LEMQ2 GS470LEMQ3 GS470LEMQ4 GS470LEMT0 GS470LEMT1 GS470LEMT2 GS470LEMT3 GS475LEKS0 GS475LELS0 GS475LELS1 GS475LELS2 GS475LEMS0 GS475LEMS1 GS475LEMS2 GS475LEMS3 GS475LEMS4
GW395LEGB0 GW395LEGB1 GW395LEGB2 GW395LEGB3 GW395LEGB4 GW395LEGB5 GW395LEGB6 GW395LEGQ0 GW395LEGQ1 GW395LEGQ2 GW395LEGQ3 GW395LEGQ4 GW395LEGQ5 GW395LEGQ6 GW395LEGT2 GW395LEGT3 GW395LEGT4 GW395LEGT5 GW395LEGT6 GW395LEGZ0 GW395LEGZ1 GW395LEGZ2 GW395LEGZ3
SCS3014GB0 SCS3014GB1 SCS3014GB2 SCS3014GB3 SCS3014GQ0 SCS3014GQ1 SCS3014GQ2 SCS3014GQ3 SCS3014GS0 SCS3014GS1 SCS3014GS2 SCS3014GS3 SCS3014GT1 SCS3014GT2 SCS3014GT3 SCS3014GZ0 SCS3014GZ1 SCS3014LB0 SCS3014LB01 SCS3014LB02 SCS3014LQ0 SCS3014LQ01 SCS3014LQ02 SCS3014LS0 SCS3014LS01 SCS3014LS02 SCS3014LT0 SCS3014LT01 SCS3014LT02 SCS3514GB1 SCS3614GB0 SCS3614GB1 SCS3614GB2 SCS3614GB3 SCS3614GQ0 SCS3614GQ1 SCS3614GQ2 SCS3614GQ3 SCS3614GS0 SCS3614GS1 SCS3614GS2 SCS3614GS3 SCS3614GT1 SCS3614GT2 SCS3614GT3 SCS3614GZ0 SCS3614GZ1 SCS3614LB0 SCS3614LB01 SCS3614LB02 SCS3614LQ0 SCS3614LQ01 SCS3614LQ02 SCS3614LS0 SCS3614LS01 SCS3614LS02 SCS3614LT0 SCS3614LT01 SCS3614LT02
SF195LEHQ0 SF195LEHQ5 SF195LEHQ6 SF195LEHT5 SF195LEHT6 SF195LEHZ0 SF195LEHZ5 SF195LEKB0 SF195LEKB1 SF195LEKQ0 SF195LEKQ1 SF195LEKT0 SF195LEKT1 SF196LEMB0 SF196LEMB1 SF196LEMQ0 SF196LEMQ1 SF196LEMT0 SF196LEMT1 SF196LEPB0 SF196LEPB1 SF196LEPB2 SF196LEPB3 SF196LEPQ0 SF196LEPQ1 SF196LEPQ2 SF196LEPQ3 SF196LEPT0 SF196LEPT1 SF196LEPT2 SF196LEPT3 SF197LEHQ7 SF197LEHT7 SF197LEHZ7 SF265LXTB0 SF265LXTB1 SF265LXTB2 SF265LXTQ0 SF265LXTQ1 SF265LXTQ2 SF265LXTS0 SF265LXTS1 SF265LXTS2 SF265LXTT1 SF265LXTT2 SF325PEEQ0 SF325PEEZ0 SF325PEGN0 SF325PEGN1 SF325PEGN5 SF325PEGN6 SF325PEGQ0 SF325PEGQ1 SF325PEGQ6 SF325PEGS5 SF325PEGT5 SF325PEGT6 SF325PEGW0 SF325PEGW1 SF325PEGW5 SF325PEGW6 SF325PEGZ0 SF325PEGZ1 SF325PEGZ5 SF325PEGZ6 SF362LXSB0 SF362LXSB1 SF362LXSQ0 SF362LXSQ1 SF362LXSS0 SF362LXSS1 SF362LXST0 SF362LXST1 SF362LXSY0 SF362LXSY1 SF362LXTB0 SF362LXTB1 SF362LXTB2 SF362LXTQ0 SF362LXTQ1 SF362LXTQ2 SF362LXTS0 SF362LXTS1 SF362LXTS2 SF362LXTT0 SF362LXTT1 SF362LXTT2 SF362LXTY0 SF362LXTY1 SF362LXTY2 SF367LEMB0 SF367LEMB1 SF367LEMQ0 SF367LEMQ1 SF367LEMT0 SF367LEMT1 SF367LEMW0 SF367LEMW1 SF367LSXQ0 SF367LXSB0 SF367LXSB1 SF367LXSQ0 SF367LXSQ1 SF367LXSS0 SF367LXSS1 SF367LXSY0 SF367LXSY1 SF368LEPB0 SF368LEPB1 SF368LEPB2 SF368LEPB3 SF368LEPQ0 SF368LEPQ1 SF368LEPQ2 SF368LEPQ3 SF368LEPS0 SF368LEPS1 SF368LEPS2 SF368LEPS3 SF368LEPT0 SF368LEPT1 SF368LEPT2 SF368LEPT3 SF368LEPW0 SF368LEPW1 SF368LEPW2 SF368LEPW3 SF369LEMQ0 SF369LEMQ1 SF369LEMT0 SF369LEMT1 SF369LEPB1 SF369LEPQ0 SF369LEPQ1 SF369LEPQ2 SF369LEPQ3 SF369LEPS1 SF369LEPS2 SF369LEPS3 SF369LEPT0 SF369LEPT1 SF369LEPT2 SF369LEPT3 SF378LEPB0 SF378LEPB1 SF378LEPB2 SF378LEPB3 SF378LEPQ0 SF378LEPQ1 SF378LEPQ2 SF378LEPQ3 SF378LEPS0 SF378LEPS1 SF378LEPS2 SF378LEPS3 SF378LEPT0 SF378LEPT1 SF378LEPT2 SF379LEKB0 SF379LEKB1 SF379LEKB2 SF379LEKQ0 SF379LEKQ1 SF379LEKQ2 SF379LEKS2 SF379LEKT1 SF379LEKV0 SF379LEKW0 SF379LEMB0 SF379LEMQ0 SF379LEMS0 SF379LEMS1 SF379LEMT0 SF380LEKQ0 SF380LEKQ1 SF380LEKT0 SF380LEKT1 SF380LEMQ0 SF380LEMQ1 SF380LEMT0 SF380LEMT1 SF380LEPB0 SF380LEPB2 SF380LEPB3 SF380LEPQ0 SF380LEPQ2 SF380LEPQ3 SF380LEPS0 SF380LEPS2 SF380LEPS3 SF380LEPT0 SF380LEPT2 SF380LEPT3 SF385PEEQ0 SF385PEEZ0 SF385PEGB0 SF385PEGB1 SF385PEGB3 SF385PEGB4 SF385PEGB5 SF385PEGB6 SF385PEGB7 SF385PEGN0 SF385PEGN1 SF385PEGN3 SF385PEGN4 SF385PEGN5 SF385PEGN6 SF385PEGQ0 SF385PEGQ1 SF385PEGQ3 SF385PEGQ4 SF385PEGQ5 SF385PEGQ6 SF385PEGQ7 SF385PEGT5 SF385PEGT6 SF385PEGT7 SF385PEGW0 SF385PEGW1 SF385PEGW3 SF385PEGW4 SF385PEGW5 SF385PEGW6 SF385PEGW7 SF385PEGZ0 SF385PEGZ1 SF385PEGZ3 SF385PEGZ4 SF385PEGZ5 SF385PEGZ6 SF385PEGZ7 SF387LEGN0 SF387LEGN1 SF387LEGN3 SF387LEGN5 SF387LEGN6 SF387LEGN7 SF387LEGQ0 SF387LEGQ1 SF387LEGQ3 SF387LEGQ5 SF387LEGQ6 SF387LEGQ7 SF387LEGT7 SF387LEGW0 SF387LEGW1 SF387LEGW3 SF387LEGW5 SF387LEGW6 SF387LEGW7 SF387LEGZ0 SF387LEKB0 SF387LEKQ0 SF387LEKT0 SF389LEKB0 SF389LEKQ0 SF389LEKT0 SF395LEEB0 SF395LEEQ0 SF395LEEZ0 SF462LXSB0 SF462LXSB1 SF462LXSQ0 SF462LXSQ1 SF462LXSS0 SF462LXSS1 SF462LXST0 SF462LXST1 SGS375HQ0 SGS375HQ5 SGS375HQ6 SGS375HQ7 SP385PEGN3
WFG361LVB0 WFG361LVB1 WFG361LVB2 WFG361LVB3 WFG361LVD0 WFG361LVD1 WFG361LVD2 WFG361LVD3 WFG361LVQ0 WFG361LVQ1 WFG361LVQ2 WFG361LVQ3 WFG361LVS0 WFG361LVS1 WFG361LVS2 WFG361LVS3 WFG361LVT0 WFG361LVT1 WFG361LVT2 WFG361LVT3 WFG366LVB0 WFG366LVQ0 WFG366LVS0 WFG366LVT0 WFG510S0AB0 WFG510S0AB1 WFG510S0AB2 WFG510S0AD0 WFG510S0AD1 WFG510S0AD2 WFG510S0AS0 WFG510S0AS1 WFG510S0AT0 WFG510S0AT1 WFG510S0AT2 WFG510S0AW0 WFG510S0AW1 WFG510S0AW2 YGS395LEGQ7 YGS470LEKQ0 YGS470LELQ0 YGW395LEGB4 YGW395LEGB5 YGW395LEGB6 YGW395LEGQ4 YGW395LEGQ5 YGW395LEGQ6 YSF379LEKB0 YSF379LEKB1 YSF379LEKQ0 YSF379LEKQ1 YSF379LEMB0 YSF379LEMB1 YSF379LEMQ0 YSF379LEMQ1 YSF385PEGQ7 YSF387LEKQ0 YSF387LEKQ1 and more.
Compare Lowest Price
Read more range surface burner grate item description, return & warranty policy, and Check Lowest Price on eBay HERE!