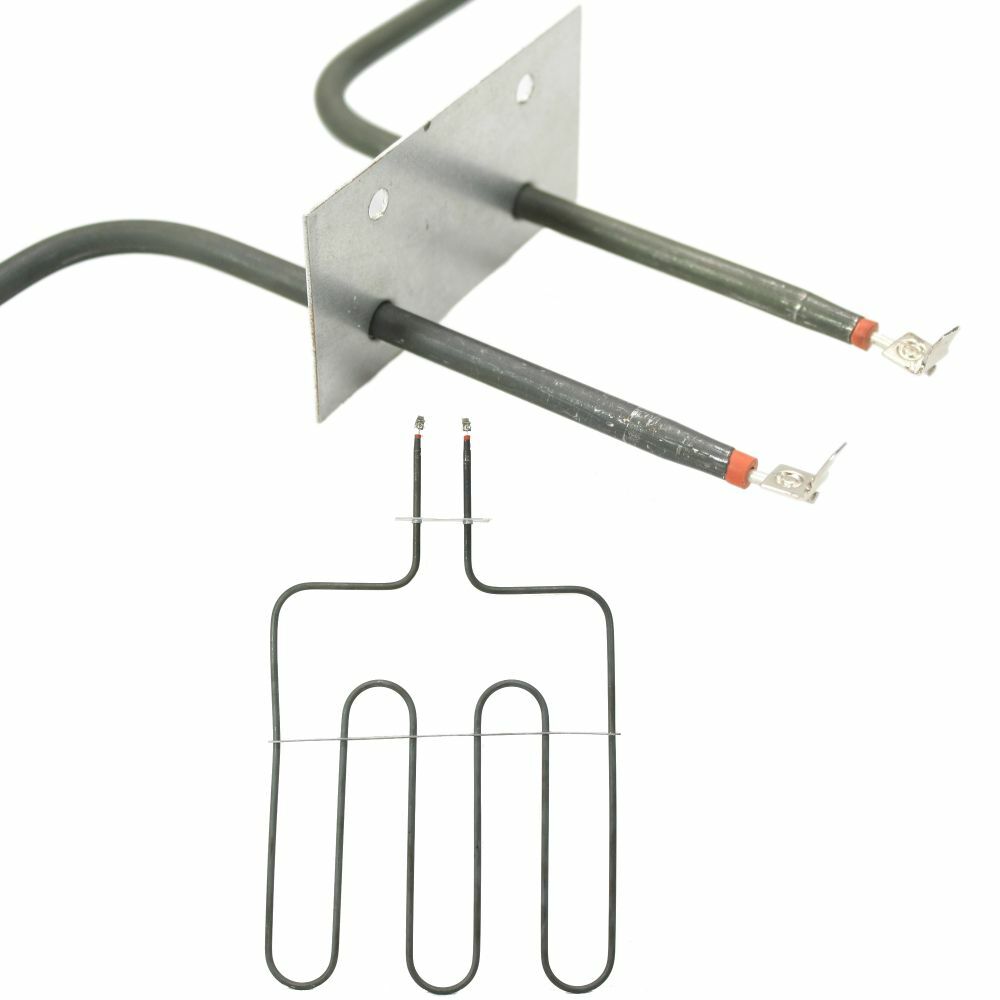 Frigidaire Stove Range Surface Heating Element 5303016247
Product: Frigidaire 5303016247 Range Broil Element Genuine OEM part
Type: Range Surface Element
Item Location: United States, United States
Return Policy: Free 30 day returns
Condition: New
Price: US $124.02
Fits Frigidaire Stove Models:
This Oven Heater Element 5303016247 item fits the following Frigidaire models. Use Ctrl+F to find your appliance model listed below.
FEB24S2ABA FEB24S2ABB FEB24S2ASA FEB24S2ASB FEB24S5ABA FEB24S5ABB FEB24S5AQA FEB24S5AQB FEB24S5ASA FEB24S5ASB FEB27S2ASA FEB27S2ASB FEB27S5ABA FEB27S5ABB FEB27S5ASA FEB27S5ASB FEB27T5ABA FEB27T5ABB FEB27T5ASA FEB27T5ASB FEB27T6CBA FEB27T6CSA
FEB500BAB1 FEB500BAB3 FEB500BAB4 FEB500BAB6 FEB500BABA FEB500BABC FEB500BABD FEB500BABE FEB500BABF FEB500BABG FEB500CEBA FEB500CEBB FEB500CEBC FEB500CEBF FEB500CEBG FEB500CEBH FEB500CEBI FEB500CESA FEB500CESB FEB500CESC FEB500CESF FEB500CESG FEB500CESH FEB500CESI FEB500CFB2 FEB500CFB4 FEB556BBB2 FEB556BBBA FEB556BBBB FEB556BBBD FEB556CBS2 FEB556CBSA FEB556CBSB FEB556CBSD FEB556CBT2 FEB556CBTB FEB556CBTD FEB556CEBA FEB556CEBB FEB556CEBC FEB556CEBE FEB556CEBF FEB556CEBG FEB556CEBH FEB556CESA FEB556CESB FEB556CESC FEB556CESE FEB556CESF FEB556CESG FEB556CESH FEB556CETA FEB556CETB FEB556CETC FEB556CETE FEB556CETF FEB556CETG FEB556CETH FEB556DBTA
FEB702BAB1 FEB702BABA FEB702BBB6 FEB702BBBA FEB702BBBC FEB702BBBF FEB702CAS1 FEB702CASA FEB702CBS6 FEB702CBSA FEB702CBSC FEB702CBSF FEB702CEBA FEB702CEBC FEB702CESA FEB702CESC FEB703BAB1 FEB703BAB4 FEB703BAB6 FEB703BABA FEB703BABB FEB703BABD FEB703BABE FEB703BABF FEB703BABG FEB703CEBA FEB703CEBB FEB703CEBC FEB754BBBA FEB754BBBB FEB755BAB1 FEB755BABA FEB755BBBA FEB755BBBB FEB755BBBD FEB755BBBF FEB755CBSA FEB755CBSB FEB755CBSD FEB755CBSF FEB755CEBA FEB755CEBB FEB755CEBD FEB755CEBE FEB755CEBF FEB755CEBG FEB755CESA FEB755CESB FEB755CESD FEB755CESE FEB755CESF FEB755CESG FEB756BBB2 FEB756BBBA FEB756BBBB FEB756BBBD FEB756CBSA FEB756CBSB FEB756CBSD FEB756CBTA FEB756CBTB FEB756CBTD FEB756CEBA FEB756CEBB FEB756CEBC FEB756CEBD FEB756CEBE FEB756CEBF FEB756CEBG FEB756CESA FEB756CESB FEB756CESC FEB756CESD FEB756CESE FEB756CESF FEB756CESG FEB756CETA FEB756CETB FEB756CETC FEB756CETD FEB756CETE FEB756CETF FEB756CETG
FEB786CEBA FEB786CEBC FEB786CEBE FEB786CEBF FEB786CEBG FEB786CEBH FEB786CESA FEB786CESC FEB786CESE FEB786CESF FEB786CESG FEB786CESH FEB786CETA FEB786CETC FEB786CETF FEB789CCBB FEB789CCBD FEB789CCBE FEB789CCBF FEB789CCBG FEB789CCSB FEB789CCSD FEB789CCSE FEB789CCSF FEB789CCSG FEB789CCTB FEB789CCTD FEB789CCTE FEB789CCTF FEB789WCC1 FEB789WCCA FEB789WCCB FEB789WCCC FEB789WCCE FEB789WCCF FEB789WCCG FEB789WCCH FEB789WESA FEB789WESB
FEB798CCB1 FEB798CCBA FEB798CCBB FEB798CCBC FEB798CCBD FEB798CCBF FEB798CCBG FEB798CCBH FEB798CCS1 FEB798CCSA FEB798CCSB FEB798CCSC FEB798CCSD FEB798CCSF FEB798CCSG FEB798CCSH FEB798CCT1 FEB798CCTA FEB798CCTB FEB798CCTC FEB798CCTD FEB798CCTF FEB798CCTG FEB798WCC1 FEB798WCCA FEB798WCCB FEB798WCCC FEB798WCCE FEB798WCCF FEB798WCCH FEB798WCCI FEB798WESA FEB798WESD
GLEB27S7ABA GLEB27S7ASA GLEB27S7CBA GLEB27S7CBB GLEB27S7CSA GLEB27S7CSB GLEB27T8ABA GLEB27T8ABB GLEB27T8ASA GLEB27T8ASB GLEB27T8ASC GLEB27T8CBA GLEB27T8CSA PLEB27S8ACA PLEB27S8ACB PLEB27S8CCA PLEB27S8CCB PLEB27S8CCC PLEB27T8ACA PLEB27T8ACB PLEB27T8CCA PLEB27T8CCB
REG74BFB0 REG74BFB1 REG74BFB2 REG74BL2 REG74BL3 REG74BL4 REG74BLB0 REG75WFB0 REG75WFB1 REG75WL1 REG75WL2 REG75WL3 REG75WL4 REG75WL5 REG75WLB0 REG77BF2 REG77BF3 REG77BFB0 REG77BFB1 REG78WL2 REG78WL3 REG78WL4 REG78WLB0 REG78WLB1 REG94BF2 REG94BFB0 REG94BFB1 REG94BL2 REG94BL3 REG94BL4 REG94BLB0 REG95WLB0 REM77BL2 REM77BL4 REM77BLB0 REM77BLB1 RG74BF2 RG74BF3 RG74BFB1 RG75BFB0 RG94BF2 RG94BF3 RG94BFB0 RG94BFB1
Compare Lowest Price
Read more Stove Heat Element item description, return & refund policy, and Compare Latest Price on eBay HERE!
Other Appliance Parts: