Great Price refrigerator meat drawer for GE Hotpoint Americana RCA GSE22KEWNFSS GSH25JGBCWW GSS22QGPDWW GSH25JFPCCC GSS25KGPDCC HSH22IFTEWW HSS25GFPCWW and more.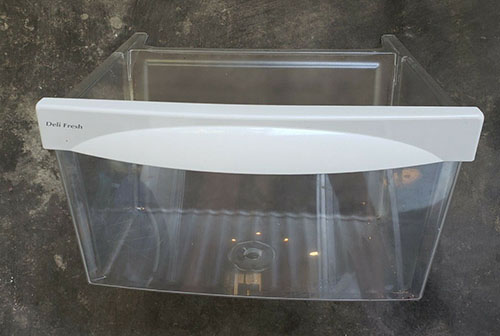 Refrigerator Meat Drawer
Product: Refrigerator Fresh Meat Drawer Pan
Part Number: WR32X10835
Replace Parts: WR32X10131 1812381 AP4981597 PS3487933 EAP3487933
Fits Brands: GE Hotpoint Americana RCA
Fits Refrigerator Models
This refrigerator fresh meat drawer pan product fits the following GE Hotpoint Americana RCA models.
A4425GDTAWW GSH25JSCBSS BSY25GFMCCC ESL22JFXALB ESS25XGMCBB GSE22KETAFWW GSE22KEWJFSS GSG22KBMCFWW GSG22KBPDFWW GSG25MIPAFWW GSH22JFXJBB GSH22JGCBCC GSH22JSCESS GSH25JFTCWW GSH25JGCBWW GSL22JFXNLB GSP25ISBBSS GSS22JEBBCC GSS22JEMDBB GSS22JFMCCC GSS22KGPHCC GSS22QGMCBB GSS22SGPABS GSS22VFPCCC GSS22WGPJCC GST22JEMAWW GST25IFPCCC GST25IFPHCC A4425GDTAWW GSH22SGRBSS GSH25JFRFWW GSH25KGMDWW GSL25JFXNLB GSS22JETEBB GSS25IFPHBB GSS25JETAWW GSS25JFMBWW GSS25JFPKBB GSS25KGPHWW GSS25QGPJBB GSS25QGPJCC GSS25UFPJCC PSA22MIMCFWW PSA22SIPCFBS PSG22MISAFWW HSH25IFTDCC HSS22GFTBWW HSS25GDPEWW HSS25IFPHWW HST22IFMCCC HSM25GFTASA and more.
Compare Best Prices
Best Price! Your correct item number is WR32X10835. Read the refrigerator meat drawer pan item description, delivery & payment methods, return services & warranty services, and order this product on eBay below.