Buy genuine refrigerator fresh meat pan drawer for GE Hotpoint Americana RCA ESL22JFXALB GSH22JSXNSS GSS22QGPABB GSH22VGRBWW GSS25JEMDWW GSS25VFPHWW HSM25GFTASA and more.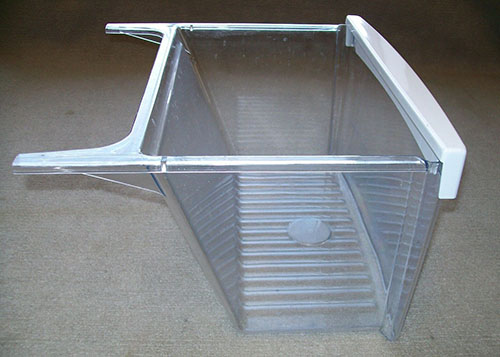 Refrigerator Meat Drawer
Product: Refrigerator Fresh Meat Drawer Pan
Part Number: WR32X10835
Replace Parts: WR32X10131 1812381 AP4981597 PS3487933
Fits Brands: GE Hotpoint Americana RCA
Fits Refrigerator Models
This refrigerator meat pan product works for the following GE Hotpoint Americana RCA models.
GSH25JGDCBB GSS22WGPHCC BSS25JSTRSS ESL22JFWCBS GSA22KBMCFBB GSE22KETCFBB GSE22KEWHFWW GSF25IGXJBB GSG25IEMAFWW GSG25MISAFBB GSH22JFRIWW GSH22JGBBCC GSH22JSTESS GSH25JFTDWW GSH25UFRFCC GSL22JGBBLB GSS22IBMACC GSS22IBTJCC GSS22JETCCC GSS22JFMBCC GSS22KGPJWW GSS22QGMCCC GSS22QGPHCC GSS22UFPHCC GSS22WGPHBB GST22IFPCWW GST25IFPCCC GST25KGMBWW DSS25PFMDCC GSH22VGPDWW GSH25JFXNBB GSH25JSXLSS GSL22JFPCBS GSS22WGMDWW GSS25JEMDCC GSS25JEPJBB GSS25JETHCC GSS25JFPDCC GSS25KGPDCC GSS25QFMDWW GSS25UFMBWW GSS25VFPECC PSA22MIPAFWW PSA22SIPAFBS PSG22SIREFSS HSH22IFTECC HSS22GFTGWW HSS22IFMACC HST22IFMACC HST25IFPCCC HSS25GFTCWW and more.
Compare Best Prices
Your correct part number is WR32X10835. Read the refrigerator meat pan product information, and compare lowest prices on eBay.