Search for new refrigerator meat drawer fits GE Hotpoint Americana RCA ESL22JFWDBS GSH25ISZCSS GSS22UFMDCC GSH22KGREBB GSS25JEPACC PSA25MIMDFBB HSS25IFMDWW and more.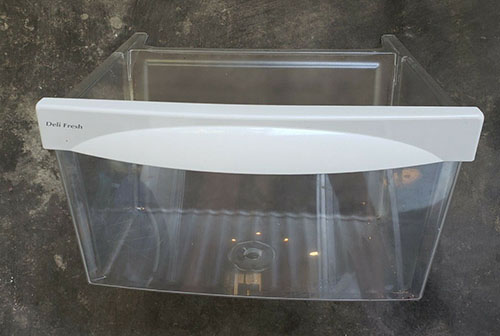 Refrigerator Meat Drawer Pan
Product: Refrigerator Fresh Meat Drawer Pan
Part Number: WR32X10835
Replace Parts: WR32X10131 1812381 AP4981597 PS3487933 EAP3487933
Fits Brands: GE Hotpoint Americana RCA
Fits Refrigerator Models
This refrigerator meat drawer pan product works for the following GE Hotpoint Americana RCA models.
GSF25JGCBBB GSH25KGRBWW BSS25JFTPWW ESL22JFXALB GSA22KBMDFWW GSE22ETHCWW GSF25IGXBWW GSF25JGBBBB GSG22KEMBFWW GSG25MIPAFBB GSH22JFRIWW GSH22JGCCWW GSH22KGMBBB GSH25JFTDWW GSH25JGCBWW GSL22JFTCBS GSP25ISBBSS GSS22IFPHBB GSS22JEREBB GSS22JFPHBB GSS22KGMCAA GSS22QGPBWW GSS22SGPDSS GSS22UFPJBB GSS22WGPCCC GST22IBMDCC GST22KGPDCC GST25KGPABB ESS22XGMCWW GSH22KGREBB GSH25JFPAWW GSH25JSRISS GSS22IBPAWW GSS22UFMAWW GSS25JEMBCC GSS25JEPEBB GSS25JFMAWW GSS25JFPKWW GSS25KGPHCC GSS25QFMDBB GSS25QGPJCC GSS25UFPACC PSA22MIPDFWW PSG22MIMBFBB SSS25KFMDWW HSH25GFBBBB HSM22IFTASA HSS22IFPACC HSS25IFPDWW HST25IFPDWW HSM25GFTASA and more.
Compare Lowest Prices
The correct item number is WR32X10835. View the refrigerator meat drawer pan part details, return services & refund policy, and compare best prices on eBay here.