Search for genuine refrigerator meat pan drawer fits GE Hotpoint Americana RCA GSE22KETGFBB GSH25JFTDWW GSS22SGMCBS GST25IFPHCC GSS25UFMCWW HST22IFMDCC RSG25KEMBFWW and more.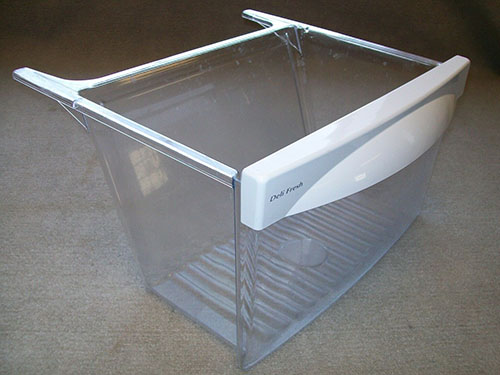 Refrigerator Meat Pan Drawer
Product: Refrigerator Fresh Meat Drawer Pan
Part Number: WR32X10835
Replace Parts: WR32X10131 1812381 AP4981597
Fits Brands: GE Hotpoint Americana RCA
Fits Refrigerator Models
This refrigerator fresh meat drawer part works for the following GE Hotpoint Americana RCA models.
GSS25ESHCSS GSH25JFXJWW BSS25JSTHSS ESL22JFWCBS GSA22KBPDFBB GSE22ETHDBB GSE22KETEFSS GSG22KBMCFBB GSG22KBSAFWW GSG25IEPDFWW GSH22JFTDBB GSH22JGCECC GSH22KGMAWW GSH25GGCEBB GSH25KGMABB GSL22JFBBLB GSS22IBMDCC GSS22IFPCCC GSS22JEMDBB GSS22JFMAWW GSS22KGPJCC GSS22QFMBBB GSS22QGPHCC GSS22VGMBWW GSS22WGPHWW GST22JEPACC GST22KGPCWW GST25IFPDWW ESL25XGRBBS GSH22UFREBB GSH25JFRGWW GSH25KGRBBB GSS22JEPCCC GSS25IFPACC GSS25IFPEWW GSS25JERECC GSS25JETGWW GSS25JFPCWW GSS25KGPCWW GSS25QGPBWW GSS25SGMFBS GSS25UFMDWW GSS25WGMACC PSG22MIMCFWW PSG22SIMDFBS HSH25IFTABB HSH25IFTFWW HSS25GFTGCC HSS25GFTICC HST22IFPHCC HSS25GFTAWW and more.
Compare Lowest Prices
Order Now! Your right part number is WR32X10835. Read the refrigerator fresh meat drawer pan item details, return & refund services, and buy the item on eBay.