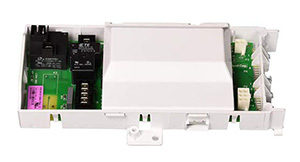 This is a new dryer replacement part, Maytag Dryer Control Board WPW10174745. It fits Maytag residential dryer, 3000 series dryers, 29″ electric dryers, and 29″ gas dryers. This also fits Kenmore, Amana, and Whirlpool dryers. Check your model and compare lowest price here!
Maytag Dryer Control Board WPW10174745
Product: Electronic Main Control Board for Dryer
Appliance Part: Dryer Replacement Parts
Part Number: WPW10174745
Compatible Brands: Amana Kenmore Maytag Whirlpool
Compatible Part Numbers: 1481420 AP6016286 PS11749572 EAP11749572 W10200473 W10182366 W10174745R W10174745
Fits Maytag Dryer Models:
This part fits Maytag residential dryer, 3000 series dryers, 29″ electric dryers, and 29″ gas dryers. Use Ctrol+F to find your model.
MEDE300VF0 MEDE300VF1 MEDE300VF2 MEDE300VW0 MEDE300VW1 MEDE400XR0 MEDE400XW0 MGDE300VF0 MGDE300VF1 MGDE300VF2 MGDE300VF3 MGDE300VW0 MGDE300VW1 MGDE300VW3 MGDE400XR0 MGDE400XR1 MGDE400XW0 MGDE400XW1 YMEDE300VF0 YMEDE300VF1 YMEDE300VF2 YMEDE300VW0 YMEDE300VW1 YMEDE400XR0 YMEDE400XW0
How To Dryer Electric Main Control Board
Watch this video, created by PartSelect. This shows you simple and easy step-by-step instructions on how to replace the dryer electronic main control board.
Step-By-Step Instructions:
Disconnect power to the dryer.
Access to the back so that we can remove a top panel as our first step.
Remove these three screws across the back of the top panel.
Grasp the sides of that top panel and just pull it back a little bit to disengage the hooks at the front.
Remove two screws that secure that mounting bracket for the control board.
Lift up on the back, pull it into the slot on the front and then pull the whole bracket towards the back to disengage this little tab in the front.
Remove wire harnesses. Just release the locking tabs and pull them away.
Remove that quarter-inch screw then we can slide that control board forward and lift it out of the opening and discard it.
Take the new control board and we'll line up these legs when these slotted opens.
Push it back until it's as far back as it will go and the screw hole will line up.
Tighten the retaining screw and then reconnect the wire connectors.
Slide that tab in on the front.
Reinstall the mounting screws and now we can put the top back on.
Reconnect the power.
Compare Lowest Price
Read more details of WPW10174745 dryer electric main control board for Maytag. Check shipping information and warranty & return policy, and compare lowest price here!
More Information
In addition to Maytag Dryer Control Board WPW10174745, find more parts for Maytag, main control boards for dryer, and Maytag dryer replacement parts. Please feel free to contact us if you need help.