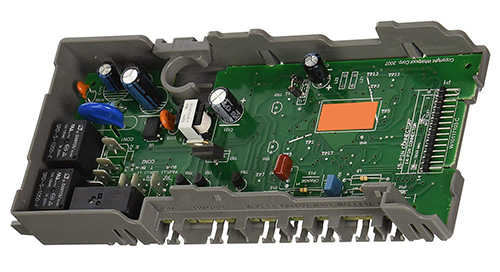 This is one of the high-quality appliance replacement parts, Maytag Dishwasher Main Control Board WPW10285180. It fits Amana under-counter dishwasher specific models.
If your dishwasher would not start, then changing the electronic main control board could solve your dishwasher problem. Check your model, find the correct part, and compare lowest prices HERE!
Maytag Dishwasher Main Control Board WPW10285180
Product: Main Control Board PCB Assembly
Appliance Part: Dishwasher Electronic Replacement Parts
Part Number: WPW10285180
Compatible Brands: Amana Estate Inglis Kenmore KitchenAid LG Maytag Whirlpool
Compatible Part Numbers: 1874822 AP6018711 PS11752013 EAP11752013 W10130967 W10208673 W10285180
Fits Maytag Dishwasher Models:
This part fits Maytag under-counter dishwashers listed below. Use Ctrl+F to find your particular model.
MDB4709AWB0 MDB4709AWB1 MDB4709AWB2 MDB4709AWB3 MDB4709AWB4 MDB4709AWQ0 MDB4709AWQ1 MDB4709AWQ2 MDB4709AWQ3 MDB4709AWQ4 MDB4709AWS0 MDB4709AWS1 MDB4709AWS2 MDB4709AWS3 MDB4709AWS4 MDB4709AWW0 MDB4709AWW1 MDB4709AWW2 MDB4709AWW3 MDB4709AWW4
MDB6769AWB0 MDB6769AWB1 MDB6769AWB2 MDB6769AWB3 MDB6769AWB4 MDB6769AWB5 MDB6769AWQ0 MDB6769AWQ1 MDB6769AWQ2 MDB6769AWQ3 MDB6769AWQ4 MDB6769AWQ5 MDB6769AWS0 MDB6769AWS1 MDB6769AWS2 MDB6769AWS3 MDB6769AWS4 MDB6769AWS5 MDB6769AWW0 MDB6769AWW1 MDB6769AWW2 MDB6769AWW3 MDB6769AWW4 MDB6769AWW5
MDB7759AWB0 MDB7759AWB1 MDB7759AWB2 MDB7759AWB3 MDB7759AWB4 MDB7759AWS0 MDB7759AWS1 MDB7759AWS2 MDB7759AWS3 MDB7759AWS4 MDB7759AWW0 MDB7759AWW1 MDB7759AWW2 MDB7759AWW3 MDB7759AWW4 MDB7760AWS0 MDB7760AWS1 MDB7760AWS2
MDB8859AWB0 MDB8859AWB1 MDB8859AWB2 MDB8859AWB3 MDB8859AWS0 MDB8859AWS1 MDB8859AWS2 MDB8859AWS3 MDB8859AWW0 MDB8859AWW1 MDB8859AWW2 MDB8859AWW3
MDBH949AWB0 MDBH949AWB1 MDBH949AWB2 MDBH949AWB3 MDBH949AWB4 MDBH949AWQ0 MDBH949AWQ1 MDBH949AWQ2 MDBH949AWQ3 MDBH949AWQ4 MDBH949AWS0 MDBH949AWS1 MDBH949AWS2 MDBH949AWS3 MDBH949AWS4 MDBH949AWW0 MDBH949AWW1 MDBH949AWW2 MDBH949AWW3 MDBH949AWW4
MDBH969AWB0 MDBH969AWB1 MDBH969AWB2 MDBH969AWB3 MDBH969AWB4 MDBH969AWB5 MDBH969AWQ0 MDBH969AWQ1 MDBH969AWQ2 MDBH969AWQ3 MDBH969AWQ4 MDBH969AWQ5 MDBH969AWS0 MDBH969AWS1 MDBH969AWS2 MDBH969AWS3 MDBH969AWS4 MDBH969AWS5 MDBH969AWW0 MDBH969AWW1 MDBH969AWW2 MDBH969AWW3 MDBH969AWW4 MDBH969AWW5
MDBTT53AWB0 MDBTT53AWB1 MDBTT53AWB2 MDBTT53AWB3 MDBTT53AWB4 MDBTT53AWW0 MDBTT53AWW1 MDBTT53AWW2 MDBTT53AWW3 MDBTT53AWW4 MDC4809AWB0 MDC4809AWB2 MDC4809AWB3 MDC4809AWB4 MDC4809AWW0 MDC4809AWW2 MDC4809AWW3 MDC4809AWW4
How To Replace Dishwasher Control Board
Watch this video, created by PartSelect. It shows simple and easy step-by-step instructions for replacing the electronic main control board on a dishwasher.
This guide can be applied for many dishwasher brands, including Admiral, Estate, Inglis, Kenmore, KitchenAid, Roper, Maytag, Crosley, Jenn-Air, Hardwick, Magic Chef, Amana, Glenwood, and Caloric.
Tools Required:
#15 Torx screwdriver
Small flat blade screwdriver
Compare Lowest Prices
There are many suppliers offering this part online. Search and understand more product details, view shipping methods, check return & warranty policy, and compare lowest prices on eBay here!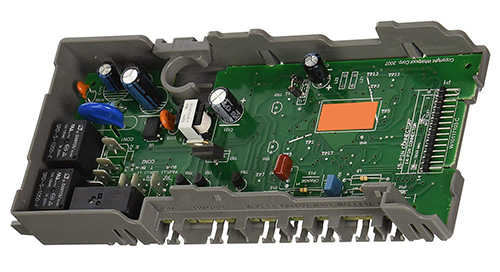 More Information
In addition to the Maytag Dishwasher Main Control Board WPW10285180, find other replacement parts for your appliances, covering washer control boards, refrigerator control boards, dryer main electronic boards, freezer control board replacement parts, and more.
If you need further information or need any help, please feel free to contact us at any time.