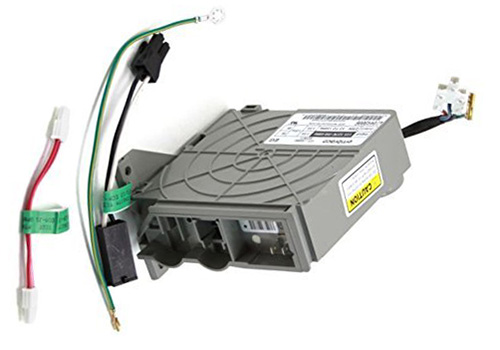 This is one of the high-quality home appliance replacement parts, KitchenAid Refrigerator Box Kit Control Board W10629033. It fits KitchenAid 36″ built-in refrigerator, 42″ built-in refrigerator, 48″ built in refrigerator, bottom-mount refrigerator, counter depth SXS refrigerator, and side-by-side refrigerators.
This part manages the functions of the refrigerator, such as temperature control and cooling. If your fridge will not start, then changing the electronic main control board could solve the problem.
Check your model and find the right part for your appliance here!
KitchenAid Refrigerator Box Kit Control Board W10629033
Product: Compressor Inverter Control Board
Appliance Part: Refrigerator Electronic Replacement Part
Part Number: W10629033
Compatible Brands: Amana, Admiral, Roper, Maytag, Magic Chef, Crosley, Inglis, Jenn-Air, Kenmore, KitchenAid, Whirlpool, and more.
Compatible Part Numbers: 2304175 2306957 2221559 2223385 2224047 2304098 2997771 AP5801669 PS8760019 EAP8760019 W10133449
Fits KitchenAid Refrigerator Models:
This inverter control board fits Kitchen-Aid 36″ built-in refrigerator, 42″ built in refrigerator, 48″ built-in refrigerator, bottom-mount refrigerator, counter depth sxs refrigerator, and side-by-side refrigerators listed below.
Note: Use Ctrl+F to find your specific model.
KBFC42FSS00 KBFC42FTS00 KBFC42FTS02 KBFC42FTS03 KBFC42FTS04 KBFC42FTS05 KBFO42FSX00 KBFO42FTX00 KBFO42FTX02 KBFO42FTX03 KBFO42FTX04 KBFO42FTX05 KBLC36FKB00 KBLC36FKB01 KBLC36FKB02 KBLC36FKS00 KBLC36FKS01 KBLC36FKS02 KBLC36FMS00 KBLC36FMS01 KBLC36FMS02 KBLC36FTS00 KBLC36FTS02 KBLC36FTS03 KBLC36FTS04 KBLC36FTS05 KBLO36FMX00 KBLO36FMX01 KBLO36FMX02 KBLO36FTX00 KBLO36FTX02 KBLO36FTX03 KBLO36FTX04 KBLO36FTX05 KBLP36FKS00 KBLP36FKS01 KBLP36FKS02 KBLP36FMS00 KBLP36FMS01 KBLP36FMS02 KBLS36FKB00 KBLS36FKB01 KBLS36FKB02 KBLS36FKT00 KBLS36FKT01 KBLS36FKT02 KBLS36FKW00 KBLS36FKW01 KBLS36FKW02 KBLS36FKX00 KBLS36FKX01 KBLS36FKX02 KBLS36FMB00 KBLS36FMB01 KBLS36FMB02 KBLS36FMX00 KBLS36FMX01 KBLS36FMX02 KBLS36FTX00 KBLS36FTX02 KBLV36FPM01 KBLV36FPM02 KBLV36FPS01 KBLV36FPS02
KBRC36FKB00 KBRC36FKB01 KBRC36FKB02 KBRC36FKS00 KBRC36FKS01 KBRC36FKS02 KBRC36FKU00 KBRC36FKU01 KBRC36FKU02 KBRC36FMS00 KBRC36FMS01 KBRC36FMS02 KBRC36FTS00 KBRC36FTS02 KBRC36FTS03 KBRC36FTS04 KBRC36FTS05 KBRO36FMX00 KBRO36FMX01 KBRO36FMX02 KBRO36FTX00 KBRO36FTX02 KBRO36FTX03 KBRO36FTX04 KBRO36FTX05 KBRP36FKS00 KBRP36FKS01 KBRP36FKS02 KBRP36FMS00 KBRP36FMS01 KBRP36FMS02 KBRS36FKB00 KBRS36FKB01 KBRS36FKB02 KBRS36FKT00 KBRS36FKT01 KBRS36FKT02 KBRS36FKW00 KBRS36FKW01 KBRS36FKW02 KBRS36FKX00 KBRS36FKX01 KBRS36FKX02 KBRS36FMB00 KBRS36FMB01 KBRS36FMB02 KBRS36FMX00 KBRS36FMX01 KBRS36FMX02 KBRS36FTX00 KBRS36FTX02 KBRV36FPM01 KBRV36FPM02 KBRV36FPS01 KBRV36FPS02
KSBP23INSS00 KSBP23INSS01 KSBP25FKSS00 KSBP25FKSS01 KSBP25FKSS02 KSBP25INSS00 KSBP25INSS01 KSBP25INSS02 KSBP25INSS03 KSBS23INBL00 KSBS23INBL01 KSBS23INBT00 KSBS23INBT01 KSBS23INSS00 KSBS23INSS01 KSBS23INWH00 KSBS23INWH01 KSBS25FKBL00 KSBS25FKBL01 KSBS25FKBL02 KSBS25FKBT00 KSBS25FKBT01 KSBS25FKBT02 KSBS25FKSS02 KSBS25FKWH00 KSBS25FKWH01 KSBS25FKWH02 KSBS25INBL00 KSBS25INBL01 KSBS25INBL02 KSBS25INBL03 KSBS25INBT00 KSBS25INBT01 KSBS25INBT02 KSBS25INBT03 KSBS25INSS00 KSBS25INSS01 KSBS25INSS02 KSBS25INSS03 KSBS25INWH00 KSBS25INWH01 KSBS25INWH02 KSBS25INWH03
KSCS23FSBL00 KSCS23FSBL01 KSCS23FSBL02 KSCS23FSBL03 KSCS23FSBT00 KSCS23FSBT01 KSCS23FSBT02 KSCS23FSBT03 KSCS23FSMS00 KSCS23FSMS01 KSCS23FSMS02 KSCS23FSMS03 KSCS23FSSS02 KSCS23FSSS03 KSCS23FSWH00 KSCS23FSWH01 KSCS23FSWH02 KSCS23FSWH03 KSCS23FTBL00 KSCS23FTBL01 KSCS23FTBL02 KSCS23FTBT00 KSCS23FTBT01 KSCS23FTBT02 KSCS23FTMS00 KSCS23FTMS01 KSCS23FTMS02 KSCS23FTSS00 KSCS23FTSS01 KSCS23FTSS02 KSCS23FTWH00 KSCS23FTWH01 KSCS23FTWH02 KSCS23INBL00 KSCS23INBL01 KSCS23INBL02 KSCS23INBL03 KSCS23INBT00 KSCS23INBT01 KSCS23INBT02 KSCS23INBT03 KSCS23INMS00 KSCS23INMS01 KSCS23INMS02 KSCS23INMS03 KSCS23INSS00 KSCS23INSS01 KSCS23INSS02 KSCS23INSS03 KSCS23INWH00 KSCS23INWH01 KSCS23INWH02 KSCS23INWH03
KSCS25FKBL01 KSCS25FKBL02 KSCS25FKBT01 KSCS25FKBT02 KSCS25FKSS00 KSCS25FKSS01 KSCS25FKSS02 KSCS25FKWH01 KSCS25FKWH02 KSCS25FSBL00 KSCS25FSBL01 KSCS25FSBL02 KSCS25FSBL03 KSCS25FSBT00 KSCS25FSBT01 KSCS25FSBT02 KSCS25FSBT03 KSCS25FSMS00 KSCS25FSMS02 KSCS25FSMS03 KSCS25FSSS01 KSCS25FSSS02 KSCS25FSSS03 KSCS25FSWH00 KSCS25FSWH01 KSCS25FSWH02 KSCS25FSWH03 KSCS25FTBL00 KSCS25FTBL01 KSCS25FTBL02 KSCS25FTBT00 KSCS25FTBT01 KSCS25FTBT02 KSCS25FTMK00 KSCS25FTMK01 KSCS25FTMK02 KSCS25FTMS00 KSCS25FTMS01 KSCS25FTMS02 KSCS25FTSS00 KSCS25FTSS01 KSCS25FTSS02 KSCS25FTWH00 KSCS25FTWH01 KSCS25FTWH02
KSCS25INBL01 KSCS25INBL02 KSCS25INBL03 KSCS25INBT00 KSCS25INBT01 KSCS25INBT02 KSCS25INBT03 KSCS25INMS00 KSCS25INMS01 KSCS25INMS02 KSCS25INMS03 KSCS25INSS00 KSCS25INSS01 KSCS25INSS02 KSCS25INSS03 KSCS25INWH00 KSCS25INWH01 KSCS25INWH02 KSCS25INWH03 KSCS25MSMS00 KSCS25MSMS01 KSCS25MTMK00 KSCS25MTMK01 KSCS25MTMS00 KSCS25MTMS01 KSFS25FKBL00 KSFS25FKBL01 KSFS25FKBL02 KSFS25FKBT00 KSFS25FKBT01 KSFS25FKBT02 KSFS25FKWH00 KSFS25FKWH01 KSFS25FKWH02
KSSC36FKB00 KSSC36FKB01 KSSC36FKB02 KSSC36FKS00 KSSC36FKS01 KSSC36FKS02 KSSC36FMS00 KSSC36FMS01 KSSC36FMS02 KSSC36FMS03 KSSC36FTS00 KSSC36FTS02 KSSC36FTS04 KSSC36QKS00 KSSC36QKS01 KSSC36QKS02 KSSC36QMS00 KSSC36QMS01 KSSC36QMS02 KSSC36QMS03 KSSC36QTS00 KSSC36QTS02 KSSC36QTS03 KSSC36QTS04 KSSC36QTS05 KSSC42FKB00 KSSC42FKB01 KSSC42FKB02 KSSC42FKS00 KSSC42FKS01 KSSC42FKS02 KSSC42FMS00 KSSC42FMS01 KSSC42FMS02 KSSC42FMS03 KSSC42FTS00 KSSC42FTS02 KSSC42FTS03 KSSC42FTS04 KSSC42FTS15 KSSC42QKS00 KSSC42QKS01 KSSC42QKS02 KSSC42QMS00 KSSC42QMS01 KSSC42QMS02 KSSC42QMS03 KSSC42QMU00 KSSC42QMU01 KSSC42QTS00 KSSC42QTS02 KSSC42QTS03 KSSC42QVS00 KSSC42QVS01 KSSC42QVS02 KSSC42QVS03 KSSC48FKB00 KSSC48FKB01 KSSC48FKB02 KSSC48FKS00 KSSC48FKS01 KSSC48FKS02 KSSC48FMS00 KSSC48FMS01 KSSC48FMS02 KSSC48FMS03 KSSC48FTS00 KSSC48FTS02 KSSC48FTS03 KSSC48FTS04 KSSC48FTS15 KSSC48QKS00 KSSC48QKS01 KSSC48QKS02 KSSC48QMS00 KSSC48QMS01 KSSC48QMS02 KSSC48QMS03 KSSC48QTS00 KSSC48QTS02 KSSC48QTS03 KSSC48QVS00 KSSC48QVS01 KSSC48QVS02 KSSC48QVS03
KSSO36FMX00 KSSO36FMX01 KSSO36FMX02 KSSO36FMX03 KSSO36FTX00 KSSO36FTX02 KSSO36FTX03 KSSO36FTX04 KSSO36FTX15 KSSO36QMB00 KSSO36QMB01 KSSO36QMB02 KSSO36QMB03 KSSO36QMW00 KSSO36QMW01 KSSO36QMX02 KSSO36QTB00 KSSO36QTB02 KSSO36QTB03 KSSO36QTB04 KSSO36QTX00 KSSO36QTX02 KSSO36QTX03 KSSO36QTX04
KSSO42FMX00 KSSO42FMX01 KSSO42FMX02 KSSO42FMX03 KSSO42FTX00 KSSO42FTX02 KSSO42FTX03 KSSO42FTX04 KSSO42FTX15 KSSO42QMB00 KSSO42QMB01 KSSO42QMB02 KSSO42QMB03 KSSO42QMW00 KSSO42QMW01 KSSO42QMX01 KSSO42QMX02 KSSO42QTB00 KSSO42QTB02 KSSO42QTB03 KSSO42QTB04 KSSO42QTX00 KSSO42QTX02 KSSO42QTX03 KSSO42QTX04 KSSO48FMX00 KSSO48FMX01 KSSO48FMX02 KSSO48FMX03 KSSO48FTX00 KSSO48FTX02 KSSO48FTX03 KSSO48FTX04 KSSO48FTX15 KSSO48QMB00 KSSO48QMB02 KSSO48QMB03 KSSO48QMW00 KSSO48QMW01 KSSO48QMX02 KSSO48QTB00 KSSO48QTB02 KSSO48QTB03 KSSO48QTB04 KSSO48QTX00 KSSO48QTX02 KSSO48QTX03 KSSO48QTX04
KSSP36QKS00 KSSP36QKS01 KSSP36QKS02 KSSP36QMS00 KSSP36QMS01 KSSP36QMS02 KSSP36QMS03 KSSP36QTS00 KSSP36QTS02 KSSP42QKS00 KSSP42QKS01 KSSP42QKS02 KSSP42QMS00 KSSP42QMS01 KSSP42QMS02 KSSP42QMS03 KSSP42QTS00 KSSP42QTS02 KSSP48QKS00 KSSP48QKS01 KSSP48QKS02 KSSP48QMS00 KSSP48QMS01 KSSP48QMS02 KSSP48QMS03 KSSP48QTS00 KSSP48QTS02
KSSS36FKB00 KSSS36FKB01 KSSS36FKB02 KSSS36FKT00 KSSS36FKT01 KSSS36FKT02 KSSS36FKW00 KSSS36FKW01 KSSS36FKW02 KSSS36FKX00 KSSS36FKX01 KSSS36FKX02 KSSS36FMB00 KSSS36FMB01 KSSS36FMB02 KSSS36FMX00 KSSS36FMX01 KSSS36FMX02 KSSS36FMX03 KSSS36FTX00 KSSS36FTX02 KSSS36FTX03 KSSS36FTX04 KSSS36QKB00 KSSS36QKB01 KSSS36QKB02 KSSS36QKT00 KSSS36QKT01 KSSS36QKT02 KSSS36QKW00 KSSS36QKW01 KSSS36QKW02 KSSS36QKX00 KSSS36QKX01 KSSS36QKX02 KSSS36QMB00 KSSS36QMB01 KSSS36QMB02 KSSS36QMB03 KSSS36QMW00 KSSS36QMW01 KSSS36QMW02 KSSS36QMW03 KSSS36QMX00 KSSS36QMX01 KSSS36QMX02 KSSS36QMX03 KSSS36QTB00 KSSS36QTB02 KSSS36QTB03 KSSS36QTB04 KSSS36QTW00 KSSS36QTW02 KSSS36QTW03 KSSS36QTW04 KSSS36QTX00 KSSS36QTX02 KSSS36QTX03 KSSS36QTX04
KSSS42FKB00 KSSS42FKB01 KSSS42FKB02 KSSS42FKT00 KSSS42FKT01 KSSS42FKT02 KSSS42FKW00 KSSS42FKW01 KSSS42FKW02 KSSS42FKX00 KSSS42FKX01 KSSS42FKX02 KSSS42FMB00 KSSS42FMB01 KSSS42FMB02 KSSS42FMX00 KSSS42FMX01 KSSS42FMX02 KSSS42FMX03 KSSS42FTX00 KSSS42FTX02 KSSS42FTX03 KSSS42FTX04 KSSS42QKB00 KSSS42QKB01 KSSS42QKB02 KSSS42QKT00 KSSS42QKT01 KSSS42QKT02 KSSS42QKW00 KSSS42QKW01 KSSS42QKW02 KSSS42QKX00 KSSS42QKX01 KSSS42QKX02 KSSS42QMB00 KSSS42QMB01 KSSS42QMB02 KSSS42QMB03 KSSS42QMW00 KSSS42QMW01 KSSS42QMW02 KSSS42QMW03 KSSS42QMX00 KSSS42QMX01 KSSS42QMX02 KSSS42QMX03 KSSS42QTB00 KSSS42QTB02 KSSS42QTB03 KSSS42QTB04 KSSS42QTW00 KSSS42QTW02 KSSS42QTW03 KSSS42QTW04 KSSS42QTX00 KSSS42QTX02 KSSS42QTX03 KSSS42QTX04
KSSS48FKB00 KSSS48FKB01 KSSS48FKB02 KSSS48FKT00 KSSS48FKT01 KSSS48FKT02 KSSS48FKW00 KSSS48FKW01 KSSS48FKW02 KSSS48FKX00 KSSS48FKX01 KSSS48FKX02 KSSS48FMB00 KSSS48FMB01 KSSS48FMB02 KSSS48FMX00 KSSS48FMX01 KSSS48FMX02 KSSS48FMX03 KSSS48FTX00 KSSS48FTX02 KSSS48FTX03 KSSS48FTX04 KSSS48QKB00 KSSS48QKB01 KSSS48QKB02 KSSS48QKT00 KSSS48QKT01 KSSS48QKT02 KSSS48QKW00 KSSS48QKW01 KSSS48QKW02 KSSS48QKX00 KSSS48QKX01 KSSS48QKX02 KSSS48QMB00 KSSS48QMB01 KSSS48QMB02 KSSS48QMB03 KSSS48QMW00 KSSS48QMW01 KSSS48QMW02 KSSS48QMW03 KSSS48QMX00 KSSS48QMX01 KSSS48QMX02 KSSS48QMX03 KSSS48QTB00 KSSS48QTB02 KSSS48QTB03 KSSS48QTB04 KSSS48QTW00 KSSS48QTW02 KSSS48QTW03 KSSS48QTW04 KSSS48QTX00 KSSS48QTX02 KSSS48QTX03 KSSS48QTX04 KSSV42FMM00 KSSV42FMM01 KSSV42FMM02 KSSV42FMS00 KSSV42FMS01 KSSV42FMS02
How To Replace Refrigerator Control Board
Watch this video, created by PartSelect. Steve shows you simple and easy step-by-step instructions on how to replace the inverter control box on a refrigerator.
Tools Required:
¼ inch nut driver
Philips screwdriver
Needle nose pliers
Compare Lowest Prices
View more inverter control box kit product details, customer service information, shipping & stock available, return & warranty policy, and compare lowest prices on eBay here!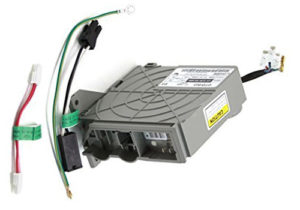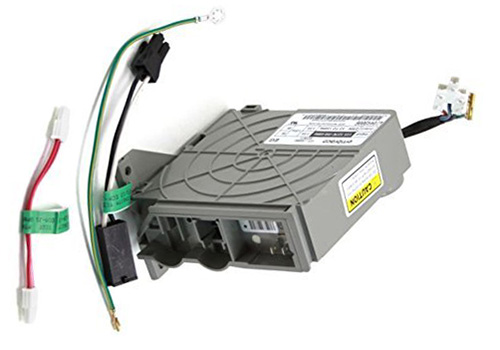 More Information
In addition to the KitchenAid Inverter Box Kit Refrigerator Control Board W10629033, you can find related parts, such as washer control boards, dryer electronic boards, dishwasher main control boards, fridge control boards, and freezer replacement parts.
Please do not hesitate to contact us at any time if you can not find the right part for your appliance or need any help.