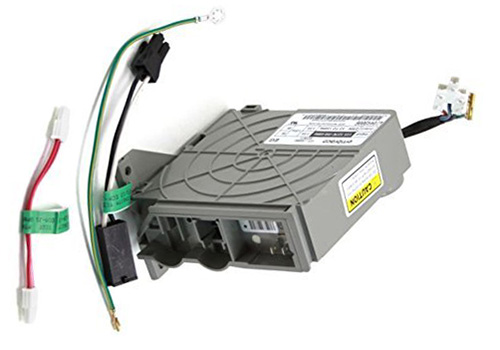 This is a new GENUINE home appliance replacement parts, Whirlpool Refrigerator Control Board W10629033. It fits Whirlpool bottom-mount refrigerator, counter depth refrigerator, side-by-side refrigerator, SXS fridge, and top-mount refrigerators.
This part manages the functions of the fridge, such as temperature control and cooling. If your fridge will not start, then replacing the electronic main control board could solve the problem.
Check your model, find the correct part for your appliance, and compare lowest prices here!
Whirlpool Refrigerator Control Board W10629033
Product: Compressor Inverter Control Board Box Kit
Appliance Part: Refrigerator Electronic Replacement Part
Part Number: W10629033
Compatible Brands: Amana, Admiral, Roper, Maytag, Magic Chef, Crosley, Inglis, Jenn-Air, Kenmore, KitchenAid, Whirlpool, and more.
Compatible Part Numbers: 2304175 2306957 2221559 2223385 2224047 2304098 2997771 AP5801669 PS8760019 EAP8760019 W10133449
Fits Whirlpool Refrigerator Models:
This inverter control board fits Whirlpool bottom-mount refrigerator, counter depth refrigerator, side-by-side refrigerator, SXS fridge, and top-mount refrigerators.
Note: Use Ctrl+F to find your specific model.
EC3JHAXRL00 EC3JHAXRL01 EC3JHAXRS00 EC3JHAXRS01 GC3NHAXSB00 GC3NHAXSQ00 GC3NHAXST00 GC3NHAXSY00 GC3NHAXVA00 GC3NHAXVB00 GC3NHAXVQ00 GC3NHAXVS00 GC3NHAXVY00 GC3PHEXNB00 GC3PHEXNB01 GC3PHEXNB02 GC3PHEXNB03 GC3PHEXNQ00 GC3PHEXNQ01 GC3PHEXNQ02 GC3PHEXNQ03 GC3PHEXNS00 GC3PHEXNS01 GC3PHEXNS02 GC3PHEXNS03 GC3PHEXNT00 GC3PHEXNT01 GC3PHEXNT02 GC3PHEXNT03 GC3SHEXNB00 GC3SHEXNB01 GC3SHEXNB02 GC3SHEXNB03 GC3SHEXNB04 GC3SHEXNQ00 GC3SHEXNQ01 GC3SHEXNQ02 GC3SHEXNQ03 GC3SHEXNQ04 GC3SHEXNS00 GC3SHEXNS01 GC3SHEXNS02 GC3SHEXNS03 GC3SHEXNS04 GC3SHEXNT00 GC3SHEXNT01 GC3SHEXNT02 GC3SHEXNT03 GC3SHEXNT04
GC5NHAXSB00 GC5NHAXSB01 GC5NHAXSB02 GC5NHAXSB03 GC5NHAXSQ00 GC5NHAXSQ01 GC5NHAXSQ02 GC5NHAXSQ03 GC5NHAXST00 GC5NHAXST01 GC5NHAXST02 GC5NHAXST03 GC5NHAXSY00 GC5NHAXSY01 GC5NHAXSY02 GC5NHAXSY03 GC5SHEXNB00 GC5SHEXNB01 GC5SHEXNB02 GC5SHEXNB03 GC5SHEXNB04 GC5SHEXNB05 GC5SHEXNQ00 GC5SHEXNQ01 GC5SHEXNQ02 GC5SHEXNQ03 GC5SHEXNQ04 GC5SHEXNQ05 GC5SHEXNS00 GC5SHEXNS01 GC5SHEXNS02 GC5SHEXNS03 GC5SHEXNS04 GC5SHEXNS05 GC5SHEXNT00 GC5SHEXNT01 GC5SHEXNT02 GC5SHEXNT03 GC5SHEXNT04 GC5SHGXKB00 GC5SHGXKB01 GC5SHGXKQ00 GC5SHGXKQ01 GC5SHGXKS00 GC5SHGXKS01 GC5SHGXKT00 GC5SHGXKT01 GC5SHGXLB00 GC5SHGXLB01 GC5SHGXLQ00 GC5SHGXLQ01 GC5SHGXLS00 GC5SHGXLS01 GC5SHGXLT00 GC5SHGXLT01
GC5THEXNB00 GC5THEXNB01 GC5THEXNB02 GC5THEXNB03 GC5THEXNQ00 GC5THEXNQ01 GC5THEXNQ02 GC5THEXNQ03 GC5THEXNS00 GC5THEXNS01 GC5THEXNS02 GC5THEXNS03 GC5THEXNT00 GC5THEXNT01 GC5THEXNT02 GC5THEXNT03 GC5THGXKB00 GC5THGXKB01 GC5THGXKQ00 GC5THGXKQ01 GC5THGXKT00 GC5THGXKT01 GC5THGXLB00 GC5THGXLQ00 GC5THGXLS00 GC5THGXLT00 JB36CXFXRB00 JB36PPFXRB00 JF42CXFXDB00 JF42PPFXDB01 KBLC36FTS02 KBRP36FMS02 W8RXEGFWB00 W8RXEGFWQ00 W8RXEGFWS00 W8RXEGMVB00 W8RXEGMVQ00 W8RXEGMVS00 W8TXEWFVB00 W8TXEWFVQ00
How To Replace Refrigerator Control Board
Watch this video, created by PartSelect. The video shows you simple and easy step-by-step instructions on how to replace the inverter control board box on a refrigerator.
Tools Required:
¼ inch nut driver
Philips screwdriver
Needle nose pliers
Compare Lowest Prices
View more fridge inverter box kit product details, customer service information, shipping & stock available, return & warranty policy, and compare lowest prices on eBay here!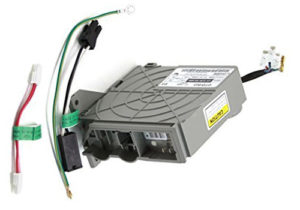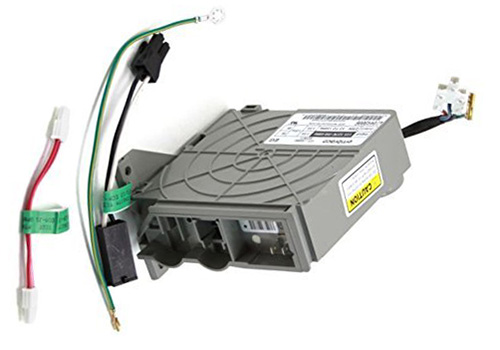 More Information
As well as the GENUINE Whirlpool Refrigerator Control Board W10629033, you can find related parts, such as washer control boards, dryer electronic boards, dishwasher main control boards, ice machine main electronic boards, fridge control boards, and freezer replacement parts.
Please feel free to contact us at any time if you can not find the right part for your appliance or need any help.