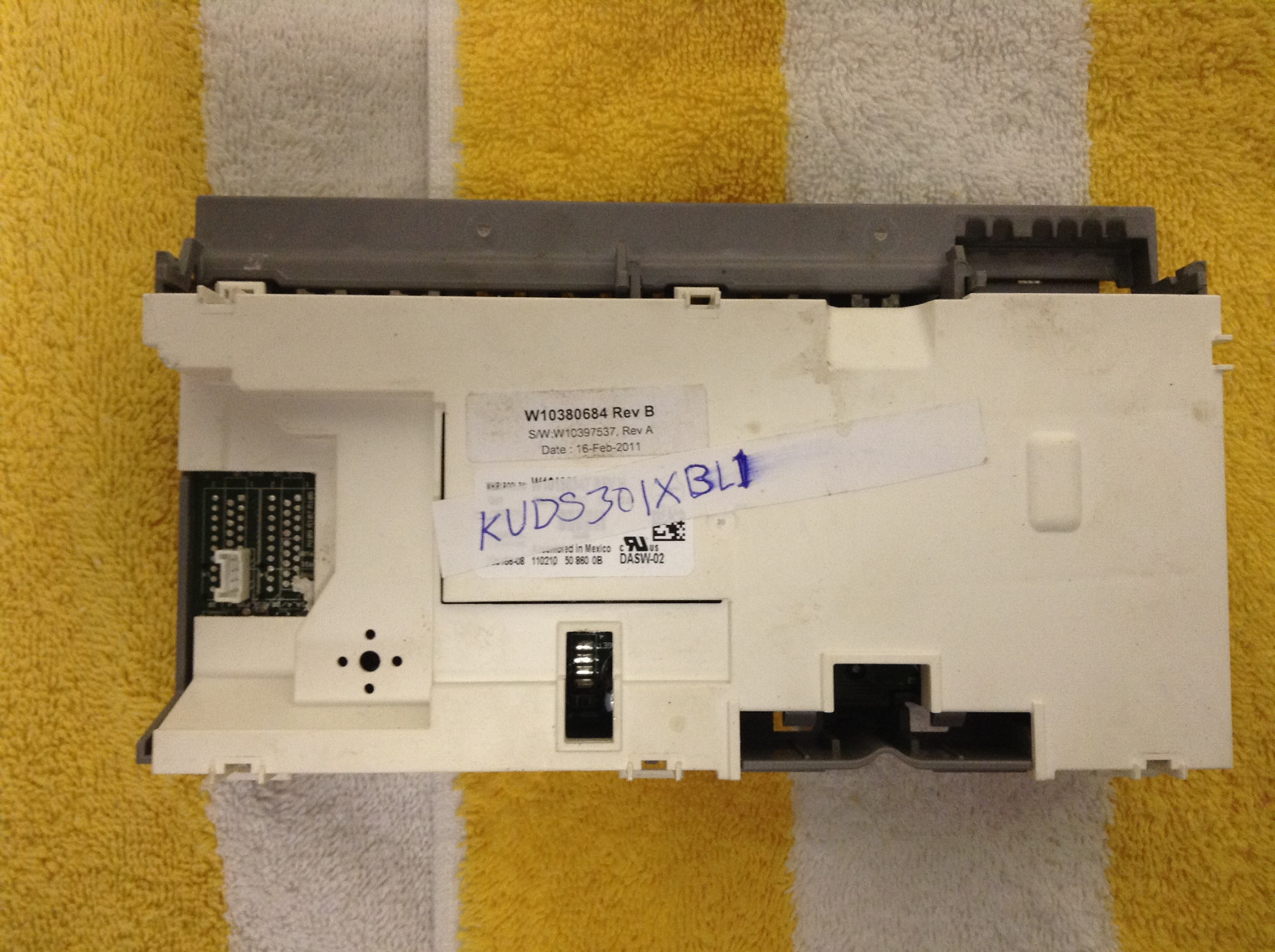 KITCHENAID DISHWASHER CONTROL BOARD W10380685 free shipping
Product: Dishwasher Electronic Circuit Main Control Board PCB Assembly
Part Number: W10380685
Replaces Parts: 1938381 AP5177918 PS3495100 EAP3495100 W10195347 W10195348 W10380684 W10380685
Fits Brands: KitchenAid
Item Location: Holland, Michigan, United States
Fits KitchenAid Models:
This part fits the following Kitchen-Aid dishwasher models. Use Ctrl+F to find your specific model below.
KUDC10FXBL0 KUDC10FXBL1 KUDC10FXBL2 KUDC10FXBL3 KUDC10FXBL4 KUDC10FXSS0 KUDC10FXSS1 KUDC10FXSS2 KUDC10FXSS3 KUDC10FXSS4 KUDC10FXWH0 KUDC10FXWH1 KUDC10FXWH2 KUDC10FXWH3 KUDC10FXWH4 KUDC10IXBL0 KUDC10IXBL1 KUDC10IXBL2 KUDC10IXBL3 KUDC10IXBL4 KUDC10IXSS0 KUDC10IXSS1 KUDC10IXSS2 KUDC10IXSS3 KUDC10IXSS4 KUDC10IXWH0 KUDC10IXWH1 KUDC10IXWH2 KUDC10IXWH3 KUDC10IXWH4 KUDS30CXBL0 KUDS30CXBL1 KUDS30CXBL2 KUDS30CXBL3 KUDS30CXBL4 KUDS30CXBL5 KUDS30CXSS0 KUDS30CXSS1 KUDS30CXSS2 KUDS30CXSS3 KUDS30CXSS4 KUDS30CXSS5 KUDS30CXWH0 KUDS30CXWH1 KUDS30CXWH2 KUDS30CXWH3 KUDS30CXWH4 KUDS30CXWH5 KUDS30FXBL0 KUDS30FXBL1 KUDS30FXBL2 KUDS30FXBL3 KUDS30FXBL4 KUDS30FXPA0 KUDS30FXSS0 KUDS30FXSS1 KUDS30FXSS2 KUDS30FXSS3 KUDS30FXSS4 KUDS30FXWH0 KUDS30FXWH1 KUDS30FXWH2 KUDS30FXWH3 KUDS30FXWH4 KUDS30HXSS0 KUDS30IXBL0 KUDS30IXBL1 KUDS30IXBL2 KUDS30IXBL3 KUDS30IXBL4 KUDS30IXBT0 KUDS30IXBT1 KUDS30IXBT2 KUDS30IXBT3 KUDS30IXBT4 KUDS30IXSS0 KUDS30IXSS1 KUDS30IXSS2 KUDS30IXSS3 KUDS30IXSS4 KUDS30IXWH0 KUDS30IXWH1 KUDS30IXWH2 KUDS30IXWH3 KUDS30IXWH4 KUDS35FXBL0 KUDS35FXBL1 KUDS35FXBL2 KUDS35FXBL3 KUDS35FXBL4 KUDS35FXSS0 KUDS35FXSS1 KUDS35FXSS2 KUDS35FXSS3 KUDS35FXSS4 KUDS35FXWH0 KUDS35FXWH1 KUDS35FXWH2 KUDS35FXWH3 KUDS35FXWH4
Compare Lowest Prices
Read more product details, view shipping information, return & warranty policy, compare the lowest prices, and Check Price on eBay HERE!
More Information
Check your model and find the right part. If you have any problems or need any assistance, please do not hesitate to contact us at any time.