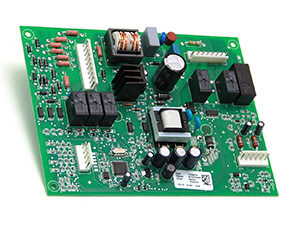 This is a new refrigerator replacement part, Jenn-Air Refrigerator Control Board WPW10310240. It fits Jenn Air bottom-mount refrigerators and other models. Check your model and compare best price here!
Jenn Air Refrigerator Control Board WPW10310240
Product: High Voltage Main Control Board for Refrigerator
Appliance Part: Refrigerator Replacement Parts
Part Number: WPW10310240
Compatible Brands: Amana Jenn Air Kenmore Kitchen Aid Maytag Whirlpool
Compatible Part Numbers: 1862775 12920721 12920724 12920717SP 12920719SP AP6019229 EAP11752535 PS11752535 W10162662 W10164420 W10164422 W10165854 W10191108 W10213583 W10310240 W10310240R
Fits Jenn-Air Refrigerator Models:
This part fits Jenn Air bottom-mount refrigerators and other fridges. Use Ctrol+F to find your model.
JFI2089AEB10 JFI2089AEB2 JFI2089AEP10 JFI2089AEP2 JFI2089AEP3 JFI2089AEP4 JFI2089AEP5 JFI2089AES10 JFI2089AES2 JFI2089AES3 JFI2089AEW10 JFI2089AEW2 JFI2089ATS10 JFI2089ATS2 JFI2089WES0 JFI2089WES1 JFI2089WTS0 JFI2589AEP10 JFI2589AEP3 JFI2589AES10 JFI2589AES2 JFI2589AES3
How To Replace Refrigerator Control Board WPW10310240
Watch this video, created by Circuit Board Medics. Shows you easy and simple step-by-step instructions on how to replace the refrigerator WPW10310240 control board.
The Problems:
Display lights flashing
Ice dispenser door is flapping between the open and closed position
Constant clicking or beeping
Refrigerator is not cooling due to dispenser flapping
Tools Needed:
Small slotted screwdriver
4mm nut driver
Compare Lowest Price
Read more details of Refrigerator Control Board WPW10310240 for Jenn Air. Check shipping information, warranty & return policy, and compare lowest price here!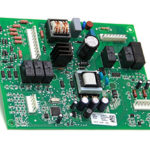 More Information
In addition to Jenn Air Refrigerator Control Board WPW10310240, find more parts for Jenn Air, control boards for JennAir, Jenn Air refrigeration parts, and other refrigerator control boards. Please feel free to contact us if you need help.