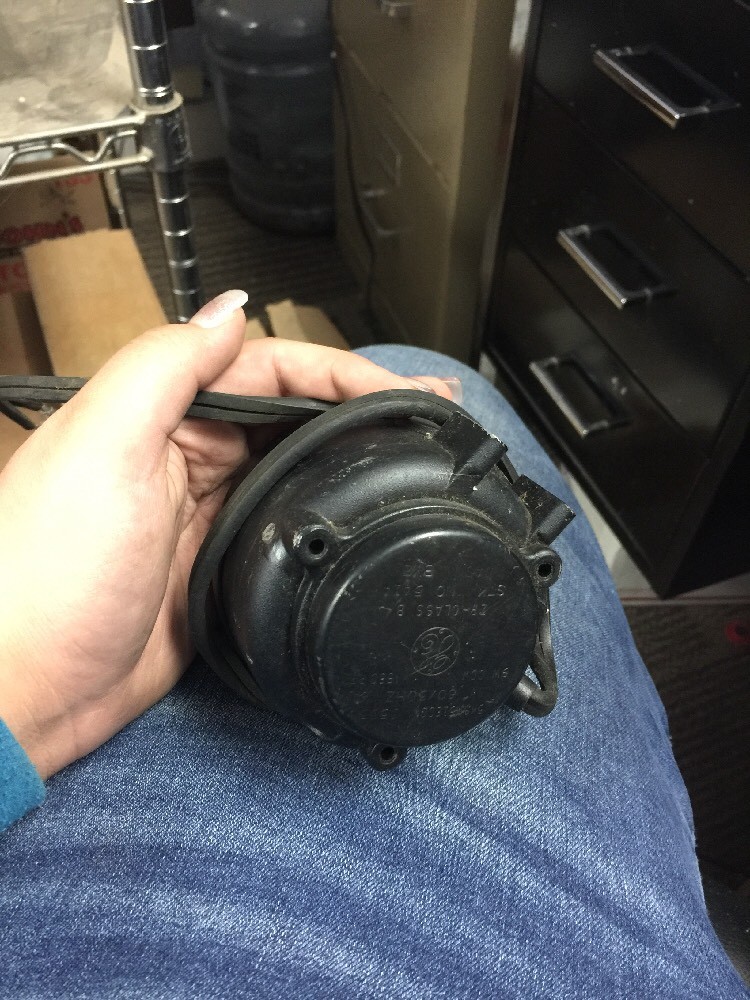 Hotpoint Fridge Freezer Condenser Fan Motor WR60X177 for GE Hotpoint
Product: Refrigerator Fridge Freezer Condenser Fan Motor
Part Number: WR60X177
Replaces Parts: 2622, AP2639813, WN60X0002, WN60X2, WR60X0001, WR60X0003, WR60X0004, WR60X0006, WR60X0031, WR60X0039, WR60X0041, WR60X0043, WR60X0044, WR60X0045, WR60X0046, WR60X0047, WR60X0048, WR60X0049, WR60X0062, WR60X0075, WR60X0076, WR60X0077, WR60X0083, WR60X0102, WR60X0109, WR60X0110, WR60X0115, WR60X0121, WR60X0128, WR60X0156, WR60X0157, WR60X0164, WR60X0177, WR60X1, WR60X102, WR60X109, WR60X110, WR60X115, WR60X121, WR60X128, WR60X156, WR60X157, WR60X164, WR60X177R, WR60X3, WR60X31, WR60X39, WR60X4, WR60X41, WR60X43, WR60X44, WR60X45, WR60X46, WR60X47, WR60X48, WR60X49, WR60X5001, WR60X5051, WR60X6, WR60X62, WR60X75, WR60X76, WR60X77, WR60X77R, WR60X83
Fits Brands: GE Hotpoint
Item Location: Marion, Illinois, United States
Fits Hotpoint Models:
This part fits the following Hotpoint refrigerator Freezer models. Use Ctrl+F to find your specific model below.
CSF18EMB CSF18EMP CSF19AAB CSF19AAC CSF19AYB CSF19AYX CSF19DRN CSF19EAB CSF19EAC CSF19EAD CSF19EPB CSF19EPC CSF19EPD CSF19ERB CSF19ERC CSF19ERD CSF19ERN CSF19ERP CSF19ERR CSF19ERS CSF19ETB CSF19ETC CSF19ETD CSF19ETF CSF19EVC CSF19EVD CSF19EVE CSF19EVF CSF19EWB CSF19EWC CSF19EWP CSF19EYB
CSF20AAB CSF20ABC CSF20ABM CSF20ACB CSF20ACM CSF20EAB CSF20EAS CSF20EBC CSF20EBD CSF20EBF CSF20EBG CSF20EBM CSF20ECB CSF20ECC CSF20ECM CSF20EMB CSF20EMC CSF20EMP CSF20EMR CSF22EAB CSF22EAC CSF22EAD CSF22EBC CSF22EBD CSF22EBF CSF22EBM CSF22ECB CSF22ECM CSF22EMB CSF22EMC CSF22EMD CSF22EPC CSF22EPD CSF22ERB CSF22ERC CSF22ERN CSF22ERP CSF22ERS CSF22ETB CSF22ETC CSF22ETD CSF22ETF CSF22ETG CSF22ETH CSF22EVC CSF22EVD CSF22EVE CSF22EWC CSF22EWP CSF22EYB CSF22EYC CSF22KPB CSF22KPC CSF22KRB CSF22KRC CSF22KRD CSF22KRG CSF22KRH CSF22KRJ CSF22KRN CSF22KRP CSF22KRR CSF22KRT CSF22MAB CSF22MAC CSF22MAD CSF22MBB CSF22MBC CSF22MBS CSF22MTB CSF22MTC CSF22MTD CSF22MTF CSF22MTG CSF22MTH CSF22MVC CSF22MVD CSF22MVE CSF22MVF CSF22MWB CSF22MWC CSF22MWP CSF22MWR CSF22MYB CSF22MYC CSF22TBC CSF22TBD CSF22TBF CSF22TBG CSF22TBM CSF22TCB CSF22TCM
CSF24DAB CSF24DAC CSF24DAD CSF24DAE CSF24DBC CSF24DBD CSF24DBF CSF24DBG CSF24DBM CSF24DCB CSF24DCM CSF24DFB CSF24ELB CSF24ELC CSF24ELD CSF24EMB CSF24EMC CSF24EMD CSF24EMP CSF24EMR CSF24EPC CSF24KMB CSF24KMC CSF24KMD CSF24KPB CSF24KPC CSF24KRB CSF24KRC CSF24KRD CSF24KRG CSF24KRH CSF24KRP CSF24KRT CSF24MTB CSF24MTC CSF24MTD CSF24MTF CSF24MTG CSF24MTH CSF24MVC CSF24MVD CSF24MVE CSF24MVF CSF24MWB CSF24MWC CSF24MWD CSF24MWE CSF24MWP CSF24MWR CSF24MWT CSF24MYB CSX20EFB CSX20EGB CSX20LFB CSX20LGB CSX22EFB CSX22EGB CSX22TFB CSX22TGB CSX22TGC CSX24DFB CSX24DGB
CTA14CAB CTA14CBC CTA14CBCL CTA14CBCR CTA14CBD CTA14CBDL CTA14CBDR CTA14CBS CTA14CBSL CTA14CBSR CTA14CCB CTA14CCBL CTA14CCBR CTA14CFB CTA14CFBL CTA14CFBR CTA14CRB CTA14CRC CTA14CRD CTA14CRN CTA14CRP CTA14CRR CTA14CRS CTA14CTB CTA14CVB CTA14CVC CTA14CVD CTA14CVF CTA14CVG CTA14CWB CTA14CWC CTA14CYB CTA14CYC CTF15CPB CTF15CPC CTF15EPB CTF15EPC CTF16CAB
Compare Lowest Prices
Read more product details – Hotpoint Refrigerator Freezer Fan Motor WR60X177, view shipping & handling information, item location, return & warranty policy, compare the lowest prices, payment details, and Check Price on eBay HERE!
If you have any problems or need any assistance, please do not hesitate to contact us at any time.