Search for front load washer door boot seal bellow gasket works for LG WM0001HTMA WM2042CW WM2233HW WM2233HW/00 WM2487HWM WM2497HWM WM2677HBM WM2688HWMA and more.
Washer Door Seal
Product: Washing Machine Washer Door Boot Seal Gasket
Part Number: 4986ER0004G
Replace Parts: 1377589 AP4439732 PS3524978
Fits Brands: LG, Kenmore
Fits Washer Models:
WM2688HWMA WM2487HWMA WM2677HBM WM2487HWM WM2677HSM WM2497HWM WM0532HW WM2075CW WM2688HNMA WM2677HWM WM0001HTM WM2233HS WM2501HVA 79640448900 WM2501HWA WM2688HWM WM0642HS WM0001HTMA WM2233HW/00 WM2487WHM WM2487HRMA WM2442HW WM2233HW WM1832CW 79640441900 WM2042CW
Compare Best Prices
Your correct item number is 4986ER0004G. Read the washer door boot seal gasket item information, shipping & payment options, and buy this item on eBay here.
Other Gaskets for LG Washing Machines
Below is list of LG Washer Gaskets offering on eBay market. Check the item that fits with your appliance and check lowest prices below.
New Genuine OEM LG Washer Door Boot Gasket 4986ER0004B
Genuine LG MDS63939301 Washing Machine Rubber Door Seal Grey Gasket F14A8YD6
New Factory Original LG Kenmore Washer Tub Gasket Seal 4036ER4001B OEM
LG Washer Tub Gasket Seal WD11581BDP WD11586BD WD11588BDK WD12210BD WD12275BD
LG Front Loader Washing Machine Door Seal Gasket WD14022D6 (F1496TD3.ABWREAP)
LG Electronics MDS47123601 Front-Load Washer Door Boot Gasket
Washer Door Boot with Drain Hole (Gasket) 4986ER0004 LG
LG Genuine Part MDS62058301 Washer Tub Gasket Seal Oil Seal JINYANG NBR Black
LG Washer Door Boot Gasket MDS47123602
Genuine Washer Door Gasket AGM30030702
OEM LG 4036ER4001B Washer Gasket Seal
LG Front Load Washer Door Gasket Boot Seal 4986ER0004 NO .13 (GOOD condition)
LG washer Door Boot Gasket Seal MDS38265303
New Genuine OEM LG Washer Door Gasket Grey Part # MDS47123602
4986ER0004F Front Load Washer Door Boot Gasket with Drain Port
LG Front Loader Washing Machine Door Boot Seal Gasket F1247TD5 F1247TD5.ALSQEUK
LG MDS65736902 Washer Door Boot Gasket
New Genuine LG Washer Door Gasket Grey Part# MDS47123602
LG Washer Rear Tub Gasket MDS62058301 PS3535219
New SealPro Washer Gasket For LG MDS47123619 AP6236842 PS12081606
and more.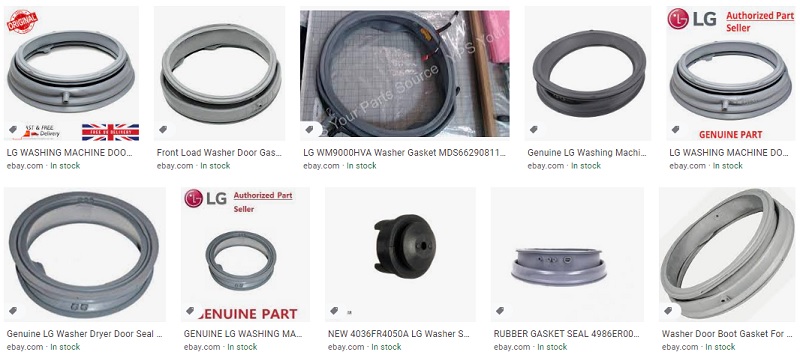 >> Check Prices on eBay HERE! <<
Other Replacement Parts
In addition to the Genuine LG WM2487HWMA Washer Door Boot Seal Gasket, if you need other home appliance replacement parts, please leave your comment below. We will be back soon, thank you.