Check Price GE 175D6318P001 Laundry Washer Motor Replacement Parts. Replaces EAP2370751 1569650 WH20X10014 AP4501104 PS2370751 WH20X10018 WH20X10023 parts and more. Fast Shipping.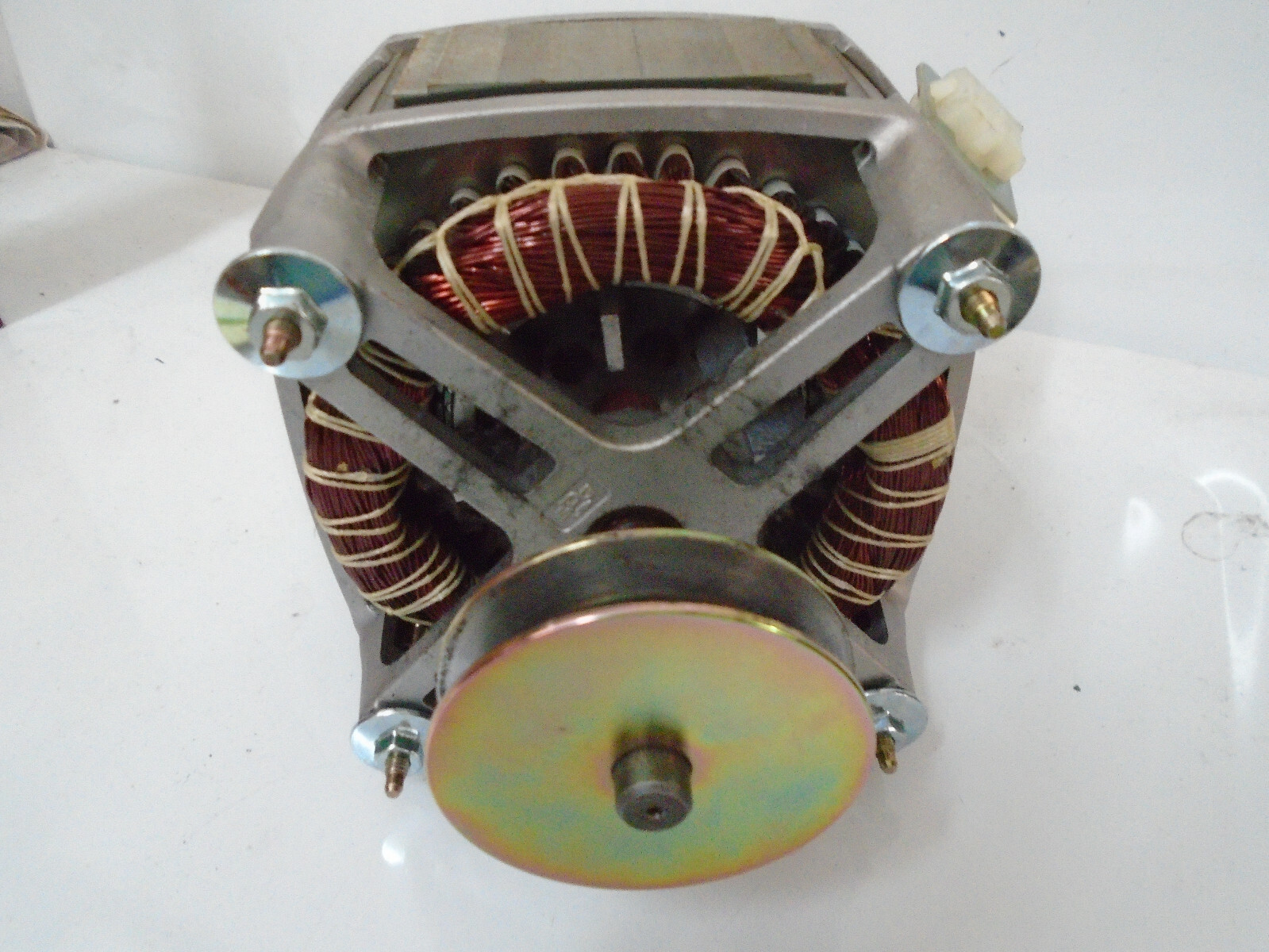 GE Washing Machine Drive Motor 175D6318P001 Parts
Product: MOTOR ASSY I SPD PSC General Electric WH20X10063 175D6318P001
Part No: 175D6318P001
Replacement Part No: EAP2370751 1569650 WH20X10014 AP4501104 PS2370751 WH20X10018 WH20X10023
Fits Brands: GE, General Electric, Hotpoint
Type: Washing Machine Replacement Parts, Drive Motor Assembly Parts
Item Location: Valparaiso, Indiana, United States
Ship To: United States
Return Policy: Seller does not accept returns
Condition: Used
Price: US $60.00
Read more product information and Check the Latest Price Below.
==> Click Here to Check the Latest Prices! <==
Fits Washing Machine Models:
This 175D6318P001 Washing Machine Drive Motor Parts fits the following GE and Hotpoint models. Hit Ctrl-F to check your specific model following.
VBXR1090B0WW WJSR2070D3WW WCSR2090D3WW WCSR2080B3CC S2100G2WW VBXR1090D1WW GJSRP080B1WW WBB2090G8WW VVSR1030H5WO WDRR2500K4WW WCSR2090D6WW VLSR1090G8WW WHDSR209G2WW WDRR2500K3WW WDSR2080G5CC HTWP1000M1WW S2100G9WW WCSR2090G8WW S1070A2WW WBB2090G6WW WLSR2200J7WW WCSR2090G5WW WDSR2080D8WW 57731H9WW GCSR2090H3WW GCWP1000M0WW WLSR2000G2WW VVSR1030H8WO WJSR2070D6WW WCCB1030Y2WC VBXR1090B0CC WCSR2090G7CC GJSR2080H3WW WCSR2080B1CC WBXR2090B3WW WLSR2200J8WW WDSR2080G2WW WHDSR109J8WW GTWP2000M1WW WBB2090G7WW WVSR1060G9WW GTWP1000M0WW WDSR2120J8WW WHDSR209D6WW GJSR2080H5WW WCCB1030B1WW GJSR2080H8WW WLSR2010K3WW WDRR2500K1WW HLSR1090J7WW WBXR1090A2AA VBXR1070W2AA GLWP2000M0WW VBXR1090D9WW WVSR1060B4WW
WVSR1060G3WW WHDSR209G8WW HLSR1090J8WW WBB2090G2WW GHDSR209H3WW WCXR1070A2AA WLCD1030Y2WC GCAP1000M0WW WHDSR209D3WW GHDSR209H7WW WLSR2200J3WW GHWP1000M0WW WVSR1060G8WW WHDSR209D1WW WDSR2080G3CC VVSR1030H3WO WCSR2090G5CC S2100G5WW WCSR2080B3WW HLSR1090J6WW GCWN3000M0WS WVSR1060G5WW WVSR1060G6WW GJSR2080H2WW WCSR2090G6CC VVSR1030H2WO WVSR1060A2WW WDSR2080G6WW GMAN3000M1WS WHDSR209G3WW GJSR2080H7WW WDSR2120J9WW GLWP2000M1WW VBXR1090B3WW WVSR1060G7WW S2100G6WW WDSR2080G3WW WVSR1060A2AA VLSR1090G3WW WCSR2090G3CC HTAP1000M0WW WJSR2070B3CC S2100G3WW VBXR1070W2WW VLXR1020A4WW
VLSR1090G5WW GTAP1000M0WW GVSR1060H7WW GCSR2090H7WW WCCD1030Y2AC GHWP1000M1WW WCSR2090G6WW WDRR2500K2WW GJXRP080B1WW WCSR2080B1WW WCSR2090G9CC VBXR1090B3CC VVSR1040V4WW GCWP1000M1WW WCSR2090D1WW WBB2090G5WW GJSR2080H9WW VVSR1030H6WO WDSR2080G6CC WHDSR109J6WW WCSR2090G3WW WVSR1080G8WW GCSR2090H2WW WCSR2090D8WW WDRR2500K0WW GCSR2090H5WW GHDSR209H8WW GCWP1005M0CC WDSR2120J5WW GCAP1000M1WW WLSR2200J9WW GTAP2000M0WW GTWN3000M0WS VVSR1070B3WW 57731H8WW WJSR2070B3WW WDSR2080G2CC WVSR1060G2WW GTWP2005M1CC GVSR1060H9WW GMAN3000M0WS GCSR2090H6WW HTAP1000M1WW GCSR2090H9WW WDSR2120J3WW VLSR1090G2WW GCSR2090H8WW 57731H7WW WCCB1030B1WC WDSR2120J6WW
GVSR1080H8WW GTAP2000M1WW WLSR2000G6WW WBB2090G9WW GHDSR209H5WW WJSR1070A2WW WBXR1090A2WW GHDSR209H2WW WLCD1030Y2AC WHDSR209G9WW WDSR2080D5WW WDSR2120J7WW GTAP1000M1WW WHDSR109J9WW WBB2090G3WW WDSR2080D6WW WLSR2200J6WW WCXR1070A2WW MTAP1000M0WW S2100G7WW WCSR2090G2CC VLXR1020A2WO WLSR2200J5WW VLSR1090G7WW GTWP2000M0WW GCWP1005M1CC WLSR2010K4WW WJSR2070D1WW HTWP1000M0WW S2100G8WW GHDSR209H6WW WCCB1030B1KC WCCD1030Y2WC VLXR1020A4WO WLSR2000G3WW MTAP1000M1WW WLSR2000G5WW WCSR2090G2WW GTWP2005M0CC GHDSR209H9WW WCSR2090G8CC S1070A4WW GJSR2080H6WW HLSR1090J5WW VBXR1090D3WW
WCSR2090G9WW WHDSR109J7WW VLSR1090G6WW WHDSR109J5WW VBXR1090D6WW WJSR1070A2AA WDSR2080G5WW WCCB1030Y2AC WCSR2090G7WW VVSR1030H7WO GTWP1000M1WW
Compare Best Prices
See deals more Washer Motor 175D6318P001 Parts product description, item conditions (new brand, used, or refurbished), shipping information, return and customer satisfaction policy, and other important information. Many sellers offer this part on the market. You are able to check the best prices below.
==> Click Here to Compare the Latest Prices Today! <==
More Home Appliance Information
Further the 175D6318P001 Laundry Washing Machine Drive Motor Replacement Parts, there are more home appliance replacement parts offered on the market, for instance, Whirlpool Duet Dryer Control Board Repair, Frigidaire Washing Machine Transmission, Whirlpool Gold Refrigerator Electronic Control Board, Samsung Gas Range Control Board, Whirlpool Washing Machine Transmission Problems. For more big appliance brands, for instance, Frigidaire, you can view its products, and services on its website.
Other Replacement Parts:
Don't give up! If you need any help with finding the correct part for your appliance model or have any message, please write content in the comment box down below. We will search for the part and give some advice to you very soon. Thank you.