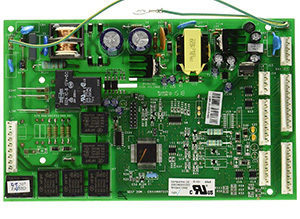 This is a new replacement part, GE Refrigerator Main Control Board WR55X10775. This part fits GE refrigerator X and Z series. Find your model and compare the lowest price here!
GE Refrigerator Main Control Board WR55X10775
Product: Electronic Main Control Board for Refrigerator
Appliance Part: Refrigerator Replacement Part Assembly
Part Number: WR55X10775
Compatible Brands: GE
Compatible Part Numbers: 1477910 AP4363093 PS2340408 EAP2340408 200D4852Q024 200D4852Q025
Fits GE Refrigerator Models:
This part fits GE refrigerator X Series and Z Series. Use Ctrol+F to find your model.
CSHS5UGXBSS CSHS5UGXCSS CSHS6UGZBSS CSHS6UGZESS PSCF3RGXCFBB PSCF3RGXCFCC PSCF3RGXCFWW PSCF3RGXGFBB PSCF3RGXGFCC PSCF3RGXGFWW PSCF3VGXAFBB PSCF3VGXAFWW PSCF3VGXCFBB PSCF3VGXCFWW PSCS3RGXAFSS PSCS3RGXCFSS PSCS3RGXGFSS PSCS3VGXAFSS PSCS3VGXCFSS
PSHF6RGXBDBB PSHF6RGXBDCC PSHF6RGXBDWW PSHF6RGXCDBB PSHF6RGXCDCC PSHF6RGXCDWW PSHF6TGXBDBB PSHF6TGXBDWW PSHF6TGXCDBB PSHF6TGXCDWW PSHF6VGXBDBB PSHF6VGXBDWW PSHF6VGXCDBB PSHF6VGXCDWW PSHS6RGXBDSS PSHS6RGXCDSS PSHS6TGXBDSS PSHS6TGXCDSS PSHS6VGXBDSS PSHS6VGXCDSS
PSIC3RGXCFBV PSIC3RGXCFCV PSIC3RGXCFWV PSIC3RGXGFBV PSIC3RGXGFWV PZS23KGEBFBB PZS23KGEBFWW PZS23KPEBFBV PZS23KPEBFWV PZS23KSEBFSS PZS23KSEDFSS PZS23KSEEFSS
How To Replace GE Refrigerator Main Control Board
Watch this video, created by GE Appliances. This video will show you easy and simple step-by-step instructions on how to replace your electronic main board on GE Appliances side by side, bottom freezer, and top freezer refrigerators.
Tools Needed:
1/4″ nut driver
Needle-nose pliers
Wire cutter (for some models)
Simple Step-By-Step Instructions:
Unplug the refrigerator and locate the rear panel.
Remove the 1/4″ screws and set the panel aside.
Gently pull on each connector to disconnect from the board.
Using needle-nose pliers or flat head screwdriver, press in on the white standoff pin as shown to remove the board.
Disconnect the blue connector on the board.
Before installing the board, reconnect the blue connector to the board.
Reseat the board to the refrigerator.
Reconnect the electrical connectors by gently pushing the connectors on to the terminals. The connectors on the new board may be in a different order or location than the old board.
Using a screw as a guide, secure the ground wire to the refrigerator frame.
Reassemble the back panel.
Compare Lowest Price
Read more product details of GE Refrigerator Main Control Board WR55X10775. View shipping information and return & warranty policy, and compare lowest price on eBay here!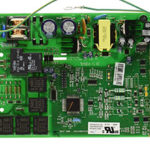 More Information
In addition to GE Refrigerator Main Control Board WR55X10775, find more parts for GE, control boards for refrigerator, main control boards for GE, and GE fridge parts. Please contact us if you need help.