Low Price genuine refrigerator ice bucket and auger assembly fits Hotpoint GE RCA Americana BSS25JSTPSS GST25IFPDCC GSH25JSBBSS GSS25JEMCBB GSS25TGMAWW PSS27SHMABS and more.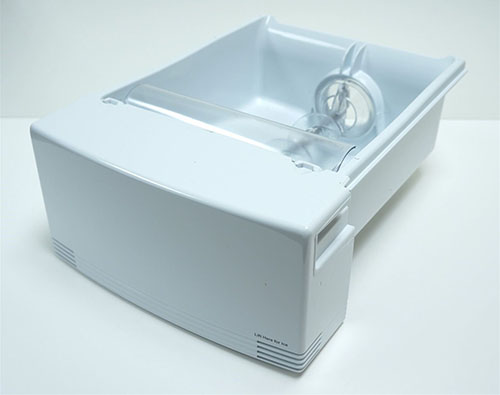 Refrigerator Ice Bucket
Product: Refrigerator Ice Bucket and Auger Assembly
Part Number: WR17X23255
Replace Parts: WR17X11236 WR17X11249 WR17X11408 WR17X12316 3554994
Fits Brands: Hotpoint GE RCA
Fits GE Refrigertor Models
This refrigerator ice bucket part fits the following GE Hotpoint models.
BSS25JFTAWW ESS25XGMABB GSF25JGDCWW GSG25MIPCFWW GSS22JEMCCC GST22JEMCCC GST25KGPEWW GSE25ESHCSS SSH25KFTEWW ESH25XGRBCC GSH22KGMCCC GSH25JGDBCC GSL25IGXLLS GSS25JEMBWW GSS25JETGBB GSS25KGMCWW GSS25QGPBCC GSS25RGMBCC PSA22MIMCFWW PSC23MGMBCC PSC23SGMBBS PSI23SGMBFBS PSS29NGMBCC PSS29NHMABB HSS25GFTNWW HST22IFMACC RCK23MGMAFCC and more.
Compare Lowest Prices
The right part number is WR17X23255. View the refrigerator ice bucket part details, return services & warranty policy, and buy the item on eBay here.