Find new refrigerator fresh meat pan drawer for GE Hotpoint Americana RCA GSA22KBPAFBB GSH22JGCBBB GSS22KGMABB GSH22JSTDSS GSS25IFPHBB PSG22SIMBFBS HSM25GFRFSA and more.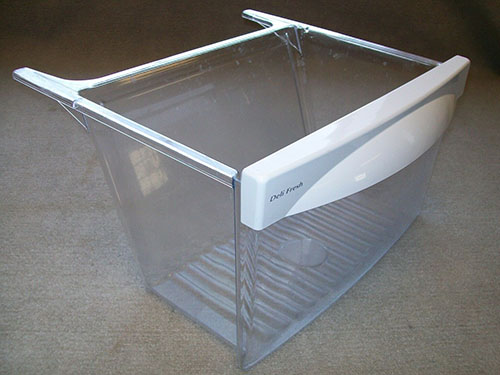 Refrigerator Meat Pan
Product: Refrigerator Fresh Meat Drawer Pan
Part Number: WR32X10835
Replace Parts: WR32X10131 1812381 AP4981597
Fits Brands: GE Hotpoint Americana RCA
Fits Refrigerator Models
This refrigerator fresh meat pan drawer part fits the following GE Hotpoint Americana RCA models.
GSS25ETHBWW GSH25JFXJWW BSS25JSTCSS ESS25XGMABB GSA22KBPDFWW GSA22KEPDFWW GSE22KETGFBB GSG22KBMCFWW GSG22KEPCFBB GSG25MISAFBB GSH22JFPDWW GSH22JFXLCC GSH22JSXKSS GSH25JFTCBB GSH25KGMAWW GSL22JFZBLB GSL22QGPHBS GSS22IFPJBB GSS22JEMCBB GSS22JETGWW GSS22JFPKWW GSS22QFMAWW GSS22SGRBSS GSS22VGMBWW GSS22WGMCBB GST22IFPCCC GST22KGPHWW GST25KGPCWW ESL25JFWDBS GSH22JFZBWW GSH25IGRECC GSH25JSXNSS GSL25IGXLLS GSS22SGRFSS GSS25IFRFCC GSS25JETCBB GSS25JETHCC GSS25JFPJCC GSS25KGPJWW GSS25QGPHWW GSS25SGMBBS GSS25VFPEWW GSS25VGMACC PSA25MIMDFWW PSG22SIPDFBS HSH22IFTDBB HSM22IFTBSA HSS25GFPDWW HSS25GFTIWW HST22IFPDWW RSG25IEMCFWW and more.
Compare Lowest Prices
Shop Here! The part number is WR32X10835. Read the refrigerator meat drawer item details, return services & refund services, and compare lowest prices on eBay below.