Best Price refrigerator meat drawer fits GE Hotpoint Americana RCA BSS25JSTJSS GSH22JFPHCC GSS22JEPHCC GST22IFPCWW GSS25JETHWW HST25IFPHCC RSG22IBMDFWW and more.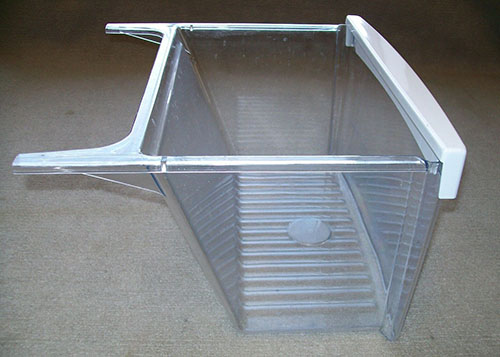 Refrigerator Meat Pan
Product: Refrigerator Fresh Meat Drawer Pan
Part Number: WR32X10835
Replace Parts: WR32X10131 1812381 AP4981597 EAP3487933
Fits Brands: GE Hotpoint Americana RCA
Fits Refrigerator Models
This refrigerator meat pan part works for the following GE Hotpoint Americana RCA models.
GSH25JGCEWW GSH25JSDBSS BSY25GFMDCC DSS25JFPEWW ESS25XGMAWW GSE22KETAFBB GSE22KEWNFSS GSF25IGZDBB GSG22KBPCFWW GSG25MIPAFWW GSH22JFXJBB GSH22JGBBCC GSH22KGPABB GSH22KGRBBB GSH25KGMDBB GSH25VGPABB GSL22WGPJBS GSS22IBTGCC GSS22JEMBCC GSS22JFPHBB GSS22KGPJBB GSS22QFMACC GSS22QGPEWW GSS22UFPJCC GSS22WGMBBB GST22JEMDCC GST22KGPAWW ESL25JFWABS ESL25JFWDBS GSH22UFREBB GSH25JFRHBB GSH25SGRESS GSS22IBPACC GSS22QGMDWW GSS25IFPEWW GSS25JETACC GSS25JFMDWW GSS25JSRFSS GSS25KGMDCC GSS25QFMCBB GSS25SGMBBS GSS25UFPACC PSA22MIMCFBB PSG22MIMDFWW PSG22SIMBFBS HSS25IFMBCC HSS22GFTJWW HSS25GDPCWW HSS25GFTPWW HST22IFMBWW HSS25GFTCBB and more.
Compare Lowest Prices
Best Price! Your correct part number is WR32X10835. View the refrigerator meat pan drawer product description, and compare best prices on eBay.