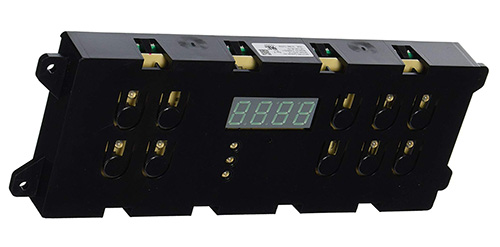 This is a new range oven electronic replacement part, Frigidaire Oven Control Board 316207511. It fits Frigidaire, Gibson, Kelvinator, Kenmore, and Tappan oven brands. If your range oven is little to no heat when baking, then replacing the main control board could solve your appliance problem. Check your model and compare the lowest price here!
Frigidaire Oven Control Board 316207511
Product: Electronic Clock Control Board for Electric Range Oven
Appliance Part: Range Oven Electronic Replacement Parts
Part Number: 316207511
Compatible Brands: Frigidaire Gibson Kelvinator Kenmore Tappan
Compatible Part Numbers: 316557511 316207531 1036364 AP3561834 PS820139 EAP820139
Fits Frigidaire Oven Models:
Note: Use Ctrl+F to find your model.
FEF351CSA FEF351CSB FEF351CSC FEF351CUA FEF351CUB FEF351CUC FEF351CWA FEF351CWB FEF351CWC FEF352ASF FEF352ASG FEF352ASH FEF352AUF FEF352AUG FEF352AUH FEF352AWF FEF352AWG FEF352AWH FEF355ABG FEF355ABH FEF355ABJ FEF355ABK FEF355AQG FEF355AQH FEF355AQJ FEF355AQK FEF355ASG FEF355ASH FEF355ASJ FEF355ASK FEF355AWG FEF355AWH FEF355AWJ FEF355AWK
FEF366ASG FEF366ASH FEF366ASJ FEF366ASK FEF366AWG FEF366AWH FEF366AWJ FEF366AWK FEF366CBB FEF366CBC FEF366CBD FEF366CBE FEF366CBF FEF366CBG FEF366CCB FEF366CCC FEF366CCD FEF366CCE FEF366CCF FEF366CQB FEF366CQC FEF366CQD FEF366CQE FEF366CQF FEF366CQG FEF366CSB FEF366CSC FEF366CSD FEF366CSE FEF366CSF FEF366CSG FEF366XESA FEF366XESB FEFB68CBA FEFB68CBB FEFB68CBC FEFB68CQB FEFB68CQC FEFB68CQD FEFB68CSB FEFB68CSC FEFB68CSD FEFL74ASG FEFL74ASH
How To Replace Oven Control Board
Watch this video, created by PartSelect. Steve shows you simple and easy step-by-step instructions on how to replace the oven electronic control board.
Tools Needed:
¼ inch nut driver
Needle nose pliers
Step-By-Step Instructions:
Starting with disconnect power.
Pull the range far enough forward that we can access the back.
Either turn the power off at the breaker or fuse panel or unplug it and then, pull the range forward so that we can get to the back.
Next, remove six quarter-inch hex head screws that secure this upper back panel to the cabinet.
Then, just let that panel drop down and remove it. Next, we have four more quarter-inch hex head screws that hold that control board assembly to the console, so we'll remove those.
Then, we can lift that assembly clear of the range. We can then disconnect the power harness connectors that are attached to the control board. This large one, you usually just rock it back and forth to remove it.
The individual wires that are attached on the end of that control, you'll need to take note of the color codes. Either take a photograph them with your phone or just mark them down and then, remove those.
If you find some of those terminals a little tight, just take the needle nose pliers and pry them off. We'll also inspect those wire terminals carefully to make sure that there are no signs of any arcing or corrosion. If so, we would need to replace that terminal.
Now, with the oven control board removed, you'll note that the new control board does not come with the overlay on it.
Now, we can either remove the old overlay from the board assembly and attach it to the new one or you can remove the control boards themselves from the housing and swap those.
Typically, these overlays will come off quite easily. With a thin putty knife, we'll just go into one edge and very carefully slide that through the length of it, being very careful not to crease it.
Now, it should just lift off. Typically, there's adhesive left on that overlay that we will not have to add any new.
Now, if you feel that the overlay does not have enough adhesive on it, you can take and run a strip of double-faced tape around the perimeter of the housing for your new control and it only needs to be about a quarter of an inch wide.
We'll carefully position that overlay on the new control and with it centered, just press down on the edges and it should adhere.
You can now reconnect the wires to the terminals. Again, make sure that they are nice and tight. The multi-pin connector, make sure it's firmly pressed onto the new control and then, rotate the assembly into position and then, reattach with the quarter-inch screws.
We just make sure we tucked the wire harness safely out of the way and then, we can reinstall that upper back panel.
Now, when installing this back panel, we'll keep all three of those tabs at the top in behind the lip of the console. We'll start by just inserting that top center screw.
Just loosely install that so that we can move the panel round enough to line up all the rest of the screw holes and then, go ahead and put them in.
Now, with all the screws tightened up, we can push the range into position and reconnect the power.
Once we reconnect the power, our repair is complete.
Compare Lowest Price
Read more product details of Oven Control Board 316207511 for Frigidaire. View shipping information, warranty & return policy, and compare the lowest price on eBay here!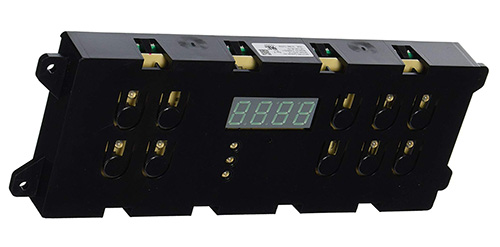 More Information
As well as Frigidaire Oven Control Board 316207511, find more parts of Frigidaire, control boards for Frigidaire, range oven control boards, and Frigidaire oven electronic replacement parts. Please contact us if you need help.