Buy low price Home Appliance Parts Whirlpool Refrigerator Freezer Fridge Door Handle Assembly WP2202098. Fits W8TXNWFWB01 ET17JMXJW00 ET4WSMYKZ00 ET4WPKYKQ01 ET6WSKXSQ01 W8TXNWFWQ00 W8TXNWFWT02 W8TXEWFYQ01 models and more. Shop Now.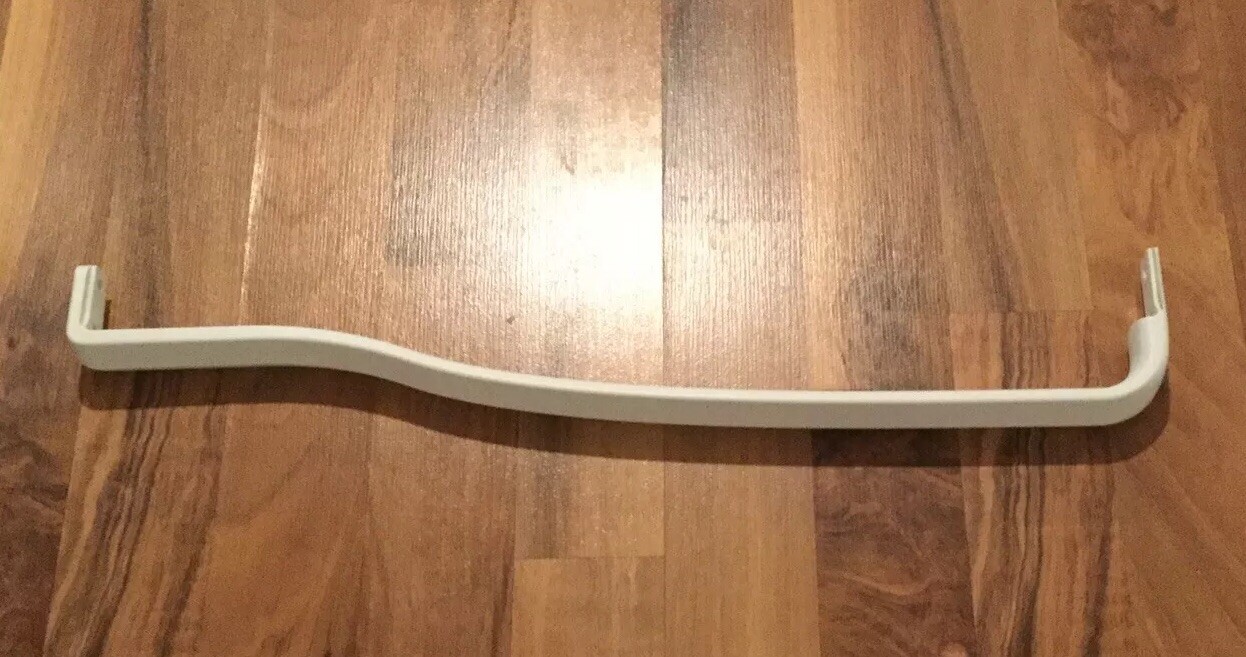 Whirlpool Refrigerator Freezer Fridge Door Handle WP2202098
Product: Whirlpool Refrigerator Freezer Door Handle WP2202098 White Used 1620
Type: Refrigerator Door Handle
Item Location: Moline, Illinois, United States
Ship To: United States
Policy: Seller does not accept returns
Condition: Used
Price: US $19.99
View more part details and Check Out on eBay or Compare Lowest Prices Below.
Fits Whirlpool Fridge Models:
The Freezer Door Handle WP2202098 part fits the following Whirlpool top-mount fridge models. Use Ctrl-F to find your specific model below.
3VET16GKGW01 3VET18GKGW01 3VET18GKGW02 4VET16GKGN01 4VET16GKGW01 4VET18GKGW01 4VET18GKGW02 5VET6WPKLQ00 5VET8WPKLQ00 8VET16GKGN01 8VET16GKGW01 8VET18GKGW01 8VET8WPKLQ00 8W8TXDGFBW00 8W8TXDWFBW00 ET14JKXJN00 ET14JKXJW00 ET14JKYJN00 ET14JKYJW00 ET14JMXJN00 ET14JMXJW00 ET14JMYJN00 ET14JMYJW00 ET14NKXJN00 ET14NKXJW00 ET17JKXJN00 ET17JKXJW00 ET17JKYJN00 ET17JKYJW00 ET17JMXJN00 ET17JMXJW00 ET17JMYJN00 ET17JMYJW00 ET18BKXJN00 ET18BKXJW00 ET18BMXJN00 ET18BMXJW00 ET18TKXJN00 ET18TKXJW00 ET4WPKXKQ00 ET4WPKXKQ01 ET4WPKXKQ02 ET4WPKXKQ03 ET4WPKXKT00 ET4WPKXKT01 ET4WPKXKT02 ET4WPKXKT03 ET4WPKXKZ00 ET4WPKXKZ01 ET4WPKYKQ01 ET4WPKYKQ02 ET4WPKYKQ03 ET4WPKYKT01 ET4WPKYKT02 ET4WPKYKT03 ET4WPKYKZ01 ET4WSKXKQ00 ET4WSKXKQ01 ET4WSKXKQ02 ET4WSKXKQ03 ET4WSKXKQ04 ET4WSKXKQ05 ET4WSKXKQ06 ET4WSKXKT00 ET4WSKXKT01 ET4WSKXKT02 ET4WSKXKT03 ET4WSKXKT04 ET4WSKXKT05 ET4WSKXKT06 ET4WSKXKZ00 ET4WSKXKZ01 ET4WSKXKZ02 ET4WSKXSQ00 ET4WSKXSQ01 ET4WSKXST00 ET4WSKXST01 ET4WSKYKQ00 ET4WSKYKQ01 ET4WSKYKQ02 ET4WSKYKQ03 ET4WSKYKQ04 ET4WSKYKQ05 ET4WSKYKQ06 ET4WSKYKT00 ET4WSKYKT01 ET4WSKYKT02 ET4WSKYKT03 ET4WSKYKT04 ET4WSKYKT05 ET4WSKYKT06 ET4WSKYKZ00 ET4WSKYKZ01 ET4WSKYKZ02 ET4WSKYSQ00 ET4WSKYSQ01 ET4WSKYST00 ET4WSKYST01 ET4WSMXKQ00 ET4WSMXKQ01 ET4WSMXKQ02 ET4WSMXKQ03 ET4WSMXKQ04 ET4WSMXKT00 ET4WSMXKT01 ET4WSMXKZ00 ET4WSMXKZ01 ET4WSMYKQ00 ET4WSMYKQ01 ET4WSMYKQ02 ET4WSMYKQ03 ET4WSMYKQ04 ET4WSMYKT00 ET4WSMYKT01 ET4WSMYKZ00 ET4WSMYKZ01 ET4WVLXVQ00 ET5WSEXKQ00 ET5WSEXKQ01 ET5WSEXKQ02 ET5WSEXKT00 ET5WSEXKT01 ET5WSEXKT02 ET5WSEXKZ00 ET5WSEXSQ00 ET5WSEXSQ01 ET5WSEXST00 ET5WSEXVQ00 ET6JTKXKQ00 ET6JTKXKQ01 ET6JTKXKT00 ET6JTKXKT01 ET6JTKYKQ00 ET6JTKYKQ01 ET6JTKYKT00 ET6JTKYKT01 ET6WSKXKQ00 ET6WSKXKQ01 ET6WSKXKQ02 ET6WSKXKQ03 ET6WSKXKT00 ET6WSKXKT01 ET6WSKXKT02 ET6WSKXKT03 ET6WSKXKZ00 ET6WSKXSQ00 ET6WSKXSQ01 ET6WSKXSQ02 ET6WSKXSQ03 ET6WSKXSQ04 ET6WSKXSQ05 ET6WSKXST00 ET6WSKXST01 ET6WSKXST02 ET6WSKXST03 ET6WSKXST04 ET6WSKXST05 ET6WSKYKQ00 ET6WSKYKQ01 ET6WSKYKQ02 ET6WSKYKQ03 ET6WSKYKT00 ET6WSKYKT01 ET6WSKYKT02 ET6WSKYKT03 ET6WSKYKZ00 ET6WSKYSQ00 ET6WSMXKQ00 ET6WSMXKQ01 ET6WSMXKQ02 ET6WSMXKT00 ET6WSMXKT01 ET6WSMXKT02 ET6WSMXKZ00 ET6WSMYKQ00 ET6WSMYKQ01 ET6WSMYKQ02 ET6WSMYKT00 ET6WSMYKT01 ET6WSMYKT02 ET6WSMYKZ00 ET8AHKXPQ00 ET8AHKXRQ00 ET8AHKXRQ01 ET8AHMXPQ00 ET8AHMXPQ01 ET8AHMXPQ02 ET8AHMXPT00 ET8AHMXPT01 ET8AHMXPT02 ET8AHMXRQ00 ET8AHMXRQ01 ET8AHMXRT00 ET8AHMXRT01 ET8BPKXKQ00 ET8BPKXKQ01 ET8BPKXKQ02 ET8BPKXKQ03 ET8BPKXKT00 ET8BPKXKT01 ET8BPKXKT02 ET8BPKXKT03 ET8BPKXKZ00 ET8BPMXKQ00 ET8BPMXKQ01 ET8BPMXKQ02 ET8BPMXKT00 ET8BPMXKT01 ET8BPMXKT02 ET8BPMXKZ00 ET8GTKXKQ00 ET8GTKXKQ01 ET8GTKXKQ02 ET8GTKXKQ03 ET8GTKXKT00 ET8GTKXKT01 ET8GTKXKT02 ET8GTKXKT03 ET8GTMXKQ00 ET8GTMXKQ01 ET8GTMXKQ02 ET8GTMXKT00 ET8GTMXKT01 ET8GTMXKT02 ET8WTKXVB00 ET8WTKXVQ00 ET8WTKXVT00 ET8WWKXKQ00 ET8WWKXKQ01 ET8WWKXKQ02 ET8WWKXKQ03 W4TXNGFWQ00 W4TXNGFWQ01 W4TXNGFWQ02 W4TXNWFWB01 W4TXNWFWQ00 W4TXNWFWQ01 W4TXNWFWQ02 W4TXNWFWQ03 W4TXNWFWT00 W4TXNWFWT01 W4TXNWFWT02 W4TXNWFWT03 W5TXDWFXQ00 W5TXDWFXQ01 W5TXEWFWB00 W5TXEWFWB01 W5TXEWFWQ00 W5TXEWFWQ01 W5TXEWFWT00 W5TXEWFWT01 W5TYDWFXQ00 W5TYDWFXQ01 W6TXNWFWQ00 W6TXNWFWQ01 W6TXNWFWQ02 W6TXNWFWQ03 W6TXNWFWT00 W6TXNWFWT01 W6TXNWFWT02 W6TXNWFWT03 W8TXEGFYB00 W8TXEGFYB01 W8TXEGFYB03 W8TXEGFYQ00 W8TXEGFYQ01 W8TXEGFYQ03 W8TXEWFVB00 W8TXEWFVB01 W8TXEWFVQ00 W8TXEWFVQ01 W8TXEWFYB00 W8TXEWFYB01 W8TXEWFYB02 W8TXEWFYB03 W8TXEWFYQ00 W8TXEWFYQ01 W8TXEWFYQ02 W8TXEWFYQ03 W8TXNGFWB00 W8TXNGFWB01 W8TXNGFWB02 W8TXNGFWB03 W8TXNGFWQ00 W8TXNGFWQ01 W8TXNGFWQ02 W8TXNGFWQ03 W8TXNGFWT00 W8TXNGFWT01 W8TXNGFWT02 W8TXNGMBB00 W8TXNGMBB01 W8TXNGMBQ00 W8TXNGMBQ01 W8TXNGMWB00 W8TXNGMWB01 W8TXNGMWB03 W8TXNGMWQ00 W8TXNGMWQ01 W8TXNGMWQ02 W8TXNGMWQ03 W8TXNGZBB00 W8TXNGZBB01 W8TXNGZBQ00 W8TXNGZBQ01 W8TXNGZBT00 W8TXNGZBT01 W8TXNWFBB00 W8TXNWFBQ00 W8TXNWFBT00 W8TXNWFWB00 W8TXNWFWB01 W8TXNWFWB02 W8TXNWFWQ00 W8TXNWFWQ01 W8TXNWFWQ02 W8TXNWFWT00 W8TXNWFWT01 W8TXNWFWT02 W8TXNWMBB00 W8TXNWMBQ00 W8TXNWMWB00 W8TXNWMWB01 W8TXNWMWB02 W8TXNWMWQ00 W8TXNWMWQ01 W8TXNWMWQ02 W8TYNWFWB00 W8TYNWFWQ00 YET14JKXJW00 YET17JKXJW00 YET17JKYJW00 YET18JKXJW00 YET18RKXJW00 YET18TKXJW00
Compare Lowest Prices
View features more Refrigerator Door Handle WP2202098 product details, item conditions, shipping information, return & refund policy, and compare lowest prices on eBay HERE!

Contact Us: Furthermore the fridge door handle WP2202098, if you need any help with finding the correct part for your specific appliance model, please leave your message at the comment box below. We will check the part and get back to you soon.