Best Price Home Appliance Parts Roper Refrigerator Freezer Fridge Door Handle Assembly WP2202806W. Suits for RT18AKXHW00 RT18DKXKQ04 RT21LMXJW00 RT18SKXJN00 RT21LMXKT04 RT21SKXJN00 RT21LMXKT02 RT21AKXHN00 RT21LMXKQ06 RT18DKXKQ05 models and more. Buy Here on eBay.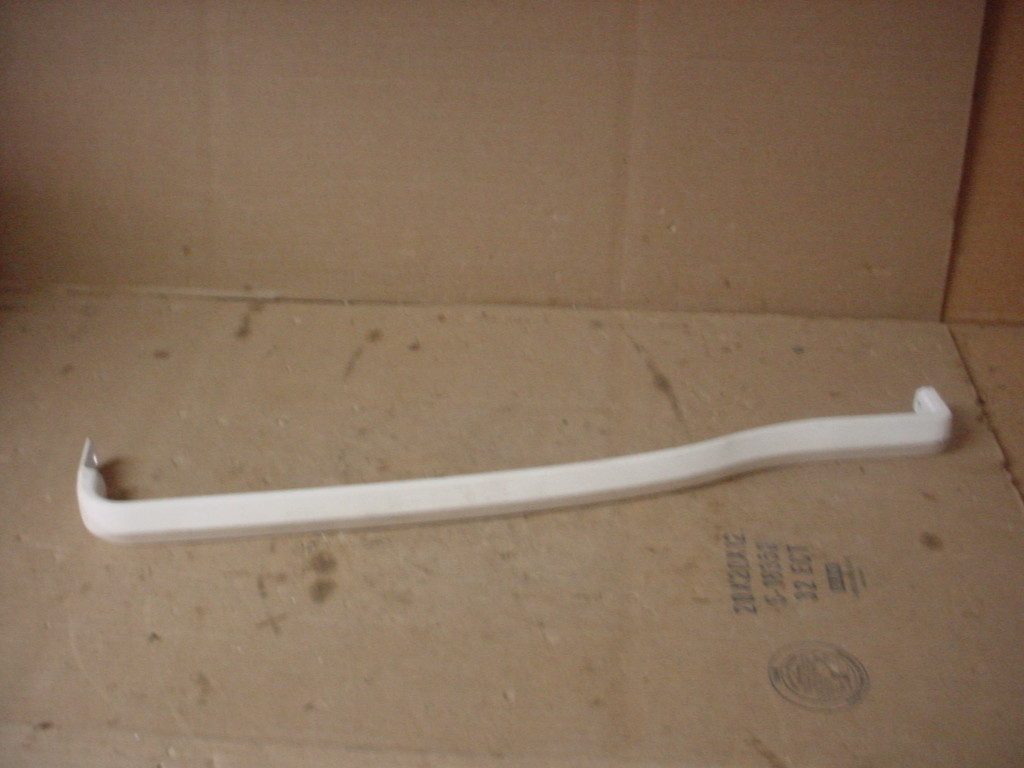 Roper Refrigerator Freezer Fridge Door Handle WP2202806W
Product: Whirlpool Ref. Freezer Section Door Handle w/Some Wear Part# 2202806W WP2202806W
Item Location: Stockton, California, United States
Ship To: United States and many other countries
Policy: 30-day returns. Buyer pays for return shipping
Condition: Used
Price: US $24.97
Read more item details and Shop Today on eBay or Get Best Price Below.
Fits Roper and Whirlpool Fridge Models:
This Freezer Door Handle WP2202806W part fits the following Roper and Whirlpool models. Use Ctrl-F to find your specific model below.
RT18AKXHN00 RT18AKXHW00 RT18AKXJN00 RT18AKXJW00 RT18AKXJW01 RT18AKXKQ00 RT18AKXKQ01 RT18AKXKQ02 RT18AKXKQ03 RT18AKXKQ04 RT18AKXKQ05 RT18AKXKQ06 RT18AKXKQ07 RT18AKXKQ08 RT18AKXKQ09 RT18AKXKQ70 RT18AKXKT00 RT18AKXKT01 RT18AKXKT02 RT18AKXKT03 RT18AKXKT04 RT18AKXKT05 RT18DKXHN00 RT18DKXHN01 RT18DKXHW00 RT18DKXHW01 RT18DKXJN00 RT18DKXJN01 RT18DKXJW00 RT18DKXJW01 RT18DKXKQ00 RT18DKXKQ01 RT18DKXKQ02 RT18DKXKQ03 RT18DKXKQ04 RT18DKXKQ05 RT18DKXKQ06 RT18DKXKQ07 RT18DKXKQ08 RT18DKXKQ09 RT18DKXKT00 RT18DKXKT01 RT18DKXKT02 RT18DKXKT03 RT18DKXKT04 RT18DKXKT05 RT18DKXKT06 RT18DKXKT07 RT18DKXKT08 RT18DKXKT09 RT18ECRHW00 RT18HDXHN00 RT18HDXHW00 RT18HDXJW00 RT18HDXJW01 RT18HDXKQ00 RT18HDXKQ02 RT18HDXKQ03 RT18HDXPQ00 RT18HDXPQ01 RT18HDXPQ02 RT18SKXJN00 RT18SKXJW00 RT21AKXHN00 RT21AKXHW00 RT21AKXKQ00 RT21AKXKQ01 RT21AKXKQ02 RT21AKXKQ03 RT21AKXKQ04 RT21AKXKQ06 RT21AKXKQ07 RT21AKXKQ08 RT21AKXKQ09 RT21AKXKT00 RT21AKXKT01 RT21AKXKT02 RT21DKXHN00 RT21DKXHW00 RT21LMXJW00 RT21LMXJW01 RT21LMXKQ00 RT21LMXKQ01 RT21LMXKQ02 RT21LMXKQ03 RT21LMXKQ04 RT21LMXKQ06 RT21LMXKQ08 RT21LMXKQ09 RT21LMXKQ10 RT21LMXKT00 RT21LMXKT01 RT21LMXKT02 RT21LMXKT03 RT21LMXKT04 RT21LMXKT06 RT21LMXKT08 RT21LMXKT09 RT21LMXKT10 RT21SKXJN00 RT21SKXJW00 RT21SKXLQ00 RT21SKXLQ01 RT21SKXLQ02
2VET20NKJN01 2VET20NKJW00 2VET20NKJW01 2VET22NKJW00 2VET22NKJW01 3ET21NKXGW00 5ET2WVKRQ00 5ET2WVKRQ01 5ET2WVKRQ02 5VET0WPKLQ02 5VET0WPKLQ03 5VET0WPKLQ04 5VET0WPKLQ05 5VET2WPKLQ01 5VET2WPKLQ02 5VET2WPKLQ03 5VET2WPKLQ04 5VET2WPKLQ05 5VET2WPKLQ06 5VWT18TFYW00 ET18GKXHN00 ET18GKXHT00 ET18GKXHT01 ET18GKXHW00 ET18GKXHW01 ET18GMXHN00 ET18GMXHT00 ET18GMXHT01 ET18GMXHW00 ET18GMXHW01 ET18NKXJN00 ET18NKXJT01 ET18NKXJW00 ET18NKXJW01 ET18NMXJN00 ET18NMXJT01 ET18NMXJW00 ET18NMXJW01 ET18SCXJW01 ET18VKXHN00 ET18VKXHW00 ET19GKXJW00 ET1FHMXLQ00 ET1FHMXLT00 ET1GHMXPQ00 ET1GHMXPT00 ET1MHEXRB00 ET1MHEXRB02 ET1MHEXRQ00 ET1MHEXRQ02 ET1MHKXMB00 ET1MHKXMB01 ET1MHKXMB02 ET1MHKXMB03 ET1MHKXMB04 ET1MHKXMB05 ET1MHKXMB06 ET1MHKXMB07 ET1MHKXMB08 ET1MHKXMQ00 ET1MHKXMQ01 ET1MHKXMQ02 ET1MHKXMQ03 ET1MHKXMQ04 ET1MHKXMQ05 ET1MHKXMQ06 ET1MHKXMQ07 ET1MHKXMQ08 ET1MHKXMT00 ET1MHKXMT01 ET1MHKXMT02 ET1MHKXMT03 ET1MHKXMT04 ET1MHKXMT05 ET1MHKXMT06 ET1MHKXMT07 ET1MHKXMT08 ET1MHMXRB00 ET1MHMXRQ00 ET1MHMXRQ01 ET1MHMXRT00 ET1MHMXRT01 ET1MTEXLQ00 ET1MTEXLQ01 ET1MTEXLQ02 ET1MTEXLT00 ET1MTEXMQ00 ET1MTEXMQ01 ET1MTEXMQ02 ET1MTEXMQ04 ET1MTKXKQ00 ET1MTKXKQ01 ET1MTKXKQ02 ET1MTKXKQ07 ET1MTKXKQ08 ET1MTKXKT00 ET1MTKXKT01 ET1MTKXKT02 ET1MTKXKT07 ET1MTKXKT08 ET1MTMXKQ00 ET1MTMXKQ01 ET1MTMXKQ02 ET1MTMXKT00 ET1MTMXKT01 ET1MTMXKT02 ET1PHKXPQ00 ET1PHKXPQ01 ET1PHKXPQ02 ET1PHKXPQ03 ET1PHKXPQ04 ET1PHKXPQ05 ET1PHKXPQ06 ET1PHKXPQ07 ET1PHKXPQ08 ET1PHKXPQ09 ET1PHKXPQ10 ET1PHKXPT00 ET1PHKXPT01 ET1PHKXPT02 ET1PHKXPT03 ET1PHKXPT04 ET1PHKXPT05 ET1PHKXPT06 ET1PHKXPT07 ET1PHKXPT08 ET1PHKXPT09 ET1PHKXPT10 ET1WTKXKB00 ET1WTKXKQ00 ET1WTKXKQ01 ET1WTKXKQ02 ET1WTKXKQ04 ET1WTKXKQ06 ET1WTKXKQ07 ET1WTKXKQ08 ET1WTKXKT00 ET1WTKXKT01 ET1WTKXKT02 ET1WTKXKT04 ET1WTKXKT06 ET1WTKXKT07 ET1WTKXKT08 ET21GKXHN00 ET21GKXHT01 ET21GKXHT02 ET21GKXHW00 ET21GKXHW01 ET21GKXHW02 ET21GMXHT01 ET21GMXHT02 ET21GMXHW01 ET21GMXHW02 ET21NKXJT00 ET21NKXJT01 ET21NKXJW00 ET21NKXJW01 ET8GHMXLQ00 ET8GHMXLQ01 ET8GHMXLQ02 ET8GHMXLQ03 ET8GHMXLQ04 ET8GHMXLQ05 ET8GHMXLT00 ET8GHMXLT01 ET8GHMXLT02 ET8GHMXLT03 ET8GHMXLT04 ET8GHMXLT05 ET8MHEXRB00 ET8MHEXRB01 ET8MHEXRQ00 ET8MHEXRQ01 ET8MHKXMB00 ET8MHKXMB01 ET8MHKXMB03 ET8MHKXMB04 ET8MHKXMB05 ET8MHKXMQ00 ET8MHKXMQ01 ET8MHKXMQ03 ET8MHKXMQ04 ET8MHKXMQ05 ET8MHKXMT00 ET8MHKXMT01 ET8MHKXMT03 ET8MHKXMT04 ET8MHKXMT05 ET8MHMXRB00 ET8MHMXRB01 ET8MHMXRQ00 ET8MHMXRQ01 ET8MHMXRT00 ET8MHMXRT01 ET8MTEXKQ00 ET8MTEXKQ01 ET8MTEXKQ02 ET8MTEXKT01 ET8MTEXKT02 ET8MTKXKQ00 ET8MTKXKQ01 ET8MTKXKQ02 ET8MTKXKQ03 ET8MTKXKQ04 ET8MTKXKQ07 ET8MTKXKT00 ET8MTKXKT01 ET8MTKXKT02 ET8MTKXKT03 ET8MTKXKT04 ET8MTKXKT07 ET8MTMXKQ00 ET8MTMXKQ01 ET8MTMXKQ02 ET8MTMXKT00 ET8MTMXKT01 ET8MTMXKT02 ET8WTEXKQ00 ET8WTEXKQ01 ET8WTEXKQ02 ET8WTEXKQ03 ET8WTEXKT00 ET8WTEXKT01 ET8WTEXKT02 ET8WTEXKT03 ET8WTEXMQ00 ET8WTEXMQ01 ET8WTEXMQ02 ET8WTEXMQ03 ET8WTEXMT00 ET8WTEXMT01 ET8WTEXVQ00 ET8WTEXVQ01 ET8WTEXVQ02 ET8WTEXVQ03 ET8WTKXKB00 ET8WTKXKB01 ET8WTKXKB02 ET8WTKXKB03 ET8WTKXKB04 ET8WTKXKB05 ET8WTKXKB06 ET8WTKXKB07 ET8WTKXKB08 ET8WTKXKB09 ET8WTKXKB10 ET8WTKXKB11 ET8WTKXKB12 ET8WTKXKQ00 ET8WTKXKQ01 ET8WTKXKQ02 ET8WTKXKQ03 ET8WTKXKQ04 ET8WTKXKQ05 ET8WTKXKQ06 ET8WTKXKQ07 ET8WTKXKQ08 ET8WTKXKQ09 ET8WTKXKQ10 ET8WTKXKQ11 ET8WTKXKQ12 ET8WTKXKT00 ET8WTKXKT01 ET8WTKXKT02 ET8WTKXKT03 ET8WTKXKT04 ET8WTKXKT05 ET8WTKXKT06 ET8WTKXKT07 ET8WTKXKT08 ET8WTKXKT09 ET8WTKXKT10 ET8WTKXKT11 ET8WTKXKT12 ET8WTMXKQ00 ET8WTMXKQ01 ET8WTMXKQ03 ET8WTMXKQ04 ET8WTMXKQ05 ET8WTMXKQ06 ET8WTMXKQ07 ET8WTMXKQ08 ET8WTMXKQ09 ET8WTMXKT00 ET8WTMXKT01 ET8WTMXKT03 ET8WTMXKT04 ET8WTMXKT05 ET8WTMXKT06 ET8WTMXKT07 ET8WTMXKT08 ET8WTMXKT09 ST18PKXJW00 ST18PKXJW01 WRT108TFYB00 WRT108TFYB01 WRT108TFYW00 WRT108TFYW01 WRT138TFYB00 WRT138TFYB01 WRT138TFYS00 WRT138TFYW00 WRT138TFYW01
Compare Lowest Prices
View features more Freezer Door Handle WP2202806W product description, item conditions, shipping options, exchange, return and refund policy, and check out on eBay HERE!

In addition to the refrigerator door handle WP2202806W, if you have any problem with finding the right part for your appliance model or have any message, please leave a message at the comment box below. We will check the part and get back to you soon.