Find Oven Range Circuit Board for Crosley Frigidaire Kenmore Tappan CRG3140GBBE CRP3160GWWB FFGF3019LBB FLF326ASA TGFS26CQA and more.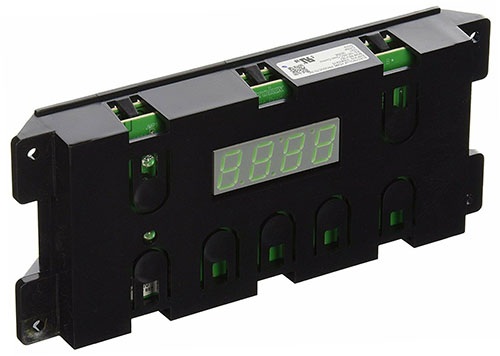 Oven Electronic Circuit Board
Product: Oven Range Stove Circuit Main Control Board
Part Number: 316455410
Replace Parts: 316222800 316222802 316222802R 316455410 5304427745
Fits Brands: Crosley Frigidaire Kenmore Tappan White-Westinghouse
Fits Oven Models:
This part 316455410 fits the following Crosley Frigidaire Kenmore Tappan oven stove models. Use Ctrl+F to find your specific model below.
CRG3140GBBD CRG3140GQQB CRG3140GWBG CRG3140GWWF CRG3150LWD CRG3150PSB CRG3150PWC CRG3160GWWB CRGE3455TWA CRP3160GQQA LFGF3052TFC CFGF3017LWD FFGF3011LBD FFGF3011LWF FFGF3011RSA FFGF3013LBC FFGF3013ZWC FFGF3015LMC FFGF3015LWB FFGF3017LBF FFGF3017LBG FFGF3017LWG FFGF3019LWD FFGF3047LSB FFGF3049LSK FFLF3017LWA FFLF3047LSA FGF319KSB FGF326ASF FGF326AUE FGF326KBC FGF328GBB FGF328GBG FGF328GMF FGF328GSG FGF337ABF FGF337AUC FGF337AUH FGF337AWJ FGF337ESC FGF337GBA FGF337GBE FGF337GSA FGF337GUE FGF348KCB FGF348KCG FGF348KSE FGF348KSJ FGFS36FWC FLF337AUB FLF337AUE FLF337ECH FLF337ECR FLF337EWH FLF337EWM 79070429600 79071412401 79071419401 79071422401 79071429401 79071512403 79071513405 79071519404 79071522401 79071529400 79071542600 79075193302 TGF328GSD TGF336ASH TGF336AWD TGF336AWH TGF351RBA WWGF3008TWB and more.
Compare Lowest Price
BEST DEALS! The right part number is 316455410. Read more Stove Oven 33003028 Main Control Board item description, return & warranty policy, and Compare Best Prices on eBay HERE!