Buy Oven Range Control Board Repair for Crosley Frigidaire Kenmore Tappan CRG3150LWD FFGF3052TWD FFGF3052TDA FGF348KCN TGF336FWD Free Shipping!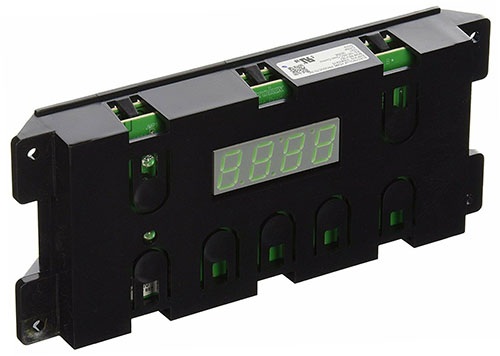 Oven Electronic Circuit Board
Product: Oven Range Stove Electronic Circuit Main Control Board PCB Assembly
Part Number: 316455410
Replace Parts: 316222800 316222802 316222802R 316455410 5304427745
Fits Brands: Crosley Frigidaire Kenmore Tappan White-Westinghouse
Fits Oven Models:
The product 316455410 fits the following Crosley Frigidaire Kenmore Tappan oven stove models. Use Ctrl+F to find your particular model listed below.
CRG3140GWBA CRG3140GWWE CRG3140GWWG CRG3150LQE CRG3150PSB CRG3150PWD CRG3160GWWC CRG3160GWWD CRP3160GWWA LFGF3052TFC CFGF337ESC FFGF3011LBA FFGF3011LWE FFGF3011RSB FFGF3013LBD FFGF3015LBE FFGF3015LMA FFGF3015LWC FFGF3017LBA FFGF3017LSG FFGF3017LWH FFGF3019LWD FFGF3047LSJ FFGF3049LSJ FFGF3052TSC FFLF3047LSB FGF319KSA FGF326ASG FGF326AWD FGF326AWF FGF328GBB FGF328GMA FGF328GMF FGF328GSH FGF337ABC FGF337AUC FGF337AUJ FGF337AWH FGF337ESC FGF337EUD FGF337GCJ FGF337GSC FGF337GWA FGF348KBA FGF348KCK FGF348KMA FGF348KSK FGFS36FWD FGFS36FWG FLF337AWD FLF337ECG FLF337ECK FLF337EUM LFGF3014LWA LFGF3052TFB 79071412400 79071412404 79071420404 79071441600 79071512404 79071513402 79071520400 79071523401 79071524403 79071544600 TGF320DUA TGF328GSA TGF336AUA TGF336AWC TGF336AWF TGF336FWE and more.
Compare Lowest Price
SHOP NOW! The correct part number is 316455410. See more Oven 33003028 PCB Control Board product details, return & refund services, and Compare Best Prices on eBay HERE!