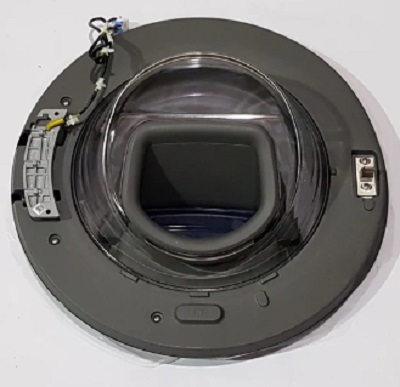 Don't miss out on the ultimate deal! Grab your DC97-22029A Samsung Washer Door for WF45T6000AW now and elevate your laundry game with unmatched quality and savings. Upgrade your washing experience today!
DC97-22029A Samsung Washer Door for WF45T6000AW
Descriptions:
Part Number: DC97-22029A
Replacement Parts: n/a
Part Types: Samsung laundry appliance door, Samsung washer access door, Samsung washing unit entrance, Samsung clothes cleaner door, Samsung laundry system portal
Compatible Brands: Samsung
---
Fits Appliance Models
Samsung WF45T6000AW/A5-00 washing machine
and more ..
---
Functions of DC97-22029A Samsung Washer Door for WF45T6000AW
The main functions of the DC97-22029A Samsung Washer Door for WF45T6000AW typically include:
Access and Loading: The door provides easy access to the drum, allowing users to load and unload their laundry conveniently.
Sealing: The door ensures an airtight seal when closed, preventing water leakage during the wash cycle.
Security: The door incorporates safety features that prevent the washing machine from operating when the door is open, ensuring user safety.
Visual Monitoring: Many washer doors have a transparent window or display, enabling users to monitor the washing process without opening the door.
Aesthetic Appeal: The door design contributes to the overall look of the washing machine and can enhance the appliance's aesthetic appeal.
Noise Isolation: A well-designed door can help dampen operational noise, making the washing machine quieter during use.
Compatibility: The door is engineered to fit the specific model (WF45T6000AW) and is designed to work seamlessly with the washing machine's overall functionality.
Durability: The door is constructed to withstand the rigors of daily use, ensuring long-term durability and reliability.
Energy Efficiency: Some washer doors are designed with energy efficiency in mind, helping to maintain optimal temperature and moisture levels inside the drum.
User Interface Integration: Modern washer doors may feature integrated touch panels or buttons, allowing users to control various washing settings without opening the door.
Remember that the specific features of the DC97-22029A Samsung Washer Door for WF45T6000AW can vary, so it's always recommended to refer to the product documentation or user manual for accurate information.
---
Common Problems
Here are some common problems that users might experience with the DC97-22029A Samsung Washer Door for WF45T6000AW:
Door not closing properly: The door might not close or latch correctly, leading to issues with the washing cycle starting.
Leaking water: A worn-out door gasket or seal can result in water leakage during the wash cycle.
Door not locking: If the door lock mechanism malfunctions, the washer might not start or complete the cycle.
Error codes: Electronic issues or sensor problems can trigger error codes related to the door, disrupting the washing process.
Loud noises: Hinges, latches, or other components may wear down over time, causing squeaking or banging noises.
Door not opening: A malfunctioning latch or handle might prevent the door from opening after the cycle is complete.
Visible damage: Physical damage to the door, such as cracks or dents, can impact its performance and aesthetics.
Rust or corrosion: Over time, the door or its components might develop rust or corrosion, affecting their functionality.
Misaligned door: A misaligned door due to hinges or other factors can result in difficulty closing the door properly.
Issues with locking mechanism: Problems with the locking mechanism can prevent the door from staying securely closed during the cycle.
Remember that troubleshooting and fixing these problems might involve technical expertise or assistance, especially if the washing machine is under warranty.
---
Compare Prices on eBay – DC97-22029A Samsung Washer Door for WF45T6000AW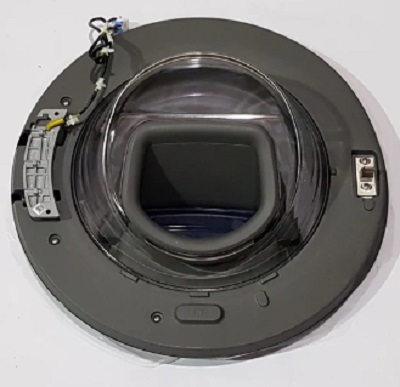 Discover the best deals today! Compare prices for the DC97-22029A Samsung Washer Door for WF45T6000AW on eBay and unlock incredible savings for your laundry upgrade.
---
Samsung Washer Door Glass Replacement #DC64-00504C
In this video, you'll receive clear, step-by-step guidance on how to replace the door glass of Samsung washing machines. The primary motivation for this replacement is addressing a broken door glass, a commonly encountered issue.
(YouTube Video Credit: RepairClinic.com)
---
Other Samsung Washer Door Parts on eBay
DC34-00028A Genuine Samsung Washer Door Lock Assy
DC64-00802A Door Bellow Diaphragm for Samsung Washer AP4205725, PS4210920
Door Boot Compatible with Samsung Washer DC64-00802B PS4210921 AP4342944
Door Boot Gasket Compatible with Samsung Washer DC97-16596A WF363BTBEUF WF363
Door Diaphragm Compatible with Samsung Washer DC64-00802C
Door Gasket Compatible with Samsung Washer DC64-01570A PS4211426 AP4342244 1971
New DC97-16140G Washer Door Boot Gasket Bellow For Samsung AP5622529 PS4221426
New Genuine OEM Samsung Washer Door Boot Seal DC64-02805A
OEM Samsung Washer Door Lock | DC34-00025E
Samsung WA52A5500AC Washer Complete Door Assembly DC97-21510
Samsung Washer Door Assy P# DC97-21507A
Samsung Washer Door Glass Lid Assembly DC97-18846A DC97-18845Q
Washer Door Boot For Samsung WF45M5500AZ/A5-00 WF45N5300AW/US-00 WF45M5100AW/A5
Washer Door Boot Gasket Compatible with Samsung DC97-18094B AP5917067 PS9606239
Washer Door Boot Gasket Seal For Samsung WF42H5200AW/A2 WF42H5000AW/A2 WF42H5200
Washer Door Boot Seal For Samsung WF393BTPARA/A2 WF405ATPAWR/AA WF405ATPAWR/A2
Washer Door Boot Seal Gasket For Samsung WF45K6500AW/A2 WF45K6500AV/A2 WF6500K
Washer Seal Boot Compatible with Samsung DC97-19755A DC97-16140P
and more ..
Unleash savings by comparing prices for Samsung Washer Doors on eBay now! Your gateway to finding the best deals and enhancing your laundry experience awaits.
---
More Information
If you're struggling to locate the right part for your appliance or need assistance with replacements or information, drop us a message in the comment box. We'll swiftly track down the part or provide the help you need. Thank you!
Other Appliance Parts: