Get the Best Deals on Bosch Thermador Oven Power Supply Board 00709785. Suitable for PS8736487 649291 2694402 AP5630128 00649291 709785 EAP8736487 appliance parts and more. Order Today.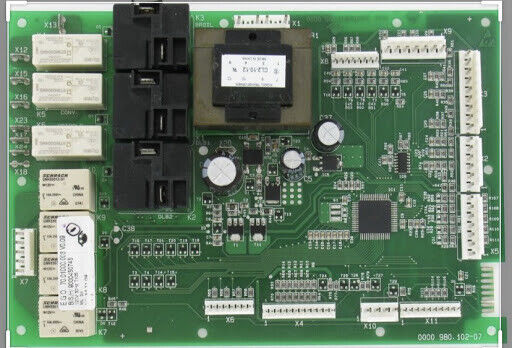 Bosch Thermador Oven Power Supply Board 00709785
Product: NEW PC BOARD 00709785
Part Number: 00709785
Replacement Parts: 00649291 AP5630128 2694402 EAP8736487 709785 PS8736487 649291
Fits Brands: Bosch, Thermador
Item Type: Gas/Electric Range/Oven/Stove Replacement Parts, Main Control Board, Power Supply Board Assembly Parts
Item Location: Spokane, Washington, United States
Ship To: United States
Policy: 30-day returns. Buyer pays for return shipping
Item Condition: New
Product Price: US $254.95
Read more item details and Get the Lowest Price Below.
==> Click Here to Compare the Lowest Prices on eBay TODAY! <==
Fits Models:
The control board 00709785 can be used for the following range models. Hit Ctrl-F to search your appliance model listed as follows.
PD366BS/04 PRD366GHC/11 PRD304EG/11 PRD304GHU/10 PRD366GHU/11 PRD304GHU/03 PRL364GDH-01 PRD366GHU/03 PRD304GHU/05 PRL366GH-01 PRD366GHC/03 PRD304EG/12 PRD366GHU/02 PDR364GDZS/03 PRL304GH-01 PRD304GHC/01 PRD366GHU/09 PRD304GHU-01 PD366BS/09 PD366BS/01 PRD304GHC/05 PRD486GDHC/09 PRG366GH/01 PDR364GDZS/05 PRD366GHC/09 PRD366GHU/05 PD366BS/12 PDR364GDZS/04 PRD366EPG-01 PRD366GHC/05 PRD486GDHC/07 PRD304GHC/06 PRG366EPG/01 PDR364GDZS/01 PRD366GHU/13 PD366BS/06
PRD486GDHU-01 PD366BS/05 PRD366GHU/08 PRD486GDHC/04 PRD364GDHU/01 PRD304GHC/04 PRD364EDPG-01 PRG304GH/01 PDR364GDZS/08 PRD366GHC/01 PRD366GHC/14 PRD486GDHC/06 PD366BS/03 PRD366GHU/06 PRG364GDH/01 PRD304GHU/02 PRD486GDHC/03 PRD304GHC/03 PRD366GHU/01 PRD486GDHU/01 PRD366GHU/14 PRD486GDHC/05 PRD366GHU/12 PD366BS/02 PRD304GHC/02 PD366BS/11
PRD304GHU/06 PRD486GDHC/10 PD366BS/10 PDR364GDZS/07 PRD366GHC/12 PRD304GHC/08 PRD366GHU/07 PDR364GDZS/02 PRD304GHU/08 PRD486GDHC/08 PD366BS/08 PRD486GDHC/01 PRD366GHC/08 PRD366GHC/13 PRD366GHU/04 PDR364GDZS/06 PRD366GHU/10 PRD366GHC/06 PRD304EG/10 PD366BS/07 PRD304GHC/09 PRD304GHU/09 PRD366GHC/10 PRD366GHC/02 PRD366GHC/04 PRD304GHU/04 PRD304GHU/07
Compare Lowest Prices
Study how to replace a replacement part for your appliance. Find out more 00709785 product description, customer reviews, terms and conditions, delivery information, parts warranty, and payment available methods. There are a number of sellers promoting this new part online. Please check the lowest prices below.
==> Click Here to Check the Lowest Prices! <==
Other Information
On the Internet, many sellers promote a wide range of appliance parts, for instance, Maytag Epic Z Dryer Control Board Replacement, Whirlpool Refrigerator Control Board Replacement, Whirlpool Refrigerator Control Board Diagnostics, and How to Remove Refrigerator Control Panel, also covering the Bosch Thermador Oven Power Supply Board 00709785.
For other main appliance brands, such as Hotpoint, you are able to search for its products, parts, accessories, and services on its website.
More Appliance Parts:
Please do not hesitate to write your note in the comment box if you can not find the compatible part for your model. We will search for the part and respond to you as soon as possible. Fix-It Today!