Great Price GENUINE Oven Range Control Board Repair for Thermador CGX365UB PCS484GL PRDS484GL PRSG304 SGCS365RB SGSCV36GW – Order Online Now!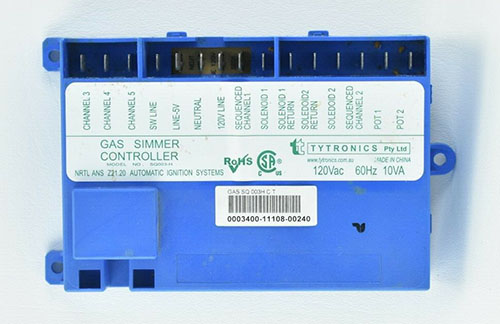 Oven Range Control Board Replacement
Product: Oven Range Stove Gas Simmer Controller Circuit Control Board
Part Number: 00422882
Replace Parts: 00422882 15-10-879-03 20-01-879 20-01-879-02 20-01-879-05 411440 411441 422882 484846 497234 AH3463182 AH3473200 B00D8OMGOS EA3463182 EA3473200 PS3463182 PS8723446
Fits Brands: Bosch Thermador
Fits Bosch Thermador Range Oven Models:
The Electronic Circuit Board 00422882 fits the following Thermador oven range models. Use Ctrl+F to find your specific model below.
CGX365UW CGX456US CGX456UW GGS30 GGS30W GGS36 GGS365 GGS365W GGS36W GGSCV30 GGSCV30W GGSCV36 GGSCV365 GGSCV365W GGSCV36W GPS364GDS GPS484GG GPS484GGS GPS484WKS GPS486GD GPS486GDS GPS486GL PCS366 PCS484GG PCS484GL PCS484WK PCS486GD PCS486GL PRDS304 PRDS364GD PRDS364GL PRDS366 PRDS484GD PRDS486GL PRG364GD PRG364GDUS PRG364GL PRG364GLUS PRG366 PRG366US PRG484GGUS PRSE304S PRSE364GDS PRSE364GLS PRSE366S PRSE484GGS PRSE486GDS PRSE486GLS PRSG304 PRSG364GD PRSG366 RDDS30 RDDS30QW RDDS30V RDDS30VQB RDDS30VRS RDFS30 RDSS30 RED30V RED30VQB RED30VQRS RED30VQW REF30 REF30QB REF30QW REF30RS RES30 RES30QB SGC304RS SGC365RB SGC365RS SGC365RW SGC456RB SGC456RS SGC456RW SGCS304RB SGCS304RS SGCS304RW SGCS365RB SGCS365RS SGCS365RW SGCS456RB SGCS456RS SGCS456RW SGS30B SGS30S SGS30W SGS36GB SGSCV36GS and more.
Compare Lowest Price
The right part number is 00422882. View more Electric Stove Oven 00422882 PCB Control Board part description, item condition, shipping & payment methods, and Compare Prices on eBay HERE!