Shop Best Price 71001872 Whirlpool Oven Control Board Parts. For 695197 PS11743864 100-01417-00 71001872 AP6010680 71001872R 8507P014-60 EAP11743864 replacement parts and more. Fast Delivery.
71001872 Whirlpool Oven Control Board
Part Number: 71001872
Replaces Part No: 8507P014-60 AP6010680 PS11743864 EAP11743864 695197 71001872R 100-01417-00 71001872
Compatible Brands: Whirlpool, Amana, Maytag, Jenn-Air
Type: Range/Oven Replacement Parts, Wall oven electronic clock control board
Product Price: Read more product descriptions and Compare Prices Below.
==> Click Here to Check Prices on eBay Today! <==
Fits Models:
Recheck the right appliance item. This 71001872 Whirlpool Oven Control Board can be used for the following models. Hit Ctrl-F to search your specific model as shown.
WW27430P ACB6260AS WW27430W WW30430W ACB6260AW MEW6630CAS WW30430PK ACB6260AB WW27430PF MEW6630BAW WW30430B MEW6627BAS WW30430P ACB6280AS WW30430PC WW27430WC MEW6627CAS MEW6627BAB MEW6627BAQ MEW6630BAS MEW6627BAW WW27430PK WW27430BC WW27430PR WW30430PF MEW6630BAC MEW6630BAB MEW6630BAQ WW27430PU WW27430PG WW27430B MEW6627BAC WW30430PU WW30430PG WW30430PR
Compare Lowest Prices
See deals more product details, customer reviews, terms and conditions, delivery information, parts warranty, and payment options. There are a number of sellers selling this new part on the market. You can check the prices below.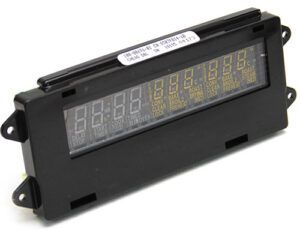 ==> Click Here to Check Prices on eBay Today! <==
Other Home Appliance Information
Further the 71001872 Whirlpool Oven Control Board, there are a number of appliance parts promoted on the market, including Dishwasher Pump Gasket Replacement, Hotpoint Tumble Dryer Control Board, How to Check Refrigerator Control Board, and Refrigerator Circuit Board Cost. For more leading appliance brands, for instance, Samsung, you can search for its products, accessories, and services on its website.
Other Replacement Parts:
Contact Us! Please do not hesitate to contact us if you can not find the correct item for your appliance model. We will check the part and give some advice to you very soon. Have a Nice Day!