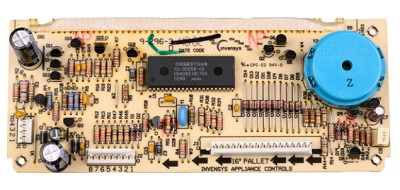 Search no further! Get your hands on the 415619 Bosch Thermador Oven Range Control Board now and restore precision to your cooking. Elevate your culinary experience today!
415619 Bosch Thermador Oven Range Control Board
The 415619 Bosch Thermador Oven Range Control Board is a vital replacement component designed to ensure your oven operates flawlessly. It guarantees precise temperature control and efficient cooking, making it an essential part for your kitchen appliances.
Descriptions:
Part Number: 415619
Replacement Parts: 00488797, 00492071, 14-38-902, 14-38-995, 1795924, 35-00-704, 415619, 488797, 491432, 492071, 702451, 961901, AH3491434, EA3491434, PS3491434, PS8736019, 14-38-903, 16-10-660, 35-00-760, 486792-REPL, 16-11-202, 00491433, 00431463, 00486329, 14-38-905, 369126
Part Types: Bosch Thermador Stove Control Panel, Thermador Oven Range Master Board, Bosch Thermador Cooking Appliance Control Module, Thermador Range Oven Command Board, Bosch Thermador Culinary Control System
Compatible Brands: Bosch, Thermador
---
Fits Appliance Models
This part fits the following range/oven models: EH15VSXLN2, SC272T, SC301T, SC302T, SC302ZS, S271T, S272T, S301T, S302T, SM272B, SM272S, SM272W, SM272YB, SM272YS, SM272YW, SMW272P, SMW272S, SMW272W, SMW272YB, SMW272YS, SMW272YW, and more.
---
Functions of 415619 Bosch Thermador Oven Range Control Board
The specific functions of the 415619 Bosch Thermador Oven Range Control Board can vary depending on the model and features of the appliance. However, here are some common key functions that such a control board might typically perform:
Temperature Regulation: The control board helps regulate the oven's temperature accurately, ensuring consistent cooking results.
Timer Control: It enables you to set cooking timers, helping you manage cooking durations effectively.
Oven Mode Selection: The control board lets you choose between different cooking modes such as bake, broil, convection, etc.
Display and User Interface: It provides a digital display and user-friendly interface to monitor and adjust settings.
Safety Features: The control board may incorporate safety features like overheating protection and automatic shut-off.
Clock and Timer Display: It displays the current time and can be used to set timers for various cooking tasks.
Diagnostic Codes: Modern control boards often include diagnostic codes that can help identify issues with the appliance for troubleshooting.
Control Lock: Some control boards offer a control lock feature to prevent accidental changes to settings.
Preheat Function: It allows you to preheat the oven to the desired temperature before cooking.
Memory and Recall: Certain models might have memory functions that recall your previous cooking settings.
Please note that the actual functions can vary based on the specific model and features of the Bosch Thermador Oven Range Control Board you are using. It's recommended to refer to the product documentation or user manual for precise information about the functions of your particular control board.
---
Common Problems
Common problems associated with the 415619 Bosch Thermador Oven Range Control Board may include:
Display Issues: The control board's display might become unreadable, flicker, or show incorrect information due to internal failures.
Unresponsive Controls: Buttons or knobs on the control board may become unresponsive, making it difficult to set or adjust cooking settings.
Inaccurate Temperature Regulation: The oven might have difficulty maintaining the desired temperature, leading to undercooked or overcooked food.
Error Codes: Faulty components within the control board can trigger error codes, preventing the oven from functioning properly.
No Power or Intermittent Power: The oven might not power on at all or experience intermittent power loss due to issues within the control board's circuitry.
It's recommended to consult a professional technician or service provider to diagnose and resolve these problems effectively.
---
Compare Prices on eBay – 415619 Bosch Thermador Oven Range Control Board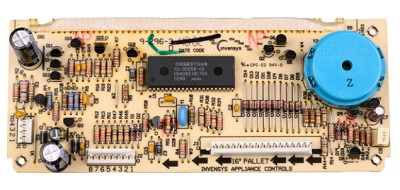 Discover the best deals today! Compare prices for the 415619 Bosch Thermador Oven Range Control Board on eBay and bring precision back to your cooking. Shop now to find the perfect deal for your kitchen.
---
Replacement Video – Bosch Oven Control Board Repair
Check out this video where I fix my Bosch Oven. The control board had a melted resistor, and since I couldn't find a replacement, I took matters into my own hands. It's been 3 months since I made this repair, and our oven has been working perfectly ever since.
(YouTube Video Credite: Smikey)
---
Other Parts on eBay – Bosch Thermador Oven Range Control Board
00143381 Bosch Thermador Range Oven Display Power Control Module 143381
00653424 Bosch Oven Control Board OEM 653424
00709786 / 709786 BSH / BOSCH / THERMADOR RANGE PC BOARD. OVEN CONTROL BOARD
Bosch Recycled Range/Oven/Stove Display Module/Control/Circuit Board 00631881
Genuine Bosch Oven Control Board 00N2044Z204 Same Day Ship & *60 Days Warranty
Genuine Bosch Oven Control Board 9000730069 Same Day Shipping & 60 Days Warranty
Genuine Bosch Thermador 432252 Stove Oven Range Control Board NEW in Box!
GENUINE OEM BOSCH Range Oven Control Board 12012946
Genuine OEM Bosch Range Oven Control Board and Clock 00653424
Genuine Thermador Double Oven Board 9001282723 *Same Day Ship & 60 Days Warranty
Genuine Thermador Oven Control Board 16-10-353 *Same Day Ship & 60 Days Warranty
Genuine THERMADOR Range Oven, Control Board # 14-33-347 Dim Display – Faded
New Genuine OEM Bosch 00143381 Range Oven Display Power Control
Thermador Bosch Oven/Microwave Combo Clock Display Circuit Board PCB 00143381
Thermador Bosch Wall Oven/Range "Control Head" (single oven)
THERMADOR RDSS30 oven control board 00486752, 14-33-347 refurbished
and more ..
Explore more options on eBay! Find a range of Bosch Thermador oven parts, including control boards, to keep your kitchen running smoothly. Check them out now and ensure your appliances are in top shape.
---
More Information
Need help finding the right part for your appliance or looking for replacements? Reach out to us by leaving a message in the comment box. We're here to assist you in any way we can. Thank you!
Other Appliance Parts: