Genuine 318185446 Frigidaire Range Oven Control Panel Board Assembly Parts. Suits for 318185450 EAP820812 PS820812 1032696 AP3583606 318185410 318185451 318185462 318185478 318185491 318185475 318185413 home appliance parts and others. Shop Now.
318185446 Frigidaire Range Oven Control Panel Board
Part No: 318185446
Replacement Parts: 318185413 318185462 PS820812 318185410 318185451 318185478 318185475 1032696 318185450 318185491 AP3583606 EAP820812
Compatible Brands: Frigidaire, Kenmore
Product Type: Electric Range/Oven Replacement Parts, Control Panel Assembly Parts
Price: View more part descriptions and Compare the Lowest Prices Below.
==> Click Here to Check the Lowest Prices on eBay TODAY! <==
Fits Models:
This 318185446 Frigidaire Range Oven Control Panel Board fits the following models. Hit Ctrl-F to find your specific model as you see.
79045072400 FES355ASB FED367ASC FED367ASF FED367ASA 79046991102 FED367ASD 79045072401 FES355DSA 79045062401 FED367DSA 79045791103 FES355ASF 79046101300 FED355ABA FED367ASB FGS367DSA FES367ASC FES367ASA 79045662104 79045662102 FED355ASC FED355DSA 79045071400 FED367ASE FGS379ESA FGS367ESA 79045792102 FED355ABB FES367ABG FED355DSB FED355ASB FES355ASG FES355ASA FES367ABC 79040452800 FES367ASD FES367DSC 79047102400 79045062400 FES367ASG FEF450BWB
79046352401 FED355ASD FED355ASF FES367ASH FEB24S5ASA 79046992103 FEB24S5ASB FES367ASB FES368DSB 79045781300 79046102300 FEF450BWF 79045791102 FES367ASE FEB24S5ASC FES355ASE FGS379DSA FED367DSB FES367DSA FED355ASE FES367AQC 79046351400 79046351401 FES355DSB 79046991103 FES368DSC FEF450BWC FEF450BWD FED355ASA FES355ASH FEF450BWE FES355ASD FES367ASF FES367AQG 79046572400 79045792103 FEF450BWA FES368DSA 79046992102 79045662103 79046352400 79040452801 FES355ASC 79045782300
Compare Best Prices
Get the Best Price! See more product details, terms and conditions (new brand, pre-owned, or refurbished), delivery options, parts warranty, and other important details. There are a number of sellers offering this pre-owned part at the store online. You can compare the best prices below.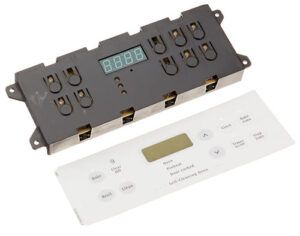 ==> Click Here to Compare the Lowest Prices! <==
Other Information
In the stores online, there are many sellers promoting a wide range of home appliance replacement parts, covering Whirlpool Cabrio Washer Drive Motor, Dacor Oven Touchpad Replacement, How to Check Refrigerator Control Board, and Refrigerator Compressor Replacement Cost, also including the 318185446 Frigidaire Range Oven Control Panel Board.
For other main appliance brands, like Whirlpool, you are able to see its products, and services on the Internet.
More Replacement Parts:
Contact Us! Please feel free to leave your content in the comment box if you have any problems with looking at the right part for your model. We will search for the part and give some advice to you soon. Thank you.