Best Price 12001603 Maytag Range Oven Control Board Panel Replacement Assembly Parts. Suitable for 68-456757 CRE9800CCB 3867VVD CRE9400CCB FCE10500A CRE8600BCL CRE8600CCW 68-454650 CRE8600CCL CRE9800BCE repair parts and others. Shop Today.
12001603 Maytag Range Oven Control Board Panel
Part Number: 12001603
Replaces Parts: 74001550 AH2003177 7601P234-60 74001319 74002221 74002219 12001458 7601P229-60 12001457 12001255 EA2003177 74002096 74002730 12001265 74002220 12001307 74001282 74002729 74001677 12001306 7601P236-60 12001604 7601P237-60 400580 74003172 7601P304-60 74001402 74005995 74002098 12001602 74001318 PS2003177 74002097
Compatible Brands: Maytag, Norge, Magic Chef, Hardwick, Jenn-Air, Admiral, Crosley
Item Type: Range/Oven Replacement Parts, Oven Control Board, Range Control Panel Assembly Parts, Range/Oven Electronic Circuit Main Control Board Repair Service
Price: See more item details and Compare Prices Below.
==> Click Here to Compare Prhttps://ebay.us/CZbbeNices on eBay! <==
Fits Models:
This 12001603 Maytag Range Oven Control Board Panel suits the following models. Press Ctrl-F to search your specific model as follows.
CRE9400BCL CRE9500CCE FCE30500B CRE9400CCB CE3878VVV 3888VVVCRE8600BCW CRE8600CCE 3868XVB CRE8600CCW CRE9800CCB 3868VVDCRE9600BCE 3868KYW-D 68-456757 N3878VVV CRE9500BCW FCE10510W CRE9600CCM CE3878VVW 3868SYW CREA750ACE CRE8600BCL CRE9400BCE FCE10510A CRE9500BCL H3878XVW CRE9400CCW CRE9800BCE FCE30500A3860XVA CRE8600CCB CRE9800BCB 3888WVS 3862VVD FCE30500W FCE10500WC 3862XVW CRE8600CCM 68-454657 CRE9500BCE FCE10500B CE3878VVD CRE9400BCW CRE9400CCM FCE30510B FCE30510W 3888XVB
CRE9600BCW CREA650ACB FCE10510B 3888VVD CRE9800CCM 3882XVA N3878VVD 3867VVD CRE9600BCL 68-454650 3882VVV 3868XVA 3888VVA H3878XVB CRE8600CCL 68-4567-40 N3878XVA CRE9300BCW 3862VVV 3867XVB CE3878VVA 3867VVV 3860XVW CRE9800CCE 3868VVV 3862XVA FCE10500A CRE9600CCE CRE9400CCL N3878XVW 68-456750 FCE10500W CRE9500CCM CRE9400BCM 3868XVW CRE9400CCE CREA750ACM 68-456751 3868SYA CREA650ACL FCE30510A H3878XVA CREA650ACWCREA750ACB FCE10501WC
Compare Lowest Prices
Get more product details, terms and conditions (new brand, used, or refurbished), delivery options, exchange, returns and customer satisfaction policy, and other important information. Many sellers promote this new or used part at the store online. You are able to compare the best prices below.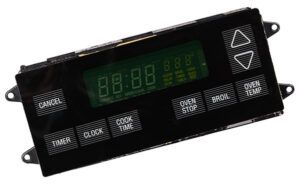 ==> Click Here to Check the Latest Prices on eBay TODAY! <==
Other Information
On the Internet, many sellers offer a number of home appliance replacement parts, including Circuit Board for GE Refrigerator, Kenmore Electric Range Control Board, GE Refrigerator Control Panel Replacement, and Whirlpool Fridge Control Board Repair, also covering the 12001603 Maytag Range Oven Control Board Panel parts.
For more leading appliance brands, e.g. Kenmore, you are able to view its products, accessories, and services on its website.
Other Home Appliance Parts:
If you need any help with finding the right part for your specific appliance model, please do not hesitate to contact us at any time. We will check the part and get back to you soon. All the best!