Check Best Price Whirlpool WP2318054 Refrigerator Control Board Replacement Parts. Fits EAP11740389 AP6007276 2318054 1408140 PS11740389 appliance parts and more. Shop Here.
Whirlpool WP2318054 Refrigerator Control Board
Part No: WP2318054
Replacement Part Number: AP6007276 PS11740389 1408140 EAP11740389 2318054
Fits Brands: Whirlpool, Dacor, Jenn-Air, KitchenAid
Item Type: Fridge Replacement Parts, Refrigerator relay control board
Price: See more descriptions and Check the Price Below.
==> Click Here to Check the Latest Prices TODAY! <==
Fits Models:
Check the right replace product. This Whirlpool WP2318054 Refrigerator Control Board suits the following models. Press Ctrl-F to find your specific model as indicated.
KSSC42QTS02 KSSC42QTS18 JS48SSDUDE01 KBSD608EBS00 JS42PPDUDB02 KSSS42QTW04 KSSS42QTX03 KSSC48QVS03 KSSS36QTB02 KSSO36QTB04 KSSC36QTS06 KSSS48QTX04 KSSO48QTX04 KSSS48QTW00 KSSC48QVS10 KSSC48QTS02 KSSC36QTS07 JS48CXDUDB00 JS48SEDUDW00 KSSS42QTB03 KSSO42QTB00 JS48SEDUDW15 KSSO42QTX00 KSSS48QTW04 KSSC36QTS03 JS42SEDUDW13 KSSC48QVS05 JS48PPDUDB15 KSSC48QVS06 JS48PPDUDB14 KSSO48QTX03 JS48PPDUDB13 JS48PPDUDB20 KSSS42QTX02 KSSS36QTW00 JS42PPDUDB20 KSSC42QTS03 KSSS42QTB00 JS48SEDUDW20 JS42SEDUDW01 KSSS48QTX03 KBSD608ESS01 JS42SEDUDB01 KSSS42QTW03 KSSS42QTB04 KSSS42QTW00 JS42SEDUDW00 JS48SEDUDW12
KSSC48QVS00 JS42CXDUDB02 KSSS36QTB00 JS48SEDUEA02 KSSO36QTX04 KSSS42QTB02 JS42CXDUDB00 JS48CXDBDB00 KSSO42QTX02 KSSS36QTB03 JS42SEDUDW14 KSSC48QVS01 KSSC36QTS08 JS48CXDBDB01 JS42CXDBDB00 KBSD618ESS01 KSSC42QVS00 KSSS48QTB04 JS42PPDUDB14 KSSS36QTW02 JS42SSDUDE01 JS42PPDUDB01 KSSC48QVS02 KSSS42QTX00 KBSD602ESS00 KSSO42QTX03 JS48SEDUDB01 KBSD618ESS00 KSSO42QTX04 KSSP36QTS02 KBSD608EBS01 KSSO42QTB02 KSSC36QTS04 JS48PPDUDB00 KBSD508ESS00 KSSC48QVS04 KBSD602ESS01 KSSO48QTX02 KSSO48QTB03 KSSO36QTX00 KSSC48QTS03 KSSC42QTS00 KSSS48QTB02 JS42PPDUDE00 KSSS42QTW02 KSSO48QTB00 KSSS48QTW03 JS48SEDUDW14 KSSC36QTS10 KSSS36QTX04
JS48PPDUDB01 JS42SSDUDE00 KSSS48QTX02 KSSP42QTS02 KSSO42QTB03 KSSC36QTS05 KSSO36QTB00 JS42PPDUDB15 KSSS36QTX02 KSSC42QTS17 JS42PPDUDB16 KSSC42QVS04 KSSO48QTB04 JS42SEDUDW12 JS42SEDUDW15 KSSS48QTB00 KSSO36QTB03 KSSS36QTW03 KSSS48QTX00 JS48PPDUDB02 JS42SEDUDB00 KSSO42QTB04 KSSC42QVS06 JS48PPDUDB16 KSSC42QVS02 KSSC36QTS00 JS42PPDUDB00 KSSS36QTX03 KSSS48QTB03 KSSC42QVS05 KBSD502ESS00 KSSO36QTX03 KSSC42QVS01 KSSP48QTS00 KSSC36QTS02 JS42PPDUDE01 JS42SEDUDW20 JS48PPDUDE00 KSSS48QTW02 KSSO48QTX00 DYF42BIWS00 KSSP42QTS00 KSSC42QVS03 KSSO36QTB02 KSSP36QTS00 DYF48BIWS00 JS48SEDUEA01 KSSO48QTB02 KSSP48QTS02 JS48SSDUDE00
JS48SEDUDB00 KBSD612ESS01 KSSS36QTW04 KSSS36QTB04 KBSD606ESS01 KBSD612ESS00 KSSO36QTX02 KSSC48QTS00 JS48CXDBDB13 KSSS42QTX04 KBSD608ESS00 JS48PPDUDE01 KSSS36QTX00 KSSC42QVS10
Compare Best Deals
View features more product details, customer reviews, item conditions, shipping & handling options, returns and customer satisfaction policy, and other details. Many sellers promote this pre-owned part online. Please view the lowest prices below.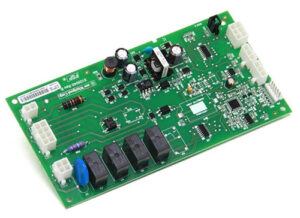 ==> Click Here to Compare the Latest Prices on eBay TODAY! <==
Other Information
Further the Whirlpool WP2318054 Refrigerator Control Board, there are more home appliance parts promoted on the market, e.g. Kenmore Series 500 Washer Control Board, KitchenAid Refrigerator Control Board Replacement, Whirlpool Oven Fan Motor, and How to Replace Oven Control Board Frigidaire. For more popular home appliance brands, for example, Kenmore, you are able to view its products, accessories, and services on its website.
Other Replacement Parts:
Do you need help? Please do not hesitate to contact us if you have any problems with finding the correct part for your appliance model. We will find the part and respond to you ASAP. Thank you so much.