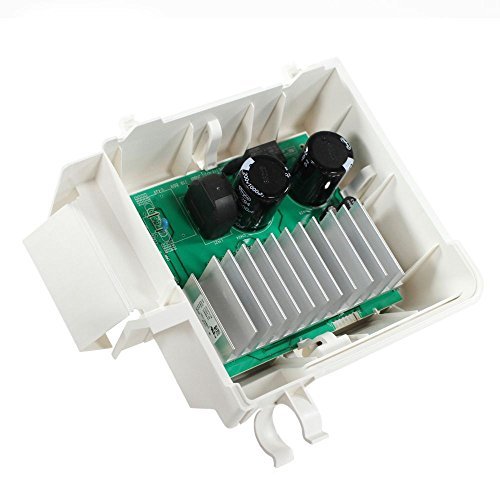 Whirlpool Washer Control P/N W10374126 CNTRL-ELEC
Product: Washing Machine Washer Motor Control Board PCB Assembly
Part Number: W10374126
Replaces Parts: 1878957 AP6020609 PS11753928 EAP11753928 W10245123 W10374126
Fits Brands: Admiral Amana Crosley Jenn-Air Kenmore KitchenAid Maytag LG Kenmore Samsung GE Frigidaire Whirlpool
Price: US$ 241.11
Item Location: USA- 8 Warehouse, United States
Suits Whirlpool Washer Models:
This part fits the following Whirlpool washing machine models. Use Ctrl+F to find your appliance model shown below.
7MWFW80HEBW0 7MWFW86HEBC0 7MWFW94HEBU0 7MWFW95HEYL0 BNQ11C6ANA0 BNQ11CVANA0 BNQ11DCANA0 WFL98HEBU0 WFW70HEBW0 WFW80HEBC0 WFW80HEBW0 WFW8640BC0 WFW8640BW0 WFW86HEBC0 WFW86HEBW0 WFW88HEAC0 WFW88HEAW0 WFW94HEAC0 WFW94HEAW0 WFW94HEXL0 WFW94HEXL1 WFW94HEXL2 WFW94HEXR0 WFW94HEXR1 WFW94HEXR2 WFW94HEXW0 WFW94HEXW1 WFW94HEXW2 WFW95HEXL0 WFW95HEXL1 WFW95HEXL2 WFW95HEXR0 WFW95HEXR1 WFW95HEXR2 WFW95HEXW0 WFW95HEXW1 WFW95HEXW2 WFW96HEAC0 WFW96HEAU0 WFW96HEAW0 WFW97HEXL0 WFW97HEXL1 WFW97HEXL2 WFW97HEXL3 WFW97HEXR0 WFW97HEXR1 WFW97HEXR2 WFW97HEXR3 WFW97HEXW0 WFW97HEXW1 WFW97HEXW2 WFW97HEXW3
Compare Great Prices
See more information, shipping & handling, return policy and Check Price on eBay HERE! If you have any problem please do not hesitate to contact us at any time.