This is a new genuine washing machine replacement parts, Whirlpool Washer Motor Control Board W10756692. This part fits Whirlpool Duet HT Washer and other models. Check your fits and compare lowest price here!
Whirlpool Washer Motor Control Board W10756692
Product: Motor Control Board for Washing Machine
Appliance Part: Washer Replacement Parts
Part Number: W10756692
Compatible Brands: Kenmore KitchenAid Maytag Whirlpool
Compatible Part Numbers: 8181693R 3452779 8182679 8182705 8182706 AP5956390 EAP10064572 PS10064572
Fits Whirlpool Washer Models:
This part fits Whirlpool Duet HT Washer and other models. Use Ctrol+F to find your model.
7MGHW9100MW0 7MGHW9150PW0 7MGHW9150PW1 7MGHW9150PW2 7MGHW9400PW0 7MGHW9400PW1 7MGHW9400PW2
GHW9100LQ0 GHW9100LQ1 GHW9100LQ2 GHW9100LW0 GHW9100LW1 GHW9100LW2 GHW9150PW0 GHW9150PW1 GHW9150PW2 GHW9150PW3 GHW9150PW4 GHW9160PW0 GHW9160PW1 GHW9160PW2 GHW9160PW3 GHW9160PW4
GHW9200LQ0 GHW9200LW GHW9200LW0 GHW9250ML0 GHW9250ML1 GHW9250ML2 GHW9250MQ0 GHW9250MQ1 GHW9250MQ2 GHW9250MT0 GHW9250MT1 GHW9250MT2 GHW9250MW0 GHW9250MW1 GHW9250MW2 GHW9300PW0 GHW9300PW1 GHW9300PW2 GHW9300PW3 GHW9300PW4
GHW9400PL0 GHW9400PL1 GHW9400PL2 GHW9400PL3 GHW9400PL4 GHW9400PT0 GHW9400PT1 GHW9400PT2 GHW9400PT3 GHW9400PT4 GHW9400PW0 GHW9400PW1 GHW9400PW2 GHW9400PW3 GHW9400PW4 GHW9400SU0 GHW9460PL0 GHW9460PL1 GHW9460PL2 GHW9460PL3 GHW9460PL4 GHW9460PW0 GHW9460PW1 GHW9460PW2 GHW9460PW3 GHW9460PW4
How To Replace The Washer Motor Control Board W10756692
Watch this video, created by PartSelect. Steve shows you easy and simple step-by-step instructions on how to replace the washing machine motor control board.
This particular Washing Machine Electronic Control Board is specific to Whirlpool manufactured brands including Admiral, Estate, Inglis, Kenmore, KitchenAid, Roper, Maytag, Crosley, Jenn-Air, Hardwick, Magic Chef, Amana, Glenwood, and Caloric.
Tools Needed:
Small flat blade screw driver
7mm nut driver or socket with ratchet
Get model-specific repair help from PartSelect.com. Learn how to troubleshoot, test, diagnose and repair your home appliance with user-generated installation instructions, and hundreds of step-by-step repair videos.
Compare Lowest Price
Read more Whirlpool Washer Motor Control Board W10756692 product details, shipping information, return & warranty policy, and compare lowest price on eBay here!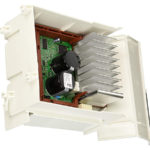 More Information
In addition to Whirlpool Washer Motor Control Board W10756692, find more parts for Whirlpool, Control Boards for washing machine, and Whirlpool washer replacement parts. Please feel free to contact us if you need help.